Moose Tracks – Beckett Pricing Insider
It looks like three-time All-Star Mike Moustakas has agreed to a four-year, $64 million deal with the Cincinnati Reds.
Moustakas, was selected second overall in the 2007 MLB Amateur Draft by the Kansas City Royals and made his debut for the team in 2011. Moose helped the Royals reach the playoffs in 2014 and 2015 and both times they made it all the way to the World Series, first losing to the Giants 2014 but then taking home the trophy in 2015.
After the 2017 season, Moose rejected a qualifying offer worth $17.4 million and became a free agent but after an offseason of disappointing negotiations, he returned to the Royals in March for a one-year deal for $5.5 million. He was then traded to Milwaukee in the middle of the season and, again, was unable to find a long-term deal before he returned to the Brewers.
Moose was a vital piece for the Brewers the last season-and-a-half, especially this last season when he earned his third All-Star appearance and helped the Christian Yelich-less Brewers reach the postseason.
An nine-year veteran, Moustakas has close to 2,000 cards in the Beckett Online Database, some dating all the way back to 2006, when he played ball for Team USA. Here's a look at a couple keys:
2011 Topps Update #US192 Mike Moustakas RC
While he may not be the first Mike you'd look for in 2011 Topps Update, he certainly adds to the list of dynamic Rookie Cards coming from the set. Moose has a handful of parallels, including the both the Target Red Border and Walmart Blue Border exclusives.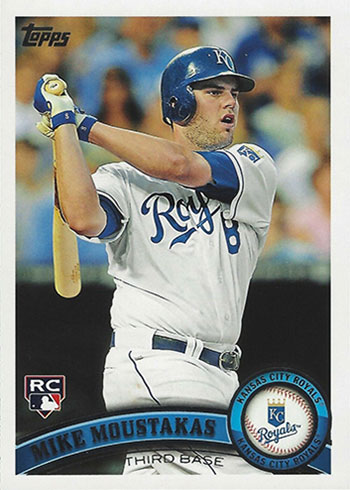 2007 Bowman Chrome Draft Draft Picks #BDPP53 Mike Moustakas
It always comes back to the firstst Bowman Chrome card and in Moustakas' case, he doesn't have an autograph. Still early on in the Refractor craze, there are just seven different refractor parallels: Refractor, X-Fractor (/299), Blue (/199), Gold (/50), Orange (/25), Red (/5), and the elusive one-of-one Superfractor.