Local Hobby Shop of the Week: Tiger Bait Sports Cards & Collectibles (Baton Rouge, LA)
Terry White began collecting sports cards with his dad as a youngster. As a Louisiana resident, he has been able to watch many great athletes play college and professional sports in his home state. His love for the cards and those athletes led him to opening Tiger Bait Sports Cards & Collectibles. I recently caught up with Terry to discuss the hobby down on the bayou.
Local Card Shop of the Week is brought to you by Southern Hobby, who has been serving the collecting community for nearly 30 years.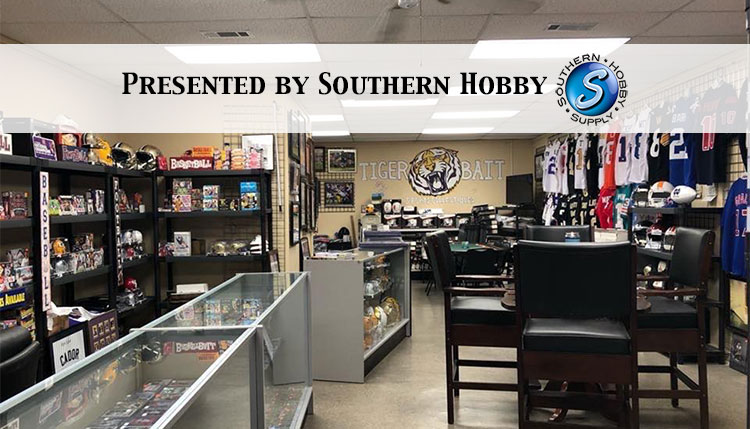 JOEY SHIVER – Thanks for taking the time to talk with us Terry. Can you tell us a little about your collecting background? What made you decide to get into the sports card business?
TERRY WHITE – I started collecting as a child with my dad at around six-years old. It was something we did together on the weekends and it is what made me fall in love with the hobby. I went to LSU and studied Business Management. I always knew I wanted to work for myself and do something I was passionate about. After working in corporate sales for about ten years ago I decided to turn my love for the hobby into a business.
JS – Can you tell us a little about the store? Can you talk about your setup and what type of inventory you carry? Also, what services do you provide? 
TW – We are a full service shop. We are about ten minutes from LSU's campus and 45 minutes from New Orleans. We specialize in LSU and Saints collectibles and memorabilia. Also, we do weekly Facebook group breaks through our group page as well as [being] eBay Power Sellers. We stock a wide array of wax, single cards, signed jerseys, helmets, photos, as well as hosting several in-store signings with athletes almost monthly.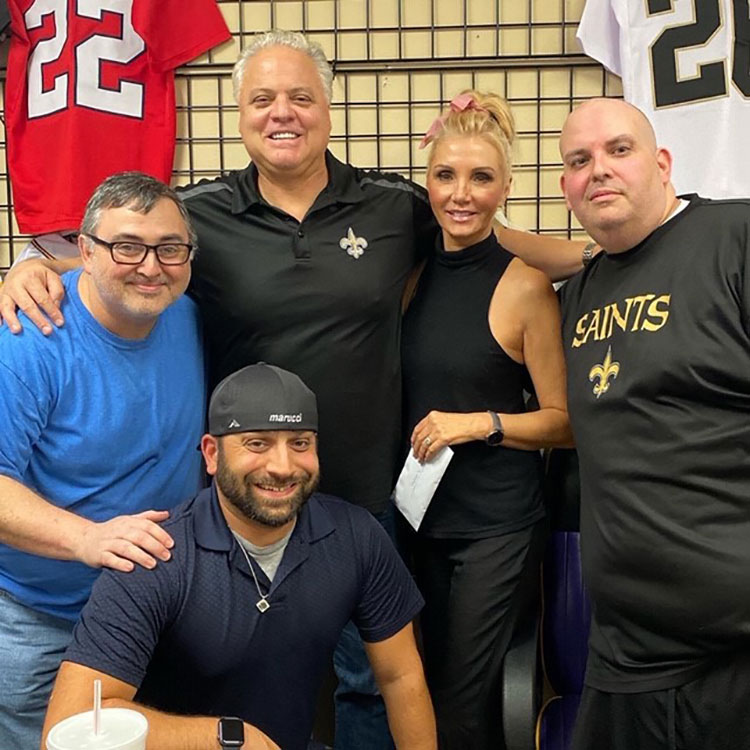 JS – Can you tell us about the "Break Station," which appears to be a portion of the shop that participates in breaks for customers? How has that addition affected your business?
TW – Yes, the Break Station is our group breaking division of the business. We broadcast mainly on Facebook and YouTube daily where we run several razzes and our traditional random team and pick-your-team breaks. This page and group was also set up as a resource for our customers to safely post items for sale and trade. It has been a great group and is growing rapidly.
JS – You had Bobby Hebert in the store for an autograph signing recently. Can you tell us about that and any other in-store events you've had?
TW – Bobby was great! He is such a huge personality and everyone loved him. He told stories and enjoyed spending time with the fans. We have been fortunate to get some of the bigger names from the Saints and LSU since opening only two years ago. We've already hosted Alvin Kamara, Devin White, Rickey Jackson, Bert Jones, Billy Cannon, and Willie Roaf, just to name a few. We actually have a mural painted on our wall, which each athlete who comes in signs and personalizes. It's a huge eye catcher.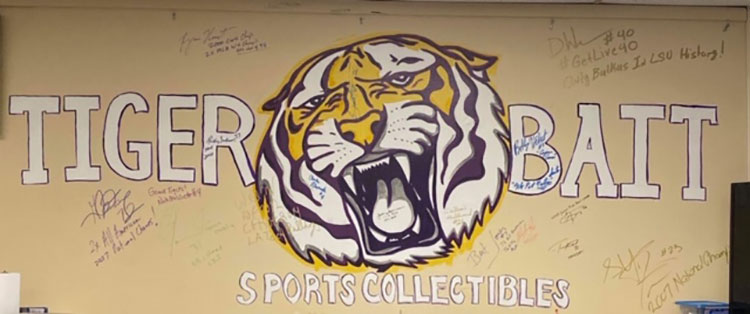 JS – The shop is located in Baton Rouge, and with the name "Tiger Bait." I would imagine that your customer base is largely made up of LSU and New Orleans Saints Fans. Can you tell us a little about your collector base?
TW –  For sure. LSU and the Saints dominate this area. Probably 90 percent of our local customer base is from them. We are a college town so when LSU is doing well the collector base is much more active. We are so excited to have LSU 12-0 and aiming for a National Championship this year along with a possible Heisman trophy winning QB in Joe Burrow.
The Saints are also huge. The "Who Dat" Nation supports their team like not many other franchises. We love being from Louisiana and are very proud of where we come from. We also have a good basketball customer base and it is growing nicely with the Pelicans drafting Zion. It has been a huge boost to the basketball market locally. LSU Baseball also carries a really large and loyal fan base.
JS – When it comes to particular players, who would you put on the LSU Mount Rushmore?
TW – The Mount Rushmore of LSU if we are talking about all sports to me is pretty clear: Billy Cannon, Pete Maravich, Shaquille O'Neal, and Skip Bertman. These are the icons of our Athletic program. Joe Burrow is trying to make a run at it this year though. Honorable mentions would be Alex Bregman, Johnny Robinson, and fan favorite Tyrann Mathieu (he has given so much back to the school).
JS – As it relates to particular products, what has performed well in 2019 and what has made those products so popular? Are there any products that are on the release calendar you are really looking forward to in the next few months?
TW – I think our customer base sticks to the classic favorites. For football, Contenders and National Treasures are king. Baseball, we normally sell a lot of Allen & Ginter and, of course, any Bowman products. Basketball, Prizm is the brand. Everyone wants it and it goes really fast. There are a lot of nice releases coming soon. I can't wait for Bowman Draft this week and hobby Prizm Basketball. In the coming months, I can't wait for Contenders Football, NT Football, and all of the new basketball products. Honestly, this year I can't wait for 2020 Draft Football products with Joe Burrow's first cards.
JS – What are some of the most memorable hits you've seen in the shop or through breaking?
TW – Well, that's tough! We have been blessed to have many. We pulled a 2017 Contenders Patrick Mahomes ROY Auto 1/1. Just last week, there was a Jeter Red Ink 1/1 from Clearly Authentic. We had a Trae Young Gold RPA /10 that sold for $12,000. We've always had great luck with our Bowman products pulling a lot of high end color.
JS – Sports card shows were huge during the '80s and '90s and seem to be popping up more frequently today. How prevalent are card shows in your area in 2019 and how active are you in participating?
TW – We don't have much around here currently. It's something I'd like to be a part of building back here in the near future. The closest shows we normally have are in Houston, about four hours away. We need to get a big New Orleans show up and running!
JS – What are some of the major positives within the hobby and industry right now? What are you hearing from your customers right now in regards to the industry? What do they really love seeing from a product or support standpoint?
TW – Honestly, the customers really like the variety that there is with so many different product options. I think they would prefer more companies being involved with all sports but that's all business. Panini is doing a great job, but I think we would all love to see Upper Deck back in the basketball card market for sure. From a product standpoint, they are loving the return of the Rookie Card and grading. People have gone from looking for the autographs to valuing the true rookies and parallels tremendously.
JS – On the contrary, what are some areas you think could be modified to improve the customer experience? What type of feedback do you get from your customers in this area? 
TW – Maybe I answered this too early! I think getting rid of exclusives for a sport would be good for all. We miss a true Exquisite basketball and Topps Chrome Football, things of that sort. Also the rewards points in place of autographs is not a popular option. More on-card autographs, better diversified signing checklists, limited redemptions, and better quality control would be the things I think they need to work on the most.
JS – In closing, are there any events coming up in the next couple of months you would like to share with the readers?
TW – Yes, We have Deuce McAllister and Jim Mora in store this month. Then I'm going to start work on the next draftable LSU guys from this year's team. Joe Burrow, I'm talking to you. Also, guys like Grant Delpit once they are eligible. Saints guys I'd like to see include Michael Thomas, Pat Swilling, Matt Flynn, and Jacob Hester, which are all in the works.
Tiger Bait Sports Cards & Collectibles
Terry White
(225)302-7642
5734 South Sherwood Forest Suite A
Baton Rouge, LA 70816
Hours
Monday-Saturday: 10AM-6PM
Sunday: 12PM-4PM
Facebook – Tiger Bait Sports Cards & Collectibles