Early analysis: 2012 Topps Five Star checklist
When you click on links to various merchants on this site, like eBay, and make a purchase, this can result in this site earning a commission.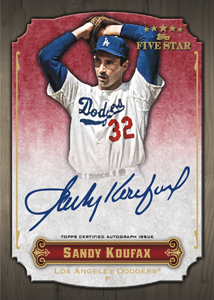 By Chris Olds | Beckett Baseball Editor | Commentary
The final checklist for the first Topps high-end baseball card release, 2012 Five Star, has arrived just days before the $500 per-pack product does.
Interestingly, there are 80 cards listed for the product's base set — no base set previously was announced or even previewed — and the final details on the per-pack inclusions have not been disclosed other than there will be five autographs or Relics per pack. (Update: One base card per is likely.) There also appear to be parallels for some sets, which aren't noted on the released checklist. (Click here for a Five Star checklist and OPG.)
But what we do know is that each box was slated to include two autographs (one active player, one retired player), one autographed Relic, one autographed booklet or extra autograph and a jumbo Relic, bat nameplate or bat knob card inside.
(Click here for our preview story with a full gallery and poll questions.)
Get a look at some of the final checklist's inclusions for the base set and all autograph sets … after the jump.
Base set (80 cards) — This one perhaps symbolically leads off with Topps' poster boy for 2012, Bryce Harper. It includes 30 Hall of Famer or retired players and 50 actives. Hall of Famers here include Babe Ruth, Lou Gehrig, Joe DiMaggio, Mickey Mantle, Nolan Ryan, Willie Mays, Roberto Clemente, Rickey Henderson, Jackie Robinson and Sandy Koufax to name a few. The retired non-Hall of Famers? Ken Griffey Jr. and Don Mattingly. (And, if you're wondering, it's 11 New York Yankees in the base set.)
But since talking about base cards are a bit like examining the lugnuts on a Lamborghini, we'll move on …
—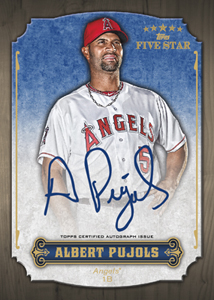 Five Star active autographs (43 signers; one per pack) — First, we'll start off with the Yankee Count™ and, interestingly, there's just one to be found here, Robinson Cano.
All players are signed on-card for this one, though quantities are not yet known. They are likely to vary as the set includes the likes of Albert Pujols, Josh Hamilton, David Wright, Roy Halladay Joe Mauer and Triple Crown winner Miguel Cabrera along with rookies and relative newcomers Harper, Yu Darvish, Trevor Bauer, Brett Lawrie, Eric Hosmer, Giancarlo Stanton, Yoenis Cespedes, Will Middlebrooks and Mike Trout.
Possible worst-case scenario pulls here include Nelson Cruz, Pablo Sandoval, Paul Goldschmidt, Mike Napoli and Madison Bumgarner.
—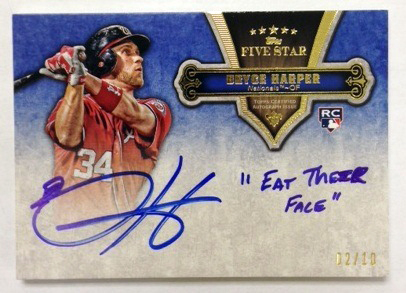 Five Star Quotable autographs (active; 20 players) — This smaller selection of more-limited autographs will include extra phrases written by the players along with their autographs. There are sure to be some surprises, like this Harper card, but I'd expect most players to focus on career- or sport-related inscriptions. Notables here include Buster Posey, Clayton Kershaw, David Wright, Josh Hamilton, Justin Verlander, Matt Kemp, Mike Trout and Yu Darvish.
—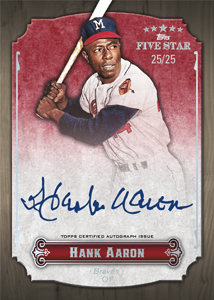 Five Star retired autographs (42 signers; one per pack) — This is the crop of signers that has the most upside in MLB history. It's also a tougher selection of players to make value-wise as there are plenty of notable players who have signed plenty of cards in the past 20 years or so. More than half of the players are Hall of Famers.
At the top of this list are Hank Aaron, Sandy Koufax, Willie Mays, Stan Musial, Nolan Ryan, Ernie Banks, Cal Ripken Jr. and Ken Griffey Jr. Other notables include Carl Yastrzemski, Frank Robinson, Mike Schmidt, Rickey Henderson, Reggie Jackson and Tom Seaver.
Value-wise, lesser players that will be found here include Bill Buckner, Dave Kingman, George Bell, John Kruk, Luis Tiant, Ken Griffey Sr., Robin Ventura and Vida Blue.
—
Five Star Quotable retired (20 players) — This set also includes inscriptions along with autographs and it includes 14 Hall of Famers. Players not in the Hall who signed here include Dale Murphy, Frank Thomas (1990s), John Kruk, John Smoltz, Ken Griffey Jr. and fan favorite Will Clark.
Among the biggest names adding extra ink are Cal Ripken Jr., Ernie Banks, Ken Griffey Jr., Nolan Ryan and Rickey Henderson. It should be interesting to see how lively the extra notations do — or don't — get with veteran signers.
—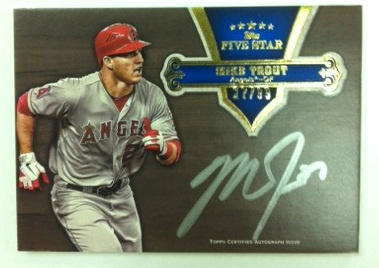 Five Star Silver-ink autographs (active and retired; 49 players) — This is the largest checklist and it probably has the largest number of cheaper autograph inclusions in Five Star's basic ink selection. However, it also includes a few signers not appearing in any of the other previously mentioned sets, too.
New names here include R.A. Dickey, Hanley Ramirez, Carlos Gonzalez, Chris Sale, George Foster, Freddie Freeman, Jeremy Hellickson and Terry Pendleton. Meanwhile, there are still eight Hall of Famers to be found here: Sandy Koufax, Jim Rice, Jim Palmer, Juan Marichal, Fergie Jenkins, Dennis Eckersley, Billy Williams and Andre Dawson.
Other notable sigs here value-wise will include Ken Griffey Jr. and Mike Trout, though it's important to note that with lesser quantities and a high-end brand that many may not break wax for, the market just might be quite brisk for even lesser names. There also appears to be a rarer gold-ink version of this set.
—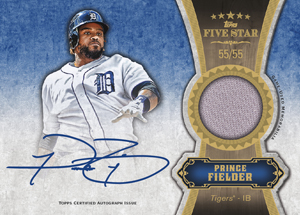 Five Star Autograph Relics (44 players; one per pack) — This crop combines active and retired players. Only 14 players here are not active and, of those, only five are not Hall of Famers.
Notable ink will include Hank Aaron and Stan Musial leading off the Hall of Fame pack with 1980s greats Tony Gwynn and Ryne Sandberg following.
The active-player crop includes a mix of rookies and veterans with a few more players not yet previously seen on the checklist, including Felix Hernandez, Brandon Phillips, Gio Gonzalez and Justin Upton. Notable active autos to be found here, value-wise, include Albert Pujols and Bryce Harper. Overall, it's a deep list with plenty of guys who have signed.
—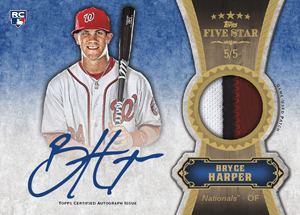 Five Star Autograph Patch Relics (20 players) — This crop includes only active guys, according to the checklist. It's heavy on youth with Bryce Harper, Yoenis Cespedes and Trevor Bauer representing for rookies, while younger talents include Brett Lawrie, David Freese, Giancarlo Stanton and Starlin Castro. Veterans in this one are still a bit on the younger side with Justin Verlander, Matt Kemp, Prince Fielder, Ryan Braun and Clayton Kershaw among them.
—
AUTOGRAPHED BOOKLETS
—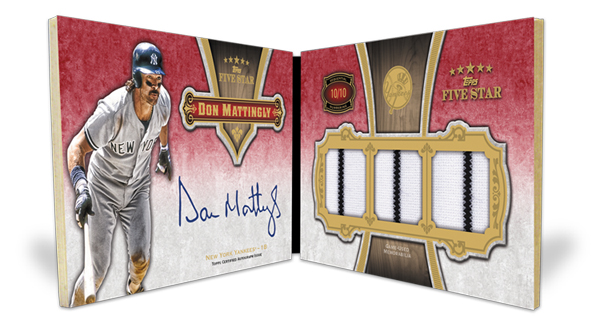 Three-piece Signatures (five cards) — New Yorkers make up almost half of the set here with David Wright and Don Mattingly heading off the list, while Ryan Braun is the only other active player. Hall of Famers Stan Musial and Mike Schmidt round out the list.
—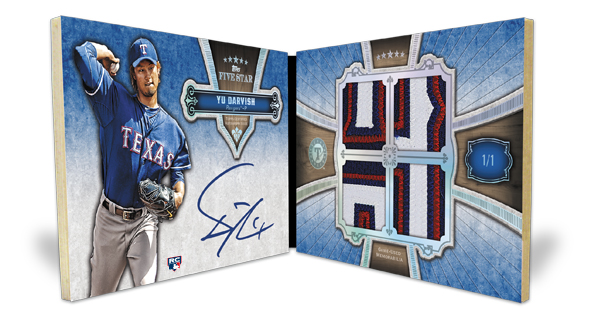 Four-piece Signatures (six cards) — These cards will be rarer but the player selection is sweeter. Your likely worst autographs will be of Evan Longoria and Josh Hamilton (not bad), while Justin Verlander, Mike Trout, Yu Darvish pave the way before Willie Mays.
—
Autographed Jumbo Relic (five cards) — These big swatches will include Bryce Harper and Sandy Koufax, who will make the biggest noise when pulled. Others won't be as crazy as they're Jered Weaver, Jose Bautista and Matt Holliday.
—
Dual Signatures (32 cards) — These will pair players from the past and present for one team in many instances, a checklist that leads off with George Bell and Jose Bautista of the Toronto Blue Jays, for example. While some players here might not ignite bidding wars on their own, pairing a team's stars from the past and present (or in some cases just the past or present) in one booklet could be interesting to watch.
One of the best combos here is a Seattle Mariners Ken Griffey booklet featuring Senior and Junior, who briefly played together. Others of note include Mike Trout and Albert Pujols, Trout and Bryce Harper (a Rookie of the Year catch-all?) as well as a Nolan Ryan and Yu Darvish card.
Another card to watch, one for fans of Cuban baseball, is a Yoenis Cespedes-Aroldis Chapman, while curious ones pair Ryan Braun with MVP award runner-up Matt Kemp and the Yankees' Robinson Cano with Boston's Dustin Pedroia.
—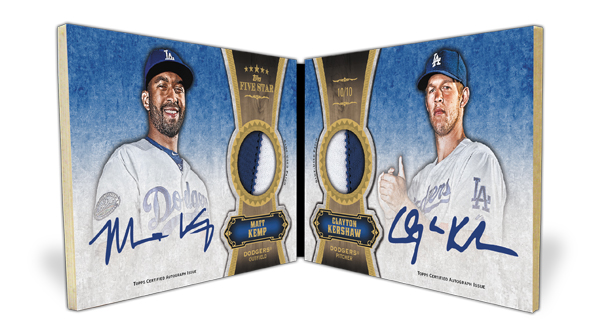 Dual Signatures Patch (28 cards) — This lineup swaps out simple jersey pieces for patches while also mixing up some of the combinations.
Cool ones here will include Yu Darvish and Josh Hamilton, Darvish and Bryce Harper, Matt Kemp and Clayton Kershaw, Albert Pujols and Mike Trout, Buster Posey and Willie McCovey as well as Posey with Joe Mauer. Some of the combos here seem less compelling, likely because of available memorabilia limitations.
—
Quadragraph book (10 cards) — These are what they sound like … a card with four signatures. It appears this set will be skip-numbered (some players perhaps couldn't be nailed down post-printing) but some of the inclusions are pretty impressive.
For the Oakland A's fan, the checklist leads off with a Dennis Eckersley, Reggie Jackson, Rickey Henderson and Vida Blue combo. That's 75 percent Hall of Famers, but it may not compare to the rookie power found on a YuDarvish-Mike Trout-Yoenis Cespedes-Jesus Montero card or a Cubs classic with Ernie Banks, Ryne Sandberg, Billy Williams and Andre Dawson (all HOFers).
These should impress.
—
Six-signature books (five cards) — Yep, six. These, too, are also skip-numbered. This time, the players are all grouped by position or theme.  One card that will eventually have six Hall of Famer autos on it is a Rickey Henderson, Tony Gwynn Willie Mays, Reggie Jackson, Frank Robinson and Ken Griffey Jr.
Another card here has Tom Seaver, Nolan Ryan, Roy Halladay, Sandy Koufax, Justin Verlander and Clayton Kershaw, while yet another is a rookie special that should blow some people away … Mike Trout, Yoenis Cespedes, Trevor Bauer, Bryce Harper, Matt Moore and Yu Darvish — all on one card.
—
Eight-signature books (three cards) — Eight is enough in this one and 24 sigs on three cards will comprise this entire set. The first? A rookie special starting with Bauer  and ending with Trout and Harper. The second? A sluggers vs. aces combo including Braun and Pujols as well as Kershaw, Halladay and Verlander. The last card? All Hall of Famers (once Griffey is in): Aaron, Gwynn, Billy Williams, Mays, Frank Robinson, Reggie Jackson. As the Rip Master says, "Wow."
—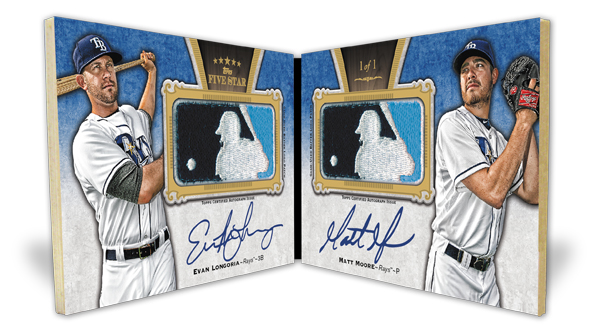 Logoman dual autographs (25 cards) — You know that single MLB logo on the back collar of a uniform? Take that from two notable players' gamers and put it in a booklet and sign them.
That's what's going to be found.
Some of the notables? Miguel Cabrera-Prince Fielder, Josh Hamilton-Yu Darvish, Josh Hamilton-Bryce Harper, Ryan Zimmerman-Bryce Harper and Mike Trout-Albert Pujols to name a few.
—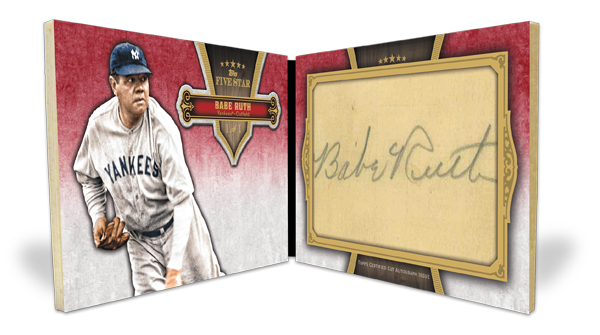 Cut Signatures (30 cards) — You can't have the legends who aren't with us any longer without leftover stickers or cuts. Here, we have cuts. In fact, we have Babe Ruth, six different Mickey Mantles and Joe DiMaggio here — bonafide big sigs.
However, there are also a lot of sigs that simply aren't money sigs if not found in limited cuts. (That's something not unique to Five Star.) Among them are Bob Lemon, Bobby Thomson, George Kell, Enos Slaughter, Lou Boudreau and Rick Ferrell — all guys who signed steadily through the mail for free a decade or two ago.
Other interesting or notable inclusions on this one are Baby Doll Jacobson, Harry Danning, Johnny Vander Meer, Robin Roberts, Willie Stargell and Warren Spahn.
—
That's it for the ink, which should be found roughly four times a box in Five Star. Overall, there should be some amazing inclusions but it will be tough to temper expectations as it's not going to be easy for the outrageous to appear out of every single box — even at $500 a pop. But if you want a chance at the big stuff? A box is your chance.
Curious about memorabilia options, which will include as many as eight patch pieces in a booklet or a bat nameplate, bat knob or uniform letter? Click the link below to view the entire checklist as released by Topps during the weekend.
Click here to view the complete Five Star checklist before it is verified and imported into the Beckett.com database later this week.
Chris Olds is the editor of Beckett Baseball magazine. Have a comment, question or idea? Send an email to him at colds@beckett.com. Follow him on Twitter by clicking here.