First Look: 2015 Topps Tribute baseball cards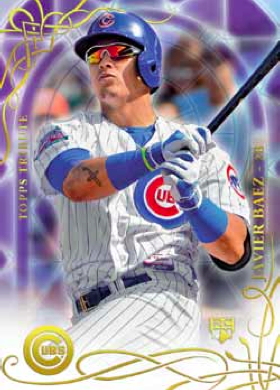 By Chris Olds | Beckett Baseball Editor
The first high-end line of 2015 will be Tribute.
Topps released the first images of 2015 Topps Tribute on Wednesday, a hit-per-pack high-end brand that the company promises will be "revamped to incorporate your feedback, suggestions and ideas" while including the "same upper-echelon technology the has made Tribute a collecting staple."
Like past years, it will include three autographs and three Relics per six-pack box when it arrives on Feb. 19.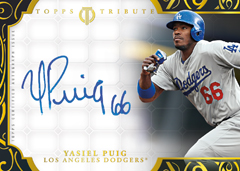 According to the company, there will be an "upper-echelon checklist that will excite all high-end collectors" for autographs and Relics, though a preliminary checklist was not announced.
Some names teased as signers are Hank Aaron, Roger Clemens, Cal Ripken Jr., Ken Griffey Jr. Yu Darvish, Ernie Banks, Yasiel Puig, Mariano Rivera, Manny Machado, Jose Canseco, Mark McGwire, Javier Baez, Miguel Cabrera and Tom Seaver to name a few.
All autographs will be signed on-card for this one with Tribute Autos showcasing veterans and retired stars. These will be found with eight parallels — Green, Orange, Black, Gold (/25), Purple (/10) and 1/1 Red, Onyx and printing plate cards. (The other quantities were not announced.)
New on the autograph front are Foundations of Greatnes and Rightful Recognition autos — both will be serial-numbered and have Black, Gold, Purple, Red, Onyx and plate parallels with the same quantities for those announced.
Also new are diecut To the Victors autos, which will showcase past World Series champs and be found one per case. These will have Gold (/15), Purple (/10) and 1/1 Red parallels, while Eccentric Eye Black autos once again return in small quantity — this time just five copies with a 1/1 Red parallel.
The base set for this one will consist of 100 cards — a mix of active and retired players — with parallels found just one per box. They will have Green, Black, Purple (/10) and 1/1 Red and plate parallels to chase. Other numbering was not announced but they will be limited to 99 or fewer copies.
Lastly, on Relics, there will be one new set and three new shades of parallels. Prime Patches and Milestone Relics return — the Milestones limited to 10 — as do Tribute Relics. The newbie is Diamond Cuts, which will have a "unique Relic diecut." All will be numbered. Parallels for Tribute and Diamond will include Orange, Black, Gold Patch (/25), Purple Patch (/10) and 1/1 Red Patches — but there could be more to come there, too.
Chris Olds is the editor of Beckett Baseball and Beckett Sports Card Monthly magazines. Have a comment, question or idea? Send an email to him at colds@beckett.com. Follow him on Twitter by clicking here.