Mike Trout's anti-climactic Rookie of the Year win will reaffirm his cardboard surge this summer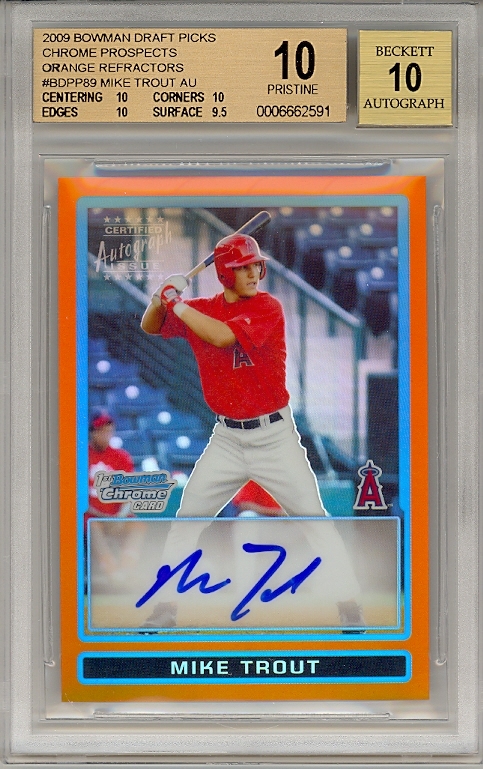 By Chris Olds | Beckett Baseball Editor | Commentary
Los Angeles Angels outfielder Mike Trout winning the American League Rookie of the Year award on Monday as voted on and announced by the Baseball Writers Association of America will be as anti-climactic as it gets.
It could have been announced months ago.
Baseball card collectors called this one throughout the season as demand for Trout's items intensified well before he finished the season as the first rookie in the 30-30 Club, led the majors in stolen bases (49) and runs (129) and finished in the top six in batting average (.326), on-base percentage (.399) and slugging percentage (.564). How good is all of that? It should be obvious, but he's also the only player in MLB history to hit for better than .320 with 30 or more homers and 45 or more steals in a single season.
The first and only. And he did it as a 21-year-old.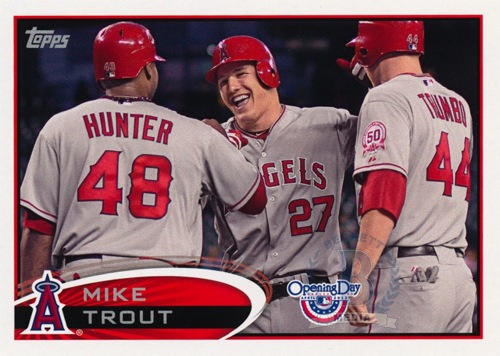 In all, Trout appears on 680 total cards in the Beckett.com database (click here for a checklist or Online Price Guide) valued at $33,787 not including cards too scarce to price. Of those, 520 are serial-numbered, 237 feature certified autographs and 141 are memorabilia cards with a piece of a game-used item embedded into them.
Because he played 40 games in 2011 (not enough to exclude him from ROY contention), Trout's eight Rookie Cards actually appear in 2011 baseball card sets. The cheapest are his 2011 Playoff Contenders (actually released this year) from Panini America and his 2011 Bowman Draft cards from Topps at $12 apiece, while his priciest RC is his 2011 Prime Cuts card, which is limited to just 99 serial-numbered copies and typically goes for as much as $80.
Trout's earliest cards appear as insert cards in 2009 products and the runaway winners there for Best Trout Baseball Cards are his 2009 Bowman Chrome Draft Prospects autographs — in particular his Blue and Gold Refractors, which sell for as much as $1,400 and $1,800 apiece. A third signed card from that year, his 2009 Bowman Sterling Prospects Gold Refractor, also is limited (50 copies) and has sold for as much as $1,000.
Of course, asking prices for these cards — including graded copies — along with rarer Refractors is even more lofty — (how does $25,000 sound?) — in online auctions and the overall action can be downright crazy at times.
But such is life for those types of in-demand cards of an in-demand player who'll be named the AL Rookie of the Year soon, beating two quality rookies in Texas pitcher Yu Darvish and Oakland outfielder Yoenis Cespedes — two international stars who came to MLB this year and also fared well for teams in the AL West.
Collectors already knew that, though, unless of course they were all buying cards of the AL MVP.
In case you didn't know, Trout is one of five finalists for that award, which will be announced on Thursday.
Chris Olds is the editor of Beckett Baseball magazine. Have a comment, question or idea? Send an email to him at colds@beckett.com. Follow him on Twitter by clicking here.