T206 Ty Cobb stash proves that big baseball card finds are still out there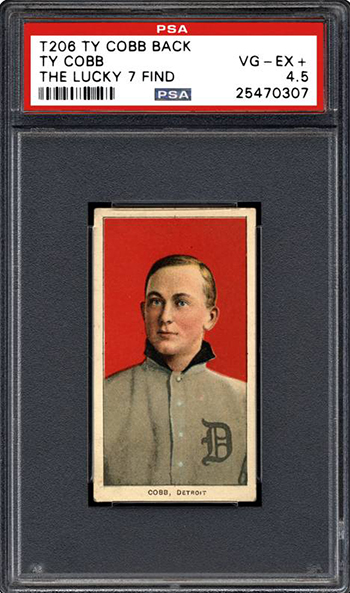 By Ryan Cracknell | Hobby Editor
Do you know what's hiding in your floors or tucked behind your walls? Baseball cards in general are buzzing, even among non-collectors, thanks to an astonishing find of seven T206 Ty Cobbs with the extremely rare Ty Cobb backs.
The discovery is one you'd expect to find in a movie. In hobby terms, it's a fairy tale. It also proves that the big finds are still out there waiting to be uncovered.
A rural family was going through the belongings of their great grandparents. They came across a paper bag that's torn. The first thought was to toss it. They didn't. And that's where the magic happened.
Rather than throwing the bag away, the family went through it. That's where they discovered the T206 Ty Cobb cards, a find that will likely net the family millions should they decide to sell them.
The family, which wishes to remain anonymous, outlined the discovery in a press release, "The bag was old and in bad shape like it had been there for a while. At first, we thought the bag was trash and was initially overlooked as such. After looking around at other things found in his old house, we were drawn back to that paper bag. The bag was picked up, opened, and then we realized there were post cards and other different types of cards inside. At the bottom of the bag, face down, were the seven Cobb cards."

The family noted that they weren't overly familiar with what they had found, although they recognized Cobb's name. They reached out to Myrtle Beach's MINT State who then got hold of PSA to verify the discovery.
Until the find, less than 20 of the T206 Ty Cobb cards with the Ty Cobb back were thought to exist. That's a fraction of the T206 Honus Wagner, the most famous and valuable baseball card of all-time.
The T206 Ty Cobb cards that were part of the "Lucky 7" find aren't in perfect condition but they do bring some strong eye appeal. Two of them, which have been authenticated and graded by PSA, are the top known copies of the card. They received grades of 4.5 and 3.5. Also in the stash were four graded 2.5 and a 1.5.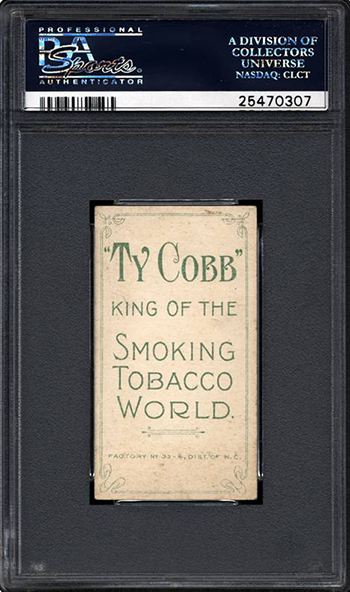 What will the cards bring? It's tough to say as very few of these T206 Ty Cobb cards have been sold in recent years. A PSA 1.5 sold for over $135,000 in 2010. In February, 2014, a PSA 1 topped that, selling for $154,050.
The sudden jump in the number of known copies of the Ty Cobb card likely won't make much of a difference. It's still exceptionally rare and much scarcer than the T206 Honus Wagner. If nothing else, this new notoriety could have the opposite effect. Baseball cards that come with a story are better appreciated and can carry more value. These cards all have that story and notoriety now.
But none of that will matter until the family decides what they're going to do with the T206 Ty Cobb cards. It's likely that they will be sold in the not-too-distant future, either by public or private sale. MINT State is already accepting offers on individual cards or the lot of seven on behalf of the family.
For most of us, the Lucky 7 find is simply a great story — one that we can only dream of. And while these sorts of troves, attic finds and basement discoveries are still rare to the point of legend, this is a reminder that they're still out there. We can still have hope of finding the equivalent of treasure. It might even come in a chest. But don't discount those paper bags, either.
Comments? Questions? Contact Ryan Cracknell on Twitter @tradercracks.