Minnesota prospect Byron Buxton collects baseball cards, just not his own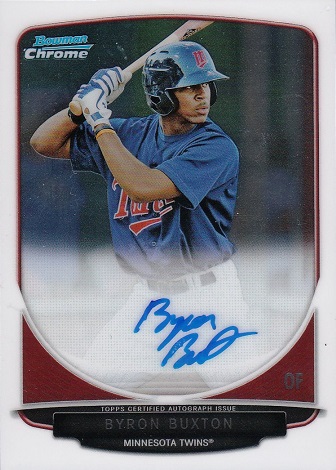 By Susan Lulgjuraj | Beckett Sports Card Monthly Editor
NEW YORK CITY | Byron Buxton still seems like a kid – loping around the outfield or sidling up to the batter's box. Buxton looks like he's still having fun on the baseball diamond.
His time at the MLB Futures Game reminds people that Buxton is still 19 despite being one of the top prospects in baseball. He got a $6 million signing bonus last year, which he spent part of on a house and cars for his family.
However, none of that prepared him for some of the best pitchers he faced so far in his young career.
"The first pitch I saw was 94, but it looked like 105 coming off the bench," Buxton said following Sunday's game at Citi Field, in which he went 0-2 with two strikeouts.
He still gets excited about new cities and situations. On Saturday, he walked around New York City for more than three hours, taking in the sights such as the Empire State Building.
"I think I lost like 10 pounds," he joked.
Buxton still enjoys the things that make playing baseball unique.
The Baxley, Ga., native was an Atlanta Braves fan growing up. He collected baseball cards, meticulously sorting them by team and storing them in boxes.
"I like to be coordinated," Buxton told Beckett Media. "I put them in their special cases."
Buxton's cards are popular with collectors. His 2013 Bowman base autographs generally sell for about $100 online. His 2013 Bowman Superfractor Autograph sold for $7,999 on eBay recently. He already has 330 cards in the Beckett database between Topps, Panini America and Leaf products.
He's one of the best players in the minors, which collectors have recognized. Buxton is hitting .333 between single-A and high-A with 35 stolen bases, nine home runs, 11 triple and 17 doubles. He's gotten early comparisons to Mike Trout and Bryce Harper as people look at youngsters who can make immediate impacts when they hit the Majors.
Even after all that, Buxton still likes to do the small things that let you know he's only 19 years old.
He still collects cards. However, Buxton doesn't give too many details on his collection. He's a very casual collector and picks up a pack or two when something catches his eyes. He doesn't collect specific players and doesn't try to build sets. He simply enjoys opening a pack of cards and adding them to his team boxes.
Buxton isn't collecting his own cards either – though he concedes he will probably get a copy of one of his Rookie Cards one day. No, his own cards are for others to enjoy. He doesn't need a card to know what he looks like.
"I see myself every day," Buxton said with a laugh.
Susan Lulgjuraj is an editor of Beckett Sports Card Monthly. You can email her here with questions, comments or ideas. Follow her on Twitter here. Follow Beckett Media on Facebook and Twitter.