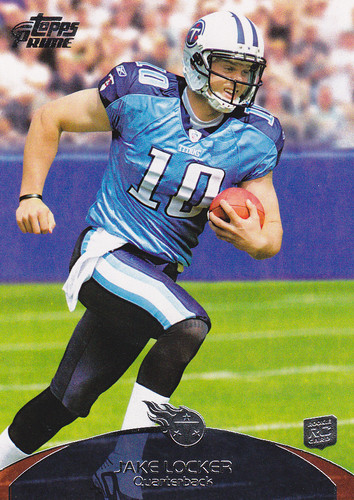 By Susan Lulgjuraj | Beckett Football Editor
It seems second-year player Jake Locker is going to get the starting quarterback job in Tennessee, according to a report by the NFL Network.
Despite the Titans official website not going with the decision yet, Locker's cards are certainly going to be affected by this report coming out.
In a card ending in about eight hours (at the time of this post), a 2011 National Treasures three-color patch numbered to 99 is up to nearly $300. The Beckett high-book value on this card is $400. Could the card surpass that with today's announcement?
This is also the time many people who have been hoarding Locker cards start looking through their collections. Some of his best cards could likely end up on eBay over the next couple of days with sellers looking to get Locker's cards when they could near their peak. Also expect some quick fingers hitting BINs.
Last season, Locker backed up Matt Hasselbeck. He completed 34-of-66 passes for 542 yards and four touchdowns. Hasselbeck completed 319-of-518 passes for 3,571 and 18 touchdowns with the Titans finishing 9-7 last year.
This season, the Titans haven't played either quarterback too much in preseason.
In the first preseason game against the Seattle Seahawks, Locker was 7-for-13 for 80 yards. Hasselbeck with 5-for-9 for 45 yards (By the way, Seattle's Russell Wilson was 12-for-16 for 124 yards with an interception and touchdown).
In Friday's preseason game, Locker completed just 4-of-7 passes for 21 yards and interception. He also had quarterback rating of just 7.0.
However, even with the ups and downs, Locker's cards continue to sell well as he is deemed the future of the Titans.
Susan Lulgjuraj is the editor of Beckett Football magazine. You can email Susan here with ideas, comments and questions. Follow her on Twitter here.