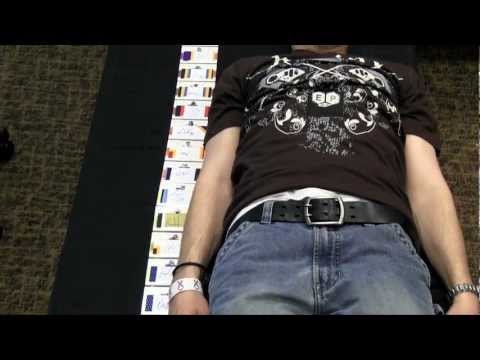 By Susan Lulgjuraj | Contributing Editor
In what seems like the card that never ends, Panini America unveiled on Monday morning a 36-player foldout booklet – the longest trading card in history, according to the company.
End to end, the card is more than 8-feet long.
The card has 36 player panels each with a signed and personalized patch.
Five of these booklets – more like novels – were placed in Panini's 2011 National Treasures Football as a redemption. These cards wouldn't really fit into packs – and just think of the field day pack searchers would have.
Players on this massive card include Cam Newton (Go Panthers!), Taiwan Jones (Raider Nation), Jamie Harper (Titans ALL THE WAY), Julio Jones (Go Birds!) with many, many other players. The most common personalization came in the form of "Go (Insert current team)."
Check out the video giving perspective on the size of the card.
How would you display this card?
Here's a list of all the players:
・ Andy Dalton
・ Cam Newton
・ A.J. Green
・ Taiwan Jones
・ DeMarcus Murray
・ Torrey Smith
・ Ryan Mallett
・ Stevan Ridley
・ Shane Vereen
・ Austin Pettis
・ Mikel Leshoure
・ Christian Ponder
・ Jordan Todmer
・ Vincent Brown
・ Von Miller
・ Kyle Rudolph
・ Jonathan Baldwin
・ Jake Locker
・ Jamie Harper
・ Mark Ingram
・ Leonard Hankerson
・ Jerrel Jernigan
・ Delone Carter
・ Blaine Gabbert
・ Julio Jones
・ Marcell Dareus
・ Ryan Williams
・ Clyde Gates
・ Daniel Thomas
・ Greg Little
・ Colin Kaepernick
・ Alex Green
・ Randall Cobb
・ Bilal Powell
・ Kendall Hunter
・ Titus Young
Susan Lulgjuraj is a contributing editor for Beckett Media. You can email Susan here. Follow her on Twitter here.