Orr autos seem plentiful in Ultimate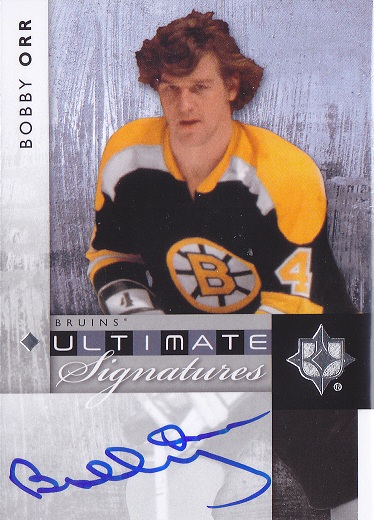 By Susan Lulgjuraj | Beckett Hockey Editor
Have you ever wanted a Bobby Orr autograph, but couldn't afford to get one of the best hockey players of all time?
It seems as though 2011-12 Ultimate Collection is making it a little easier for collectors to get their hands on one. Collectors opening the Upper Deck product have noticed Orr autographs falling at a pretty decent rate, which is usually unheard for a player of Orr's caliber.
However, Orr is classified in Group D of that product for Ultimate Signatures, which means players such as Orr, Evgeni Malkin, Tyler Seguin and P.K. Subban are falling at a rate of one in every nine packs.
That's four big names in the hobby world that are falling at a good rate.
In 2011-12 Ultimate, there is an autograph in every pack – and just one pack in every box.
If you don't want to take your chances on opening a box, recent completed listings show Orr signature has become affordable. Ultimate Signatures of Orr have sold for between $50 to $75 with some jumping up to around $100.
Orr does have a good number of autographs on the market. Of his 1,152 total cards listed in Beckett, 354 are autographs. That's about 30 percent of his cards of all his cards (Need an Orr OPG or checklist? Click here).
That's because the majority of his cards came after Orr retired in 1979 – and was practically carried in the Hockey Hall of Fame when he did – when the autograph and memorabilia craze started to hit.
Orr is arguably the best defenseman to play in the NHL making these cards a cool collectors item to grab.
Susan Lulgjuraj is the editor of Beckett Hockey magazine. You can email Susan here with ideas, comments and questions. Follow her on Twitter here.