Ultimate LeBron James Rookie Card Rankings
If you're looking for LeBron James Rookie Cards, there is no shortage of options out there. He has more than 60 cards that carry RC status. Sixty-two if you want to be exact. And that's not including all the other inserts, parallels and special edition cards released in 2003-04.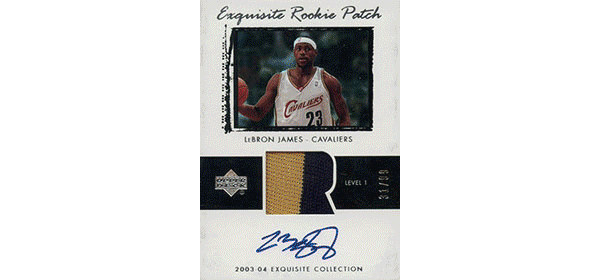 With so many to choose from, it shouldn't come at a surprise that there's plenty of variety out there. And, yes, some are still very much affordable. Others? Have your bank account ready. And with his status as one of basketball's all-time greats already cemented, it's only a question of how far up that list he goes.
Upper Deck, Topps and Fleer are responsible for all of the LeBron James Rookie Cards. Upper Deck had an advantage as they signed him to an exclusive deal that ensured they were the only company that could include LeBron James autographs.
Keeping track every LeBron James rookie card isn't an easy task. Put side-by-side, some brands can blend together. The shear number of choices is daunting. So we've wrangled them all up and ranked them according to their value.
Most Valuable LeBron James Rookie Card Rankings
The following is a full breakdown and ranking of every LeBron James Rookie Card with the RC tag in the Beckett Basketball Card Database and Price Guide. Only base cards are included, not inserts or parallels. Specific values are available to subscribers.
With such a long list, we've broken them down into smaller groups. To navigate between them, simply click the tabs. Each section counts down.
#1-10
#11-20
#21-30
#31-40
#41-62
Comments? Questions? Contact Ryan Cracknell on Twitter @tradercracks.