LeBron James Leads NBA All-Star Jersey Auction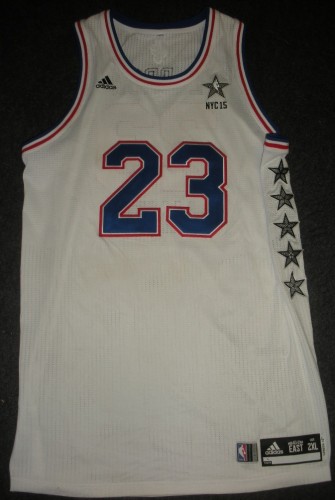 By Stephen Laroche | Beckett Media
In the wake of the 2015 NBA All-Star Weekend, fans were able to bid on game-worn and event-worn jerseys from the biggest names in the sport and some of the prices for them soared to impressive heights.
With eight different items reaching final bids of over $10,000 over the past few weeks, collectors and fans were willing to place high bids for a piece of history and the most expensive turned out to be the white Eastern Conference jersey worn by Cleveland's LeBron James during the first half of the 2015 NBA All-Star Game hit $35,620 after 27 bids. Even King James' warm-up jacket was a hot commodity as it garnered a bid of $10,095 before the gavel dropped and his shorts went for $6,125.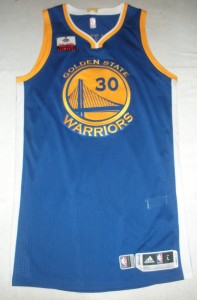 The next-closest piece of memorabilia from this annual event was Kevin Durant's Western Conference jersey that drew a $18,720 bid while Dirk Nowitzki's was not far behind with a final total of $17,220. The only other Eastern Conference jersey to go for five figures was that of Carmelo Anthony ($15,160). Stephen Curry was a big draw as well, as his game jersey ($13,060) was outdistanced by his event-worn Golden State Warriors shirt that he donned while winning the Three-Point Contest.
Even after Russell Westbrook's record-setting performance where he established a new All-Star standard for most points in one half, his Western Conference jersey only pulled in $11,131. Perhaps an even bigger surprise was Penny Hardaway's Orlando Magic jersey worn during the Shooting Stars Competition as bidding was fast and furious before it ended at $6,520.
There are still several items available at NBA Auctions, including jerseys worn in the BBVA Compass Rising Stars Challenge by hot young talents like Andrew Wiggins, Giannis Antetokuonmpo, and Victor Oladipo.
Stephen Laroche is the editor of Beckett Hockey and a contributor to Beckett Basketball. Have a comment, question or idea? Send an e-mail to him at slaroche@beckett.com. Follow him on Twitter @Stephen_Laroche.