South Bay's high-end basketball buyback product out this week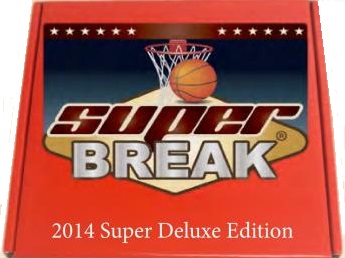 By Susan Lulgjuraj | Beckett Basketball Editor
South Bay Baseball Cards will release 2014 Super Break Deluxe Edition Basketball this week.
The Super Break will be available in a limited quantity with just 200 boxes made. Each box will contain 10 items – nine buybacks and one original sketch card.
The price tag comes in around $3,400.
Each box will come with at least one piece of memorabilia, which can include game-used jerseys, signed photos, signed basketballs and signed sneakers from players such as Michael Jordan, Kobe Bryant and Kevin Durant – as shown by the items on the sell sheet.
The full game-used jerseys included in the 2014 Super Break Deluxe Edition Basketball are from LeBron James (third game of his rookie year); James' high school jersey; Chris Paul; Charles Barkley (signed twice); Pau Gasol; Chris Bosh; LaMarcus Aldridge; and Richard Hamilton.
There is a heavy concentration of the top 15 current superstars and to 20 NBA legends. The cards will include high-end autographs with chances to pull signed cards of Jordan, Wilt Chamberlain or even a Pete Maravich cut autograph.
Some of the hits will include Upper Deck Authenticated Jordan autographed items.
There are fewer than 25 redemptions. All redemptions items are in stock. Redemption Coupons expire 180 days after the release date.
Susan Lulgjuraj is an editor at Beckett Media. You can email her here with questions, comments or ideas. Follow her on Twitter here. Follow Beckett Media on Facebook and Twitter.