Josh Allen has brought some hope and excitement to Buffalo. Beckett Media's David Lee spoke with the quarterback before the season at the 2018 NFLPA Rookie Premiere and got Allen's thoughts on football cards, where he wants his career to go and his favorite video games.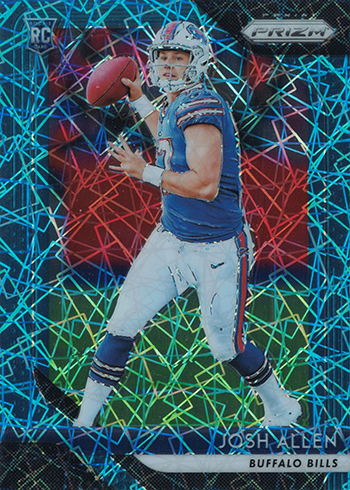 Beckett Media: Did you realize it would take such a big event to make your first football cards?
Josh Allen: I never thought it would be this big. They're paying us some good money to sign football cards, so I figured there was some value in this. It's pretty cool.
BM: Did you collect cards growing up?
JA: I did. I had a Larry Johnson card. It had his jersey in it, and I just remember as a kid that was really cool.
BM: What teams or players were you a fan of?
JA: I was a 49ers fan. I was born and raised about two and a half hours from the Bay Area. Tom Brady was a big name for me. I loved watching Brett Favre. Since I was a 49ers fan, I loved watching Jeff Garcia, Ken Dorsey, Tim Rattay and all those guys.
BM: Who are you looking forward to playing against?
JA: Well, I get to play against Tom Brady twice a year now. That will be pretty fun. It's always been a goal of mine to play against him.
BM: What veterans in Buffalo have helped you so far?
JA: Zay Jones, receiver. What a great dude that guy is. He's down to earth and cares a lot about football and the Buffalo Bills. He's kind of taken me under his wing, him and Malachi Dupree. Charles Clay, Lorenzo Alexander, and I know Eddie Yarbrough from Wyoming so it's cool to see a familiar face.
BM: If you could be paired on a football card with any player in history, who would you want to be on there with?
JA: I'd have to go Brett Favre. Obviously he was tough as hell. The love of the game that he had, you could see him having fun on the field. The mentality that he had was home run first, and I love it. He didn't care about anything but football and having fun.
BM: What parts of your game do you want to improve on making the transition to the NFL?
JA: I'm a long way from being a finished product. We can always find something to improve on. I'm just excited to get in there with AJ McCarron and Nate Peterman, and learn and compete with those guys."
BM: How would you describe your personality?
JA: I'm laid back. I'm a go-with-the-flow type of person. I could stay in my house and watch movies all day. I don't like the spotlight too much. I just want to play football and be part of the Buffalo Bills organization for 15-plus years.
BM: What's your favorite part about the game?
JA: Throwing touchdowns. Just putting more points on the board than the other team. I care about one thing, and that's winning games.
BM: What rookie would you build a card collection of?
JA: I'd probably go Sam [Darnold] because we went through the whole draft process together and spent a lot of time together. I do want everyone's card signed.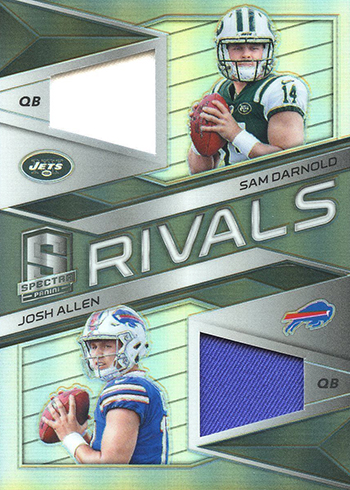 BM: How have you perfected your autograph?
JA: I just switched mine up. After I got out of college I just realized it was kind of ugly and not very legible. My quarterback coach's wife came up to me and said, 'I think you need to change your autograph.' I trusted her judgment, and it looks a lot better now.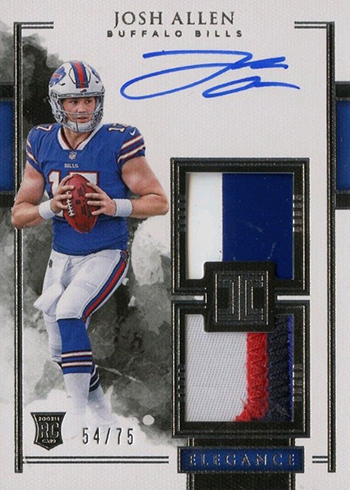 BM: What do you like to do away from football?
JA: I love to golf. I do like video games. I don't hunt much, but I do enjoy it. Anything that passes time without me having to move much.
BM: What games do you like?
JA: I'm huge on Fortnite. I love Madden. Love NBA2K. I'm not very good at 2K but I play a little bit.
Favorite food?
"If I can choose a spot to eat every day it would be the hibachi places—fried rice and filet mignon and shrimp. I could eat that every day."
Favorite movie?
"In action/adventure, it would be 'Shooter' or 'Law Abiding Citizen.' In comedy, it would be 'Step Brothers' or 'The Other Guys.' I'd throw 'The Interview' up there, too. I like the animated stuff. 'Shrek' will forever be up there."