How to Find Out What Game Your Topps Strata Baseball Relic Came From
When you click on links to various merchants on this site, like eBay, and make a purchase, this can result in this site earning a commission.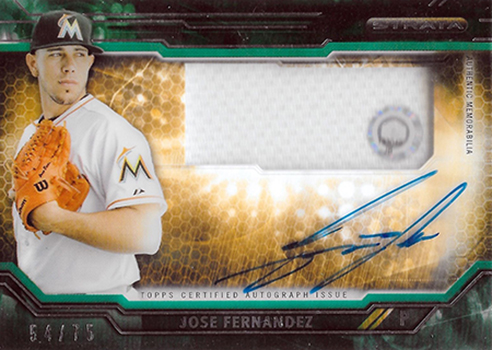 By Ryan Cracknell | Hobby Editor
2015 Topps Strata Baseball helped change a problem many collectors have with modern memorabilia cards. Now, the followup 2016 Topps Strata has continued it. You can actually track where they're from.
When game-used cards first came out, things were somewhat clear. We were usually told that it was a bat or jersey used by a specific player. The exact date or game may not have been included but the wording was clear. Over the years, things have gotten more vague. Lawyers may like it, but it can be hard for collectors to get excited about pieces of fabric that don't come from any specific game or event. Even the type of material or player has been muddled.
A handful of sets over the years have gone the game-dated route. But they're definitely the exception for game-used cards.
A seemingly simple addition to the Clearly Authentic game-used relics in both 2015 and 2016 Topps Strata Baseball lets collectors look up exactly what game the swatch came from. Topps worked with MLB Authentication for the cards to create about as much provenance as one can expect from a memorabilia card. The cards have a hologram anyone can use to look up who used the jersey (or other gear), when and more.
How to Look Up the MLB Authentication of Topps Strata Baseball Clearly Authentic Relics
1. Go to the MLB Authentication website.
MLB Authentication works to verify a ton of memorabilia — worn by players, from the dugout or otherwise — with a multi-step process. And it's all out in the open when you look things up on their website.
2. Enter the info found on the card's hologram.
All of the 2015 Topps Strata Clearly Authentic relics have a hologram. They're secured under a piece of acetate so there shouldn't be any issues with them peeling off. Enter the information on that hologram into the box at the top of the MLB Authentication home page.
The initials are selected by a drop-down menu. Then type in the rest of the code and click 'Authenticate.'
3. The details are revealed.
If you entered the hologram information correctly, a pop-up window will show up and tell you everything you need to know about the swatch. And probably a little bit extra. If, for some reason, this window doesn't show up, try entering the details again. You might also need to adjust your web browser's pop-up settings.
Trying It Out
Here's a 2015 Topps Strata Baseball Clearly Authentic patch card of Prince Fielder.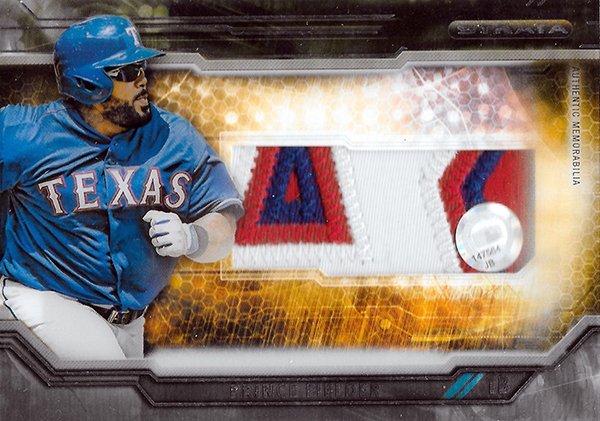 The hologram is "147564 JB."
Head over to the MLB Authentication site and enter the details. 'JB' can be found in the drop-down.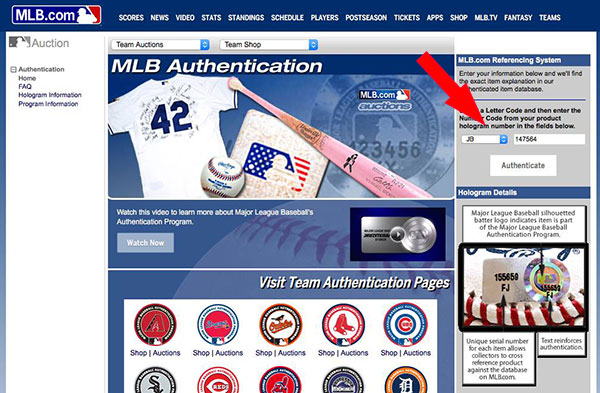 From that simple code we can verify several things: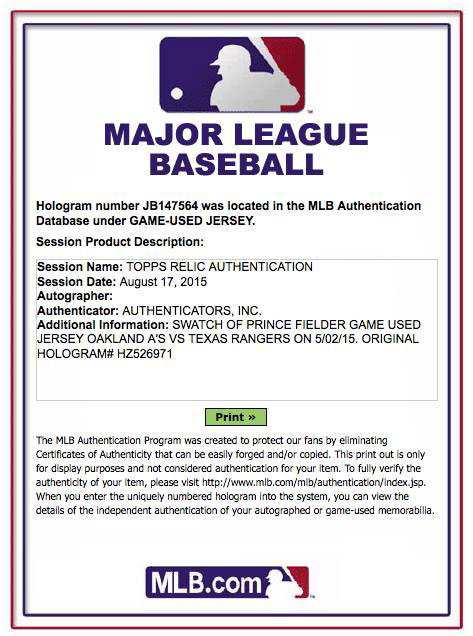 It's from a jersey.
Prince Fielder wore that jersey.
It was worn on May 2, 2015 in a game against the Athletics.
It gives us a code to the complete jersey the swatch was cut from.
Taking that information, you can go an build more of a story for the card to see what happened in the game itself.
Fielder went 2-4 with a walk in an 8-7 Texas victory.
It's unknown whether this level of authentication and transparency will carry over to other products, sports and manufacturers.
Would you be more interested in game-used cards with this sort of authentication? Would you put a premium on such cards? Share your thoughts in the comments below or on Twitter.
Comments? Questions? Contact Ryan Cracknell on Twitter @tradercracks.