2016-17 Panini Contenders Draft Picks Basketball Details
The new class of NBA freshmen is close to making its arrival and Panini America is bringing them to collectors mere weeks before they officially debut with the release of 2016-17 Panini Contenders Draft Picks Basketball.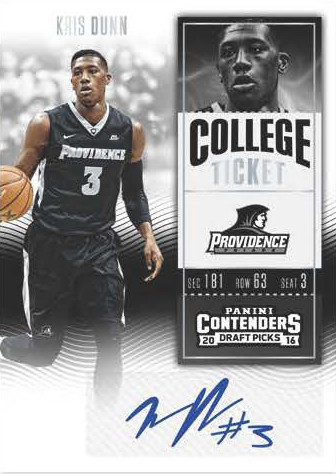 Loaded up with five autographs per box and tons of inserts, this release is not only looking at the newest players, but also examines what today's stars and yesterday's legends accomplished before they turned pro.

Base Set and Parallels
A mix of veterans make up the Season Ticket portion of the 2016-17 Panini Contenders Draft Picks Basketball base set, collectors get an alternative look at these players before the full-fledged NBA products begin to hit soon after.
There is a large 87-card College Ticket subset featuring many of the top selections from NCAA schools in 2016 and they are augmented by a collection of International Ticket autographs as well. While unannounced, there is a good chance that we will see variations for many of these cards as well.
Parallels for the College Ticket cards are numbered to 99 copies or less, starting with the College Draft Tickets. They are joined by College Playoff Tickets (/15), College Championship Tickets (one-of-one), and College Cracked Ice Tickets (/23). Each card also has one-of-one printing plates that come in four versions. The parallels for International Tickets are also limited to 99 or less and both printing plates and Cracked Ice editions can be pulled.
Inserts
Packs of 2016-17 Panini Contenders Draft Picks Basketball are bursting with traditional insert cards. In fact, there are more inserts than base cards inside each one. Every pack will have one card from Class Reunion, College Connections, Game Day Tickets, School Colors, and Old School Colors.

Autographs
Some of the insert cards from 2016-17 Panini Contenders Draft Picks Basketball mentioned above are going to have signed versions and Old School Signaturess are expected to be quite rare. Also part of the autograph lineup is Alumni Ink.
2016-17 Panini Contenders Draft Picks Basketball at a glance:
Packs per box: 24
Cards per pack: 8
Boxes per case: 12
Set size: 184 cards
Release date: October 5, 2016
What to expect in a hobby box:
– five autograph cards
– 24 Class Reunion
– 24 College Connections
– 24 Game Day Tickets
– 24 School Colors
– 24 Old School Colors
Stephen Laroche can be found on Twitter @Stephen_Laroche.