The Relic contained in this Chris Davis Museum Collection card is from a specific game and season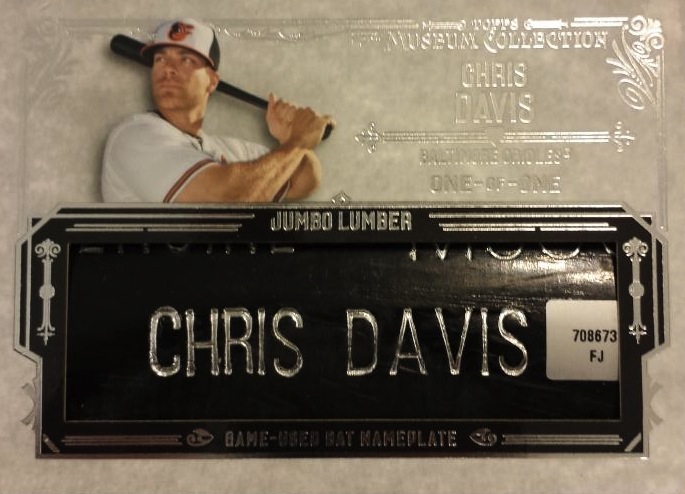 By Chris Olds | Beckett Baseball Editor | Commentary
This year's edition of Topps Museum Collection arrived in hobby shops today with every pack containing some type of hit — an autographed card or a Relic of an MLB player.
This particular card was pulled by a collector, and it includes a nameplate from a black game-used bat from Baltimore Orioles slugger Chris Davis embedded into it — but that's not why it carries extra appeal to me.
It's a nameplate of a black Louisville Slugger M356 model that Davis splintered at the handle when facing Jon Lester during the bottom of the fourth inning on March 31, 2014, in Oriole Park at Camden Yards. How do I know this? The MLB Authentication sticker tells me just that.
The game's box score tells me Davis went 0-for-3 with two strikeouts on that sunny, 60-degree Monday — a game that, despite the slugger's tough day, was a 2-1 Orioles victory.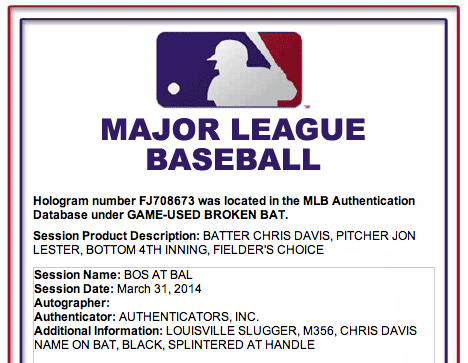 Meanwhile, I'd be willing to bet that, like many Topps Relics, the back of this card reads just like this: "The Relic contained in this card is not from any specific game, event or season." That's the standard blurb that works in tandem with the labeling on the front of the card that notes it's game-used. It's also so you don't think (for whatever reason) that it's being passed off the bat shown in the photo on the front of the card.
This card is the only one that can carry a silver-foil designator of those made from this bat, though. A couple thousand more pieces coming out of this piece won't have that — and that's the reality of there being just one sticker on the bat.
Too often, though, that phrase leads some people to believe that a Relic isn't from any game, any event or any season at all. Will this trivia and added extra make this 1/1 Davis nameplate sell for substantially more than any other Davis barrel card? Probably not, but at least it can offer an example to the naysayers who think that a Relic statement means nothing at all.
Chris Olds is the editor of Beckett Baseball and Beckett Sports Card Monthly magazines. Have a comment, question or idea? Send an email to him at colds@beckett.com. Follow him on Twitter @chrisolds2009.