A Tale of Two Jeters: Getting to the Origins of a Couple of 2016 Topps Dynasty Cards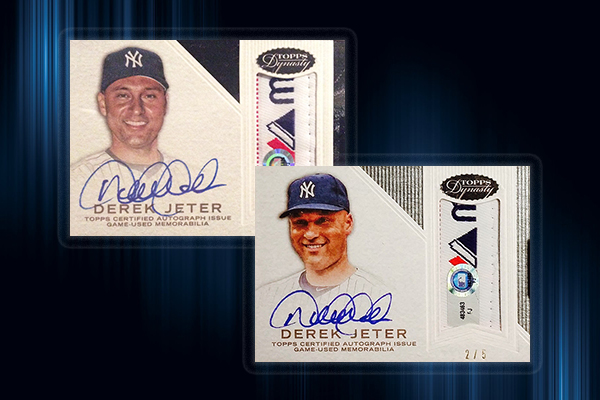 By Ryan Cracknell | Hobby Editor
With 2016 Topps Dynasty Baseball marking the third instalment for the brand, it's Derek Jeter who has some of the most intrigue on the checklist.
It's his first new MLB autograph cards in more than five years and his first from Topps since 2001. Combine that with the ultra high-end nature of Topps Dynasty and you've got a recipe for some expensive cards.
While there aren't many to begin with, a couple of these cards have some added background.
Like a lot of collectors, it's window shopping for me on Dynasty. They're nice cards, but they're not in my budget — particular the Jeters. I'm sure going to look, though.
A couple of the Jeter autographs caught my attention while browsing. The first was a one-of-one for obvious reasons.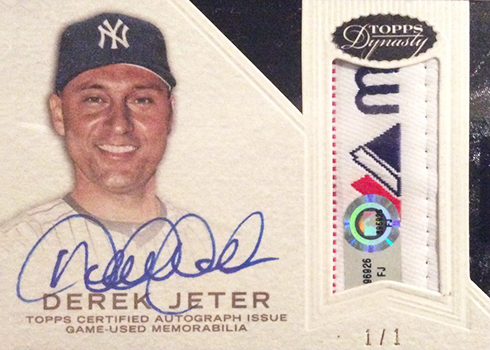 But then I saw another card numbered to 5 that had a similar Majestic tag. They both have the MLB Authentication holograms as well.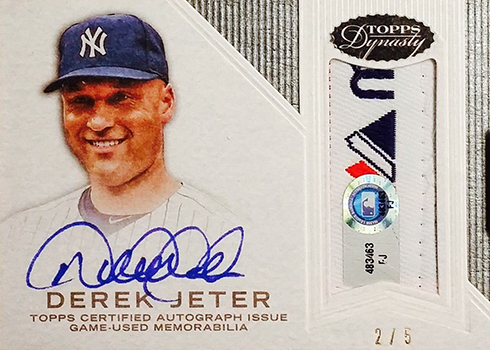 That means you can look up exactly where those swatches came from. To do so, you go to the MLB Authentication website and enter the number on the hologram. It's very simple.
For the card numbered to 5, this pops up: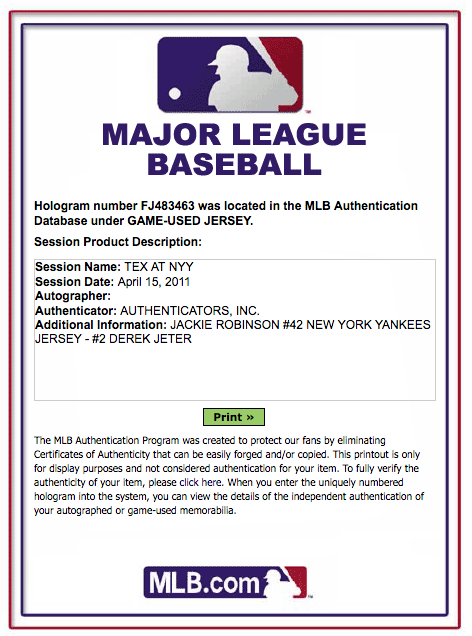 The swatch comes from a gamer worn on April 15, 2011. This just happened to be Jackie Robinson Day. Jeter went 2-4 that game, a 5-3 loss to the Rangers. It's not from a landmark game in Jeter's career, but the fact that it originates from a special jersey is interesting.
As for the one-of-one, that tag has an interesting story as well.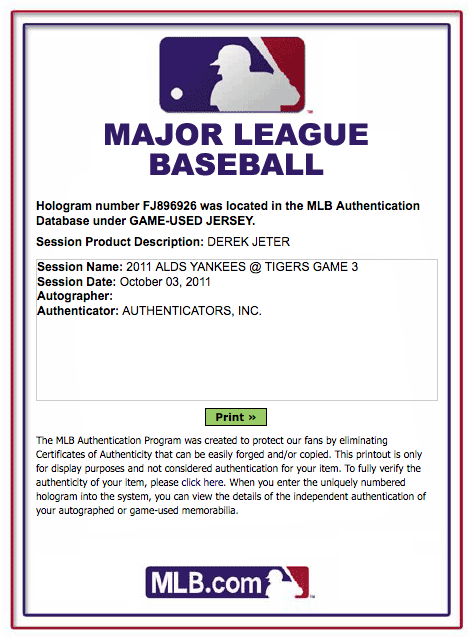 It's from the 2011 postseason. More specifically, Game 3 of the Division Series against Detroit. Once again Jeter got a pair of hits in the game and, once again, the Yankees lost. This put them behind 2-1 in the series. It would go the distance but the Tigers would end up taking it.
Not every card in 2016 Topps Dynasty has the holograms. In fact, of the cards I scanned through on eBay yesterday, I only saw a couple of others. It's likely that these were already attached to the jerseys when were cut up.
That said, these holograms, which Topps has been including intentionally more widely in products over the past couple of years, serve a couple of purposes. The first is the fact that they add some assurance to collectors. Most swatches are plain and it's basic trust that we go with. Outside authentication makes it official.
Also, the level of records MLB keeps just adds to the story of the card. Not that a couple of Jeter cards that are going to sell for big money aren't interesting in their own right, but now with that added level of background, they come with a story as well.
Comments? Questions? Contact Ryan Cracknell on Twitter @tradercracks.