How to build accurate team set checklists quickly with the Beckett database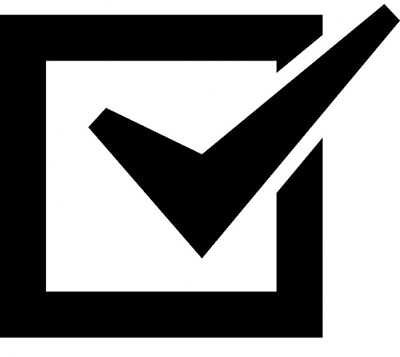 By Ryan Cracknell | Hobby Editor
In the hobby world, there are a lot of team collectors out there. I'm one of them, although the team I collect (Montreal Expos) doesn't have many cards anymore. Like all team collectors, when it comes to seeing what players are in new sets and compiling lists of needs, there can be a lot of squinting and scouring through spreadsheets and PDFs. Not only are they hard on the eyes at times, it's an inexact science where stray cards can easily slip by. Using the search function (Ctrl + F) on your web browser makes it a little easier, but not much.
Building your team set checklists doesn't have to be tough. In fact, the Beckett database makes it easy to filter by set or to get a massive list of cards for your team for an entire year. Want just a list of rookie cards or autographs? That's just a couple of extra clicks. And if you're like me and my Expos and focus primarily on base cards, that's easy too.
Read on an find out how to easily make team set checklists and want lists that are fast and accurate. These tips also helpful if you do group breaks and want to quickly see what's available for a team in any given set.
How to Build Team Set Checklists for Your Sports Cards with the Beckett Database
I'm a big believer in "doing" while you learn something. You may want to open up another browser tab or window and practice while you go through the steps to get a feel for it.
1. Getting Started
Whenever you go into the Beckett database, you're going to want to login. This lets you filter your results and sort them exactly how you want. If you don't log in, you can still search but you will likely have to sort through lots of results that might not apply to your collection.
Basic Beckett accounts are free and signing up takes only a couple of moments.
You'll find the login box at the top of every page on the Beckett website.
Logged in? Let's get searching.
2. Searching by a Specific Set
Once you get on top of your team set want lists, you'll hopefully get to a point where a quick search by set will come in handy whenever a new product is released. That's where we'll start.
Because my Expos aren't in many sets now, I'll use the Kansas City Royals. But these steps work with any team or sport that's listed in the database. Let's see what the Royals have in 2015 Bowman Draft.
Besides the login prompt, there's a search bar at the top of every Beckett page that's connected to the Beckett database. Before you type in your search, make sure to pick "baseball" or "all categories" from the drop down menu next to the search bar. If you're working with another sport, select that.
Because I want to limit my search to Royals in 2015 Bowman Draft, the search string is a simple "2015 bowman draft kansas city royals."

You'll notice I've selected "baseball" in the category drop down.
You could start by searching "2015 bowman draft" and then filter down to just the Royals cards. But by including the team in your initial search, it saves a step. I like saving steps.
It turns out 2015 Bowman Draft has 230 cards for the team. This includes all base cards, inserts, parallels and autographs.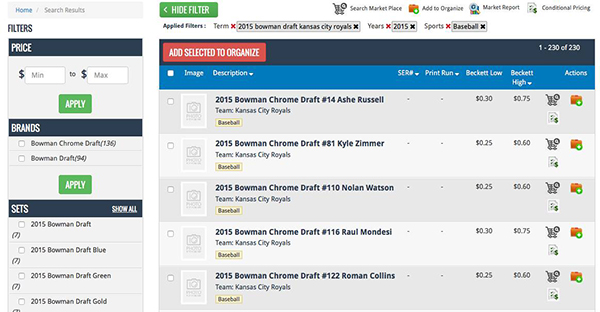 While that's a lot to sift through, chances are you're not going to go after everything. This is where we can start to sort things and narrow them down. And it's all simple. From here on out, much of what you'll need is in the sidebar on the left side of your screen. This is where you'll find all the sort options that makes building team set checklists easy.
When you have a second, just scroll down and look at all the various filtering options. It's actually pretty amazing how much information is at your fingertips. And remember, you can only use these filters when you're logged in.
3. Narrowing Your Search with Filters
Let's look at some of the most common filters you might use to build team set checklists.
By Brand
Bowman is one of those unique products that has a couple of different brands. There's the base Paper cards and Bowman Chrome. Even though they're in the same packs for 2015 Bowman Draft, they each have their own mix of cards.
By filtering the brand down here, you can get a quick look at just the Chrome cards if you want or just the paper.
This filter will come in handy with broader searches or products where there's some overlap. For example, if you want to see what's in 2015 Topps, you're going to get initial results with not only that set but 2015 Topps Archives, 2015 Topps Tier One, 2015 Topps Museum Collection and a bunch of others.
By Set
Narrowing things down by set breaks an entire product down into all of its various parts. That means every base portion, insert and parallel. For modern sets, don't be surprised if you have a lot of choices here. But if you know what you're looking for, it's easy.
One important thing to pay attention to is the fact that, initially, only ten sets show up. Be sure to click "Show All" to see them all.
By Attributes
The Attributes filter can come in especially handy if you have more specific things you're after. Here's where you'll be able to jump to things like only autographs or, when applicable, just rookie cards.
Maybe you're have even more refined tastes and only go after on-card autographs. That's one of the many attributes you can choose.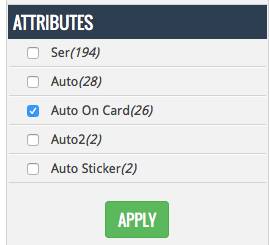 This section can also come in handy for group breaks if you want to get a quick look at some of the biggest cards available for a team. Even without actually applying the filter, you can see there are a fair number of different Royals autographs in 2015 Bowman Draft. Although that won't show how many different players there are and how rare.
By Set Types
For my Expos collection, I usually only make lists for base cards. I pick up the occasional insert but they're like gravy to the base potatoes. If you're like me, the Set Types filter might be the most important one of all when it comes to making team set checklists.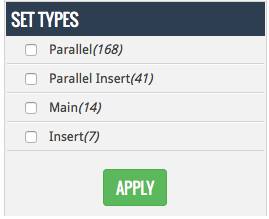 It lets you show just base (main) cards, inserts and parallels. You can also easily see insert parallels.
One last thing on the filters is that you don't have to limit yourself to just one. You can keep filtering down if you want to with different combinations depending on what you collect or want to see what a team has in a product.
4. Searching by Year
If you're only starting on a team set collection or you want to look beyond just one set, you're going to need a bigger search. That's fine. The Beckett database is built for that too.
In fact, it might only require an extra click or two, depending on what you need.
So let's see all the cards the Kansas City Royals have in 2015. Our new search string at the top is "2015 Kansas City Royals" and the drop down is still "Baseball."

Including all base cards, parallels and inserts, more than 4,300 different Royals cards were produced in 2015. Before you get scared, remember, that is everything. As much as you might hope to get everything, you won't if for no other reason that there's a one-of-one sitting in someone's personal collection that they're never planning or trading or selling.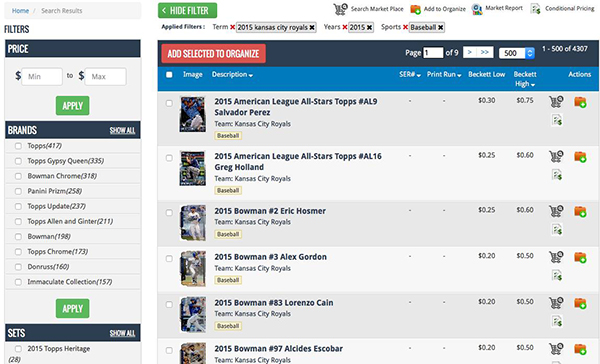 While that's a lot to go through, this is where those filter come in handy. If you just want to see the base cards, scroll down to "Set Type" and select "Main." If you're only collecting autographs, select those in "Attributes." Heck, you can narrow it down to just cards with multiple pieces of memorabilia if you want to.
Now you've got only the things you want, start sorting by set. It's a lot less to deal with and easier to wrap your head around. Before you know it, your want lists will be made and your actual search for the cards themselves can start (even that's a click away with that little shopping cart icon in the search that will take you to the Beckett Marketplace).
So when you want to see cards for a team, if you can, start with a specific set. Then narrow it down with simple filter clicks. Even if you start with larger searches, it's all very simple once you're used to using the Beckett database. And there's not nearly as much squinting.  Better still, you won't miss a card and have to go back to fill in a team set you thought you were done. My Expos binders have experienced this many times when I've compiled with PDFs and looking on company websites.
Comments? Questions? Contact Ryan Cracknell on Twitter @tradercracks.