Why the term True Collector is dangerous to the hobby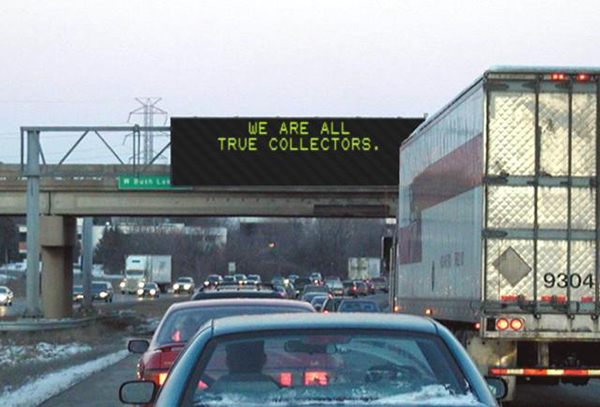 By Ryan Cracknell | Hobby Editor | Commentary
I see the term true collector thrown around the hobby regularly.
And while I get the sentiment most are getting at — I really do — it's also a dangerous term for the modern hobby.
Who Are These True Collectors That You Speak Of?
Usually when I see someone talking about true collectors, they're referring to end-users who buy for their enjoyment. These true collectors have little interest in selling or making money off their cards. It's really about collecting in the purest sense. And there's nothing wrong with that, right?
Absolutely not. I put myself in that boat. But how we present it can be problematic.
Often when I see someone say they're a "true collector," it's in response to something they're not a fan of. Intentional or not, it's like they're talking down to those who are selling cards or those who chase after the hot cards from premium brands.
Why should what we collect or how we collect determine whether or not we're worthy?
The person who buys strictly for enjoyment is just as much a collector as the massive case breaker who shreds tons of product and ends up selling 99 percent of what they pull. Shop owners can be collectors too, even if they're primary focus is maintaining and growing a business.
Why Semantics Matter
At it's most literal, if you're a living person who collects something, you're a true collector. You're real, not imaginary. Now if you were to tell me that Encyclopedia Brown wasn't a true collector, I'd have to agree with you. He's made up and, therefore, not real. Sorry, Encyclopedia Brown but you can't be a true collector.
Few are going to argue that the world of sports cards has gotten smaller. There are fewer collectors, fewer shops and fewer manufacturers. It's still big business, just not like it was 25 years ago. It's more of a niche than a mass pastime. Sports cards have evolved and so have collectors and their motivations to collect.
More than even, we need to be accepting of each other. This doesn't mean every collector need to put a bumper sticker on the back of the family car or huddle around a campfire and roast marshmallows together.
We collect in a time when there's more choice than ever when it comes to the types of products. Exclusives have made the number of companies in any given sport smaller but all are making products targeting different groups. If you like building sets, each sport has at least a couple products. Like autographs? There's no shortage of those. Prefer the heroes from the past versus today's? That's taken care of too. Want to try out some high-end set that's limited and pricey? Consider it covered.
And here's the catch — not every product is meant for you.
Accept it. Embrace it. Let others do the same.
Diversity Rules
Up until the early 1990s, it was possible to build master sets of every major release. Then inserts started coming into play more and it got more difficult. Product lines continued to expand while print runs shrunk. Technically, it still might be possible to collect every card out there. Realistically, it's not. And I'm not sure why anyone would want to.
With evolving collecting styles and budgets, manufacturers responded. So now we have a couple of products that cost $1 a pack at release and others topping $500 or even $1,000. That's a big difference.
The way we get our cards has changed even more. Fifty years ago, it was about heading to the corner store. Then a few card shows and mail-order ads started popping up. Dedicated shops followed. With the Internet, that evolution has grown into more auctions, online storefronts with international reach and the concept of group breaking.
Rather than looking down on one end of the hobby, we need to be more accepting of each other.
What I choose to collect or not collect is based on my interests, what's out there and my budget. It's personal. I suspect there are many out there who have similar preferences but wouldn't expect anyone to have the same style.
Can't We All Just Get Along?
The amount of bickering and talking down I see in the hobby is one of the saddest things about the hobby. I've often thought that it's going to be this sort of thing that might one day lead me to not want to collect cards anymore, not the products.
My guess is that there are plenty of people out there who have walked away because of the fighting. Even when you're not involved in a dispute, to constantly seeing grown people accusing one another, jumping to conclusions or trying to take advantage of each other isn't fun. It gets tiring fast. If collecting is a hobby for you, no matter the reasons, there needs to be some semblance of fun attached to it.
To me, the term true collector creates an "us and them" kind of atmosphere. It's divisive and dismissive. The phrase makes a judgement call that some types of collecting are the right way and all others are wrong.
It's important that we come together more as a community of collectors. That doesn't mean overlook problems. That doesn't mean changing the way you choose to collect or spend your money. It's simply about accepting that different people collect for different reasons. They might like the team you loathe. They may sell a lot. Some out there are going to collect for different reasons than yourself. But if it's not doing any harm, why shouldn't we be happy for them?
No matter what you collect, how much you spend or how much you sell (or don't sell), it's important that collectors find ways to get along rather than drive each other away.
The products out there might be segmented but we don't have to be. There's enough room for all of us to be true collectors.