Holly Holm cards skyrocket following upset over Ronda Rousey. But will they stay that way?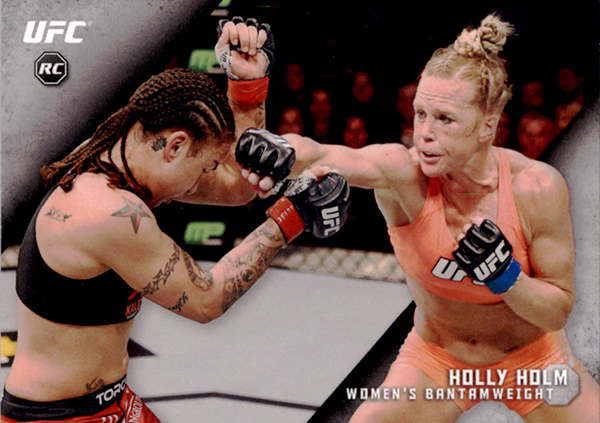 By Ryan Cracknell | Hobby Editor
A new sports star was born at UFC 193 and her name is Holly Holm. She did the unthinkable, not only defeating Ronda Rousey, but knocking her out in spectacular fashion. Not surprisingly, Holly Holm cards gained a lot of attention and live prices spiked.
But before you go spending a lot of money to get in on the action, you may want to sit back for a bit.
At the time of her win over Rousey, Holm has appeared in just a pair of sets. Her first came in 2015 Topps UFC Knockout. More recently, she was in 2015 Topps UFC Champions. In both releases, she spots were limited to the base set and parallels. So no Holly Holm autograph cards yet.
Heading into the title fight, Holm's Knockout card could be found online for under $5. Even the Silver (/199) and Gold (/99) parallels were going for less than $10. On November 9, a Red parallel numbered 3/8 closed at $75.
It's amazing what a bloodied lip and a kick to the head to the right person can do.
Within moments of Rousey hitting the canvas in the second round, the 2015 Topps UFC Knockout Holly Holm soared. A base version closed on eBay for as high as $132.50, although it's an outlier. That said, the most common version was moving consistently at $50 and up and has held steady at about that average.
And the person who bought the Red parallel 3/8 a week ago for $75? They've already flipped it for $300.
There's no doubt that Holly Holm cards are not going to return to their earlier lows. Even if she proceeds to lose all of her fights from here on out, she'll be forever known as the one that slayed a giant.
The name Buster Douglas still resonates not because of his Sega Genesis game, but because he knocked out Mike Tyson. Whatever happened after that has been largely forgotten.
UFC is a sport where anything can happen, often in a moment's notice. No matter how slim, there is a chance anyone can win on any night. That's not to undermine Holm's accomplishment. She came prepared and dominated. But like a lot of other UFC champions, there is the possibility that she could take a couple of quick loses and fall out of the title picture.
Holm also doesn't seem to have the same sort of X-factor that Rousey has developed over the past couple of years. Rousey has transcended the sport and become something bigger. You can find her on talk shows, in movies and representing both her brand and the UFC at every turn. Even at a young age, she's an icon. That recognition and status has helped make Ronda Rousey cards extremely popular and expensive.
It's still very early to see what kind of an impact Holm will have. Right now, she's a conquering hero. But at the prices her early cards are going for right now, you can probably bask in that same glory a few months from now for a lot less money.