First Look: 2015 Topps UFC Knockout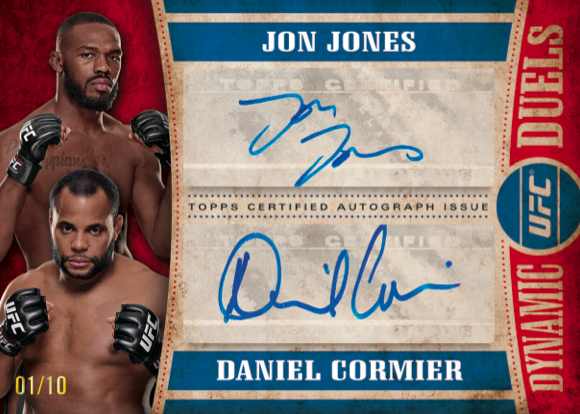 By Chris Olds | Beckett Sports Card Monthly Editor
There's no CM Punk sighting just yet, but Topps' next UFC card set will still be a knockout.
Coming sometime in 2015 will be the former WWE champion-turned MMA fighter and also coming this spring will be 2015 Topps UFC Knockout, which will pack a hit in every pack.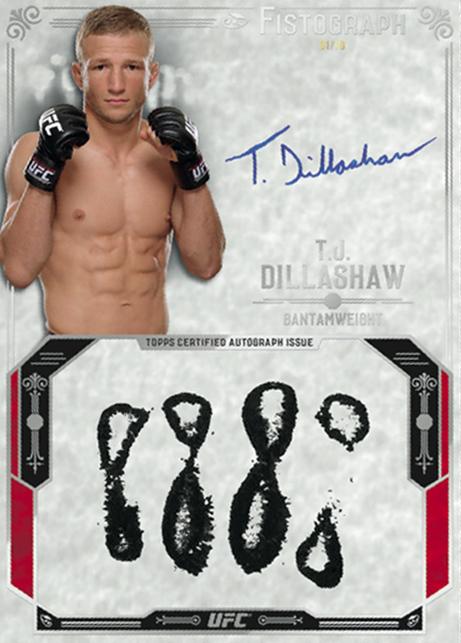 Each 10-pack box will include three autographs, two autographed Relics and five other Relic cards with the return of Fistographs — autographed fist-print box-toppers limited to only 10 copies per card — as well as the debut of Museum Collection cards, a higher-end insert that has been seen in Topps' releases in other sports.
The base set will consist of 100 cards — a mix of champs, rookies and current fighters — with each card having four types of parallels. Those will be Silver, Gold (/99), Red (/8) and 1/1 Mat cards with some type of parallel found in every pack.
The Museum Collection cards will have seven types of cards — Autographs, Momentous Material Jumbo Relics, Momentous Material Glove Patch Relics, Primary Pieces Quads, Museum Memorabilia, Significant Swatches Triple Relics and Autographed Triple Relics. Each will have parallels limited to 25 or fewer copies except for the Glove Patches and Museum Memorabilia, which are 1/1s. For the autos, there will be Silver (/15), Gold (/10) and Black (/5) frame cards.
On the autograph front, there are three new inclusions in this one — Scarlet Signatures (red-ink autos), Dynamic Duels (multi-auto cards of past battles) and Thoughts From The Boss dual autos that will pair UFC's Dana White with a fighter. The standard autos in this one will be Knockout autos, which will have Red (/8) and 1/1 Mat parallels, while Three of a Kind Triple Autos will be limited to only 1o copies and Six Sigs autos will be limited to five. Also part of the chase will be redemption cards for autographed gloves — there will be a total of 20 redemptions to be found.
On the Relics side, there will be Fight Mat Relics, Knockout Relics, Dynamic Duels Dual Relics and manufactured belt plate cards. The Mats will have Gold (/88), Red (/8) and 1/1 Mat parallels — a simulated mat finish for this one.
For collectors of signed Relics there are five other options — Knockout Relics, Dual Fight Mat Relics, Dynamic Duels, belt plate autos and a Scarlet Signatures auto Relic. All of these cards will be limited to 10 or fewer copies except for the standard cards.
A preliminary checklist was not released.
Chris Olds is the editor of Beckett Baseball and Beckett Sports Card Monthly magazines. Have a comment, question or idea? Send an email to him at colds@beckett.com. Follow him on Twitter by clicking here.