First look: 2015 Topps Heritage baseball cards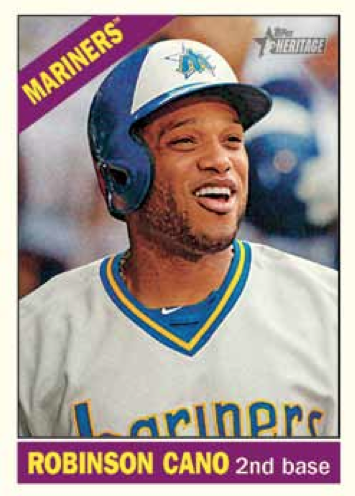 By Chris Olds | Beckett Baseball Editor
Next year's Topps Heritage baseball set means it's 1966 all over again.
Topps unveiled the first looks at its long-running baseball card brand's next edition on Monday with 2015 Topps Heritage being a brand that arrives on March 4 with one autograph or Relic in every 24-pack hobby box.
The model here is largely the same as past Heritage releases with 425 cards in the base set capped by 75 short-prints. Returning for next year are throwback team uniform photo variations as well as action image variation cards that will only be found in hobby boxes. Also back will be mini versions limited to just 100, Chrome cards with Black (/66) and Gold (/5) parallels. The back variations from the last few years continue with blue being the ink of choice for this year.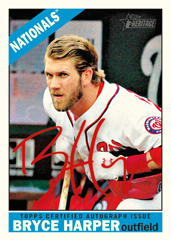 As with past releases, Real One autos are back with past and present players signing in standard blue ink and with red-ink versions limited to just 66 copies. Also to be found are Real One dual and Triple autos with the duals limited to 25 and the triples limited to just five. Also returning are Clubhouse Collection auto Relics limited to 25, CC dual auto Relics limited to 10, Flashback auto Relics to 25 and 1/1 1966 Cut Signatures.
Two new additions can be found in the Relic lineup with triples and quads in the mix. Quads will show four players and be limited to just 10 copies, while triples are limited to 25 and duals are limited to 66. The standard Relics are not numbered but will have a Gold parallel limited to only 99 copies once again.
The Heritage lineup would not be complete without a selection of buybacks and alternative Relics and this year's lineup includes Lost In Space, Get Smart and Batman buybacks from 1966 along with Rub-offs from the sports card world. Those will all be stamped with a 50th anniversary logo. Also back are postage stamp Relics and hobby-only coin Relics that include nickels (/15), dimes (/10), quarters (/5) and half-dollars (1/1s) embedded into the cards.
For traditional insert cards, there are four familiar offerings in Heritage — New Age Performers, Then and Now, Baseball Flashbacks and News Flashbacks.  These will take a look back at 1966, of course, while 1966 ad panel cards will be box-toppers along with originals buybacks and 1966 Oversized Punchboards. These hobby-only newcomers to Heritage styled after the 1966 game will have an insert version limited to 50, a jumbo patch Relic, autographs limited to 10 and auto jumbo patches also limited to just 10 copies.
A preliminary checklist and autograph subject list was not released.
Chris Olds is the editor of Beckett Baseball and Beckett Sports Card Monthly magazines. Have a comment, question or idea? Send an email to him at colds@beckett.com. Follow him on Twitter by clicking here.
—
Loading ...
—