Neil Armstrong's legacy not seen on much cardboard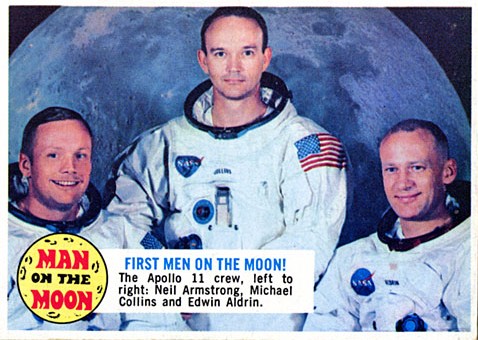 By Chris Olds | Beckett Sports Card Monthly Editor | Commentary
Astronaut Neil Armstrong, the first man to walk on the moon, has died, according to an NBC News report, following complications from a recent heart operation. He was 82.
On July 11, 1969, the Apollo 11 crew landed on the moon with Armstrong the first to set foot on the lunar surface. It was an event millions of people watched, a moment in history forever remembered by those who witnessed the event.
But when it comes to mass-produced collectibles featuring Armstrong — and in particular his autographs — there's not a lot to choose from,  despite there being a healthy interest in NASA memorabilia and astronaut sigs.
He was regular signer in his earlier days until he stopped altogether in the 1990s as demand for his signature increased. (This, in turn, has led to higher values and many, many forgeries and pre-prints/autopens being sold as real. Buyer beware now — or chase only JSA- or PSA-approved items.) He often would not sign autographs for others — even astronauts — or did so quite reluctantly, according to many accounts.
In 2009, a personal check signed by Armstrong not long before the Apollo 11 mission sold for $27,350 through RR Auction of Amherst, N.H. At the time, it was believed to be a record price paid for his autograph.
In 2004, Topps included a single cut Armstrong autograph in its American Treasures Signatures set (sold for $1,710 in June 2004), while it added another in 2009 Topps American Heritage, a product that also included space-flown Relics among its offerings. Armstrong's missions — or single cards showing the Apollo 11 landing with him in the photos — are found in a few sets here and there but are often not linked directly to him in the Beckett.com non-sport database.
Among more traditional sets, the most memorable came in 1969 as Topps produced a 55-card set chronicling the space program, Man on the Moon, which is relatively easy to find for a few bucks per card.
—
As someone who visited the Armstrong Space & Air Museum in Wapakoneta, Ohio, (Armstrong's hometown) more than a few times as a young child (space was an interest long before sports), it's always interesting to see how space exploration gets focused on at times and see how peoples' interests are piqued.
While it was Armstrong's right to not sign autographs, it's unfortunate that many a collector can't complete their collections (or can't without deep pockets) with perhaps the most important piece possible — the first man to set foot on the moon.
Now, it's going to be that much tougher with even more demand now that he's gone.
Chris Olds is the editor of Beckett Sports Card Monthly magazine. Have a comment, question or idea? Send an email to him at colds@beckett.com. Follow him on Twitter by clicking here.