First Look: 2014 Panini Immaculate baseball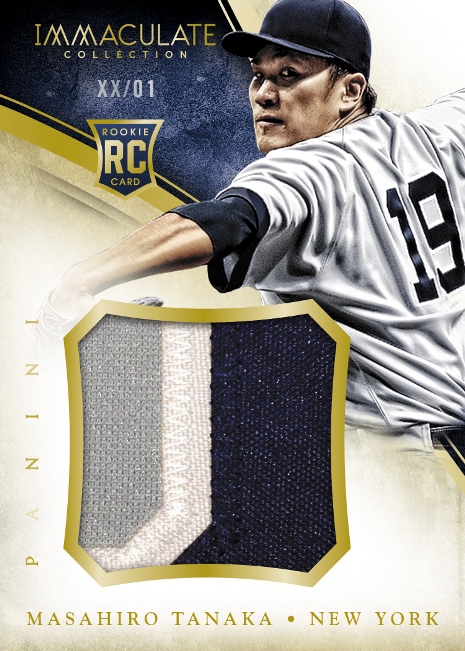 By Chris Olds | Beckett Baseball Editor
Panini America is going high-end on its next baseball card set — and it's coming soon.
How soon? Less than a month.
Company officials officially pulled back the curtain on 2014 Panini Immaculate on Monday, preparing for its arrival on Sept. 24 when it will be found packing five autograph or memorabilia cards in every six-card pack with the remaining card a base card limited to just 99 copies. There will be just eight boxes per case.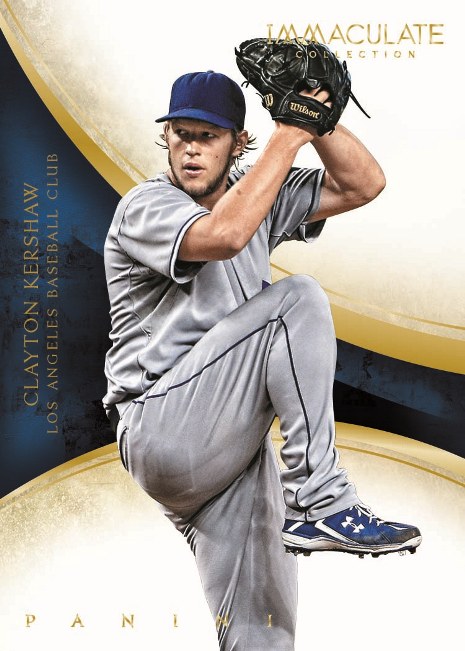 Immaculate Rookie Materials cards will showcase jumbo swatches from top rookies in today's game with each card limited to just 99 copies. These cards also will have prime patch versions limited to just 10. Immaculate Rookie Autographs Materials cards will downsize the swatch to add a signature from top rookies. These will feature patch pieces and be limited to 99, while standard versions will be limited to just 49 copies. Among the players promised here by Panini are Gregory Polanco, Billy Hamilton, Yordano Ventura and Oscar Taveras to name a few.
Also among the notable autograph inclusions here will be Immaculate Ink, which utilizes some new printing features, while The Greatest Signatures will simply showcase on-card ink from the best in the game. The Immaculate Ink cards will have gold- or silver-ink autos signed on what's called "black tweedweave" and be found with parallels limited to 10, five and one copy. Among the signers there will be Clayton Kershaw, Mike Trout, Cal Ripken Jr., Javier Baez and more.  The Greatest set will include just 14 players — George Brett, Ken Griffey Jr., Ripken, Nolan Ryan, Mariano Rivera, Bo Jackson, Rickey Henderson, Frank Thomas, Chipper Jones, Ryne Sandberg and Bob Gibson.
For the game-used collector, there will be Accolades Materials cards fro 25 top players from the last with each card limited to 99 or fewer copies and a patch parallel limited to 25 or fewer copies. Look for Joe DiMaggio, Satchel Paige, Joe Jackson, Lou Gehrig, Jackie Robinson, Honus Wagner and Ty Cobb to name a few. For today's players, there will be Immaculate Swatches Premium cards with nearly 100 players getting the high-end treatment with standard cards limited to 99 as well as Prime (/99) and Premium versions limited to 20 or fewer copies.
Also to be found among the game-used cards are Nameplate Nobility — jumbo letter patches — and Immaculate Jumbos, which will showcase large swatches. In all, the company said there will be more than 9,500 patch cards in the product along with laundry tags, buttons, batting gloves, hats, cleats, fielding gloves, sweatbands and more.
A base set size and preliminary checklist was not released.
Chris Olds is the editor of Beckett Baseball and Beckett Sports Card Monthly magazines. Have a comment, question or idea? Send an email to him at colds@beckett.com. Follow him on Twitter by clicking here.
—
Loading ...
—