A half-day where the magic happens … visiting Panini America's headquarters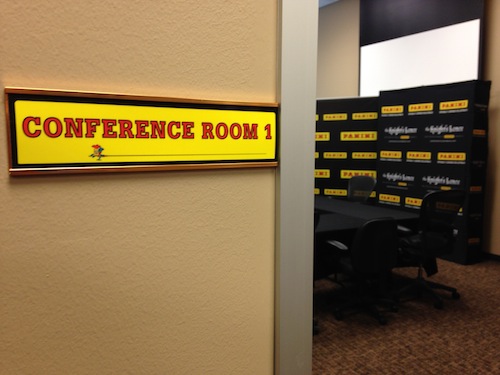 By Chris Olds | Beckett Sports Card Monthly Editor | Commentary
IRVING, Texas | Monday marked the first day of school for many down here in The Lone Star State, and on Tuesday I felt the exact same way by setting foot in a place I hadn't been before to learn a thing or two.
I spent a half-day at Panini America's headquarters.
There were no first-day jitters, there was no daydreaming at what was going on outside in the 100-degree Texas heat. There was plenty inside that was piquing my collecting interest as some of the company's plans, products and strategies were discussed for future pieces and the collectibles ideas flowed like water. My teacher list included names I had known from years of ripping packs and writing about the hobby — and a few of them were mentioned on the backs of cards that can be found in my stash. (They're probably on yours, too.)
From the outside, the simple white building in an industrial park adjacent to Dallas/Fort Worth International Airport could be easily missed with some simple signage that blends in well with its neighbors — companies perhaps without the kind of magic among their inventory and readied on their own loading docks nearby. But with just a quick walking tour of Panini's place, though, it was apparent that this spot has perhaps the perfect combination of collecting and commerce, a blend of bold ideas and brash business sense — you know, something strong, something energetic and also something intangible in the mix — to make it all happen.
It's a place where collecting comes to life daily.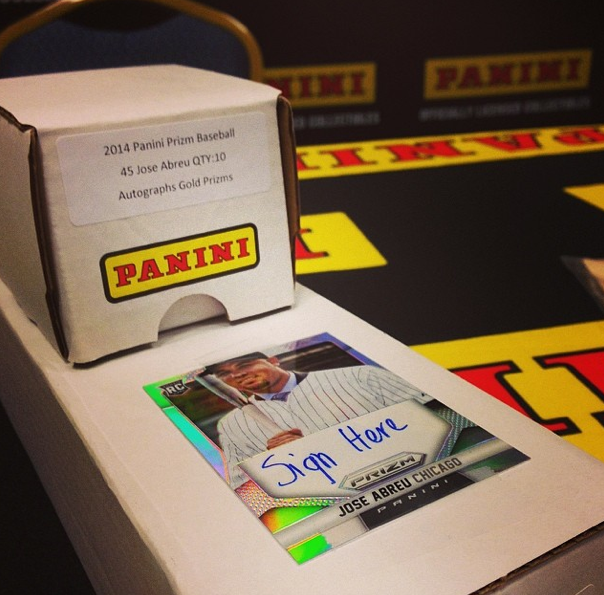 Granted, I had visited the company's home before — back when it was in the shadow of JerryWorld at a different location a few years back down in Arlington. But a smaller space now has helped make the bigness of it all going on at Panini America become even more apparent. There were hallways lined with cards prepped to go out for autograph signings in their own white boxes with a "sign here" example attached — and even more cards in a different area being inspected after they had made their way back home safely after their road trips. There were plenty of artifacts and wax boxes from the past lining seemingly every possible square inch as pieces to spark ideas and discussions about what could come next depending on the department and its task at hand.
Look one direction and the jerseys, helmets and more from the NBA and NFL rookie photo shoots were awaiting their disassembling and swatch-sized futures in Flawless, Rookies & Stars or National Treasures boxes. Hey, there's Johnny Manziel's helmet sitting on a cart near what looks like a jammed closet rack filled with nothing but game-used Browns jerseys — and other teams, too. Look a different direction, and you'll see proofs of cards to come from brands you don't even know about yet that will perhaps spark some new ideas and collecting interests. At the same time, you'll even see old things that suddenly seem new because they haven't been revisited in years.
A random sight on one office file hanger in the autograph inspection area among some papers and forms? Remnants from a Peyton Manning sticker signing where he added a few fingerprints or his pen just wasn't primed for a sig or two. (You know, the rare Manning miscues.) Those will likely end up in the same place as everything inside a massive pallet-sized bin in another room that was filled with some past cards left over in bulk from printing — and they'll end up in the same place as some non-cardboard printing proofs after they are finished. They're all headed for the recycling/disposal bins.
Look another direction and you'll see things that will just pump you up. (That will make more sense later.)
Simply put, the sights at every turn inside Panini's headquarters can excite even the most-veteran of collectors — including those who help create the stuff there daily. It's a cliche, but it's a place where magic happens.
The process of making cardboard come to life literally starts with a blank dry-erase marker board manned by a team of people — the biggest part of making collecting come to life daily no matter how many licenses, how many jerseys or how many business deals there are. And it's a process that starts months before your cards arrive in your hands with all hands on deck for all brands seemingly at the same times. Today's work for the NBA brand manager, for example? Bits and pieces of 17 products coming between now and this time next year — and that's not even all of them. It's a recipe that has, by company official accounts and according to published reports, resulted in record years for its royalties paid to the NBA and approximately $14 million of the $25 million paid out by card companies to the NFL last year. (Its area of business with the biggest percentage of growth, though? Interestingly enough, baseball.)
With all of its pieces in place in this one place — literally everything except swatch placement and printing/packaging happen under the one roof, something not common for all companies today — Panini's growth since entering the U.S. card market with the NBA license in 2009 has been staggering across the board with new deals, new lines and new business partners lining up to work with the company. Those are things that mean new additions to our collections just as much as it means guests at events can be found by Panini more easily to, once again, add gems to our collections. These deals and good business relationships are all things that can help the company adjust when news affects cardboard. One example? The recent Andrew Wiggins trade. The NBA has helped Panini set up a new photoshoot in his new Minnesota Timberwolves uniform, though the first round of his memorabilia cards will be in his photo-shoot-used Cleveland Cavaliers threads once the season begins. (Yep, they've been working on those cards for some time.)
We all know we think we know the process from the outside looking in, but what goes on inside the walls of the large white building on FAA Boulevard with the Panini team can be seen in one simple way — and you don't even have to have a behind-the-scenes tour to realize it. Pick a box, whatever your brand or sport, and tear into a pack. What you'll find inside is the creation of many people over many months — a creation comprised of investments, decisions and ideas that started with a blank marker board months before.
Inside every box and on every card you'll find a representation of far more than just the players on the field — you'll also see a reflection of the team that brings them to life and the stadium that they play in.
It was fascinating to set foot on their turf.
Chris Olds is the editor of Beckett Baseball and Beckett Sports Card Monthly magazines. Have a comment, question or idea? Send an email to him at colds@beckett.com. Follow him on Twitter by clicking here.