Baseball Card Exchange to give away rarity at NSCC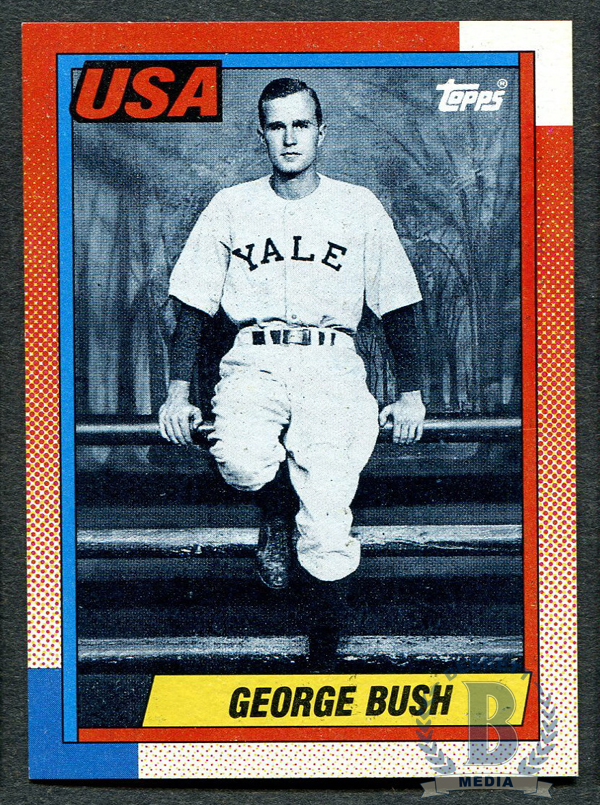 By Chris Olds | Beckett Baseball Editor
One of the rarest Topps baseball cards of the 1990s — if not the rarest — can be yours at the National Sports Collectors Convention Aug. 1-5 in Baltimore.
How? You'll have to visit the booth of Lynwood, Ill.-based Baseball Card Exchange to enter a giveaway for the card.
The 1990 Topps-style card of former President George H.W. Bush shows him as a member of the Yale baseball team — a card specifically made for the president, though a very small number of the cards reportedly made their way into circulation. A total of 100 cards, No. USA1, were presented to Bush by Topps' Arthur Shorin.
"We recently acquired a collectors entire collection, which was quite sizable and extensive," said Reed Kasaoka, the company's director of acquisitions. "It appears he had some tough Topps test issues and some other rarities.  A few Bush cards were part of this collection."
While the company regularly buys collections and wax, it never had landed a Bush, Kasaoka said. Finding more than one in the collection made the decision to give one away a lot easier.
"What we really wanted to do was create an excitement at the National while trying to raise the profile of Baseball Card Exchange," he said. "We hope this creates some good publicity our hobby desperately needs."
No purchase is necessary to win the card — just visit the BBCE booth and fill out an entry form. It will be given away at 3 p.m. on Aug. 4.
The card has been submitted for grading and will be slabbed for the winner.
Chris Olds is the editor of Beckett Baseball magazine. Have a comment, question or idea? Send an email to him at colds@beckett.com. Follow him on Twitter by clicking here.