First Look: 2015 Elite baseball cards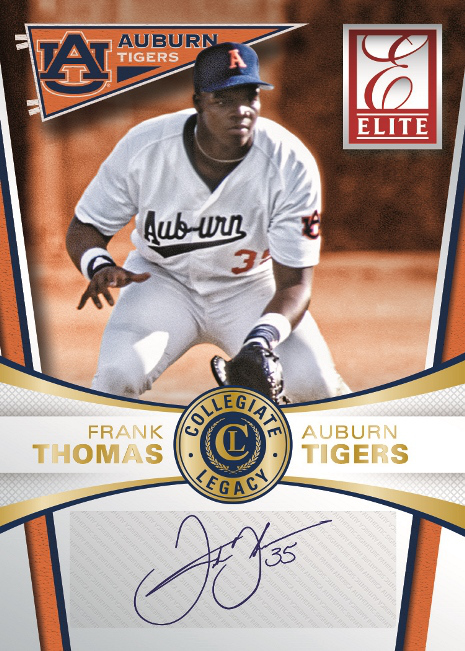 By Chris Olds | Beckett Baseball Editor
After cameos as inserts in Donruss brands the last two years, Elite is back as a standalone product.
Panini America revealed the first details and preview images for 2015 Elite on Wednesday night, a 200-card set that will arrive on June 17 with the traditional names and foilboard look that has defined the brand since the 1990s.
Back for another run will be Passing the Torch Signatures, Thowback Threads — two past staples — while new inclusions will highlight Panini's newest venture with the college ranks.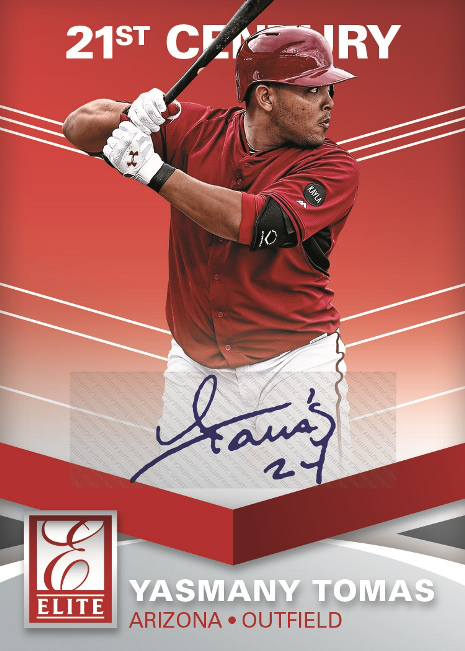 Collectors can expect four autographs or memorabilia cards per 16-pack box with an array of base cards that feature current players, rookies and past greats. There will be six types of parallels here all limited to no more than 199 copies. Among them will be Gold Status.
Among the autographed inclusions are Collegiate Legacy Signatures, Passing the Torch Signatures, 21st Century Signatures Diecuts and Future Threads.
The Legacy set will include 25 players in their college years with each card limited to no more than 75 copies. Panini promises the likes of Frank Thomas, Alex Gordon, Chris Sale, Kyle Schwarber and Carlos Rodon in this one.
Passing the Torch will team past and present players together in duos that make sense. Among those teased by Panini were Vladamir Guerrero/Tim Raines, Reggie Jackson/Dustin Pedroia, Giancarlo Stanton/Paul Goldschmidt, Bo Jackson/Frank Thomas and Randy Johnson/Greg Maddux.
The Century cards will showcase 100 players from the past, present and future. There will be five types of parallels here with them all limited to no more than 99 copies.
The Future Threads cards will highlight top young players — such as the reigning Rookie of the Year winners Jose Abreu and Jacob deGrom —  on autographed memorabilia cards that can be found with patch versions as well. The standard cards will be limited to 299.
The college ranks will get their due in the base set as well with the Collegiate Elite, a 15-player set showcasing the likes of Stephen Strasburg, Reggie Jackson and Chase Utley. It will have 1/1 Black and Gold parallels limited to 25.
On the memorabilia side, Back to Back Jacks will pair players from the same teams or with other common ties together on the same card along with their game-used memorabilia. Among the duos will be Buster Posey/Hunter Pence, Nelson Cruz/Robinson Cano and Cal Ripken Jr./George Brett. These will have patch and 1/1 parallels for collectors to chase. Meanwhile, Throwback Threads will showcase notable players from the past — Barry Bonds, Pete Rose and Nolan Ryan to name a few — with patch and 1/1 parallels as well.  The last memorabilia option will be Elite Series, a selection of 25 present players such as Bryce Harper, Ichiro, Jose Abreu, Yasiel Puig, Mike Trout and Clayton Kershaw, who also will have patch parallels.
Chris Olds is the editor of Beckett Baseball and Beckett Sports Card Monthly magazines. Have a comment, question or idea? Send an email to him at colds@beckett.com. Follow him on Twitter @chrisolds2009.