First Look: 2014-15 Upper Deck AHL Hockey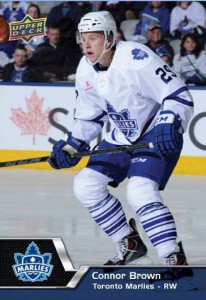 By Stephen Laroche | Beckett Hockey Editor
Over the past few months, Upper Deck became the exclusive licensee for both the American Hockey League and the Professional Hockey Players' Association and it was announced that the company would be producing a stand-alone product this season.
Set to release in March, 2014-15 Upper Deck AHL Hockey will be loaded with the game's best and brightest young pros that have been showing off their skills in the hope of one day becoming regulars at the NHL level. This collection will be loaded with autographs and additional content that is sure to capture not only regional interest, but garner some attention from the hobby as a whole as well.
What can collectors find in packs of 2014-15 Upper Deck AHL Hockey? Find out after the jump.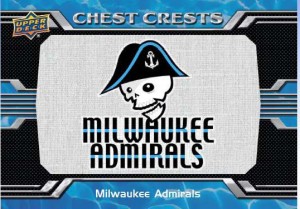 Most of the players skating in the NHL today have played at least one game at the AHL level in their careers and the player selection for this set is the largest the league has seen in a single release in many years. Over the past 20 years, products from In The Game or Classic tended to feature a selection of top talent, but this 150-card set is something truly different. The first 100 cards will make up the basic set, but there are 50 additional shortprints that will fall once per pack.
Each 20-pack box will yield five autograph cards on average and they will be parallels to the base set (1:6) and Future Stars (1:12) subset. The combined odds of 1:4 packs allows for ample opportunities to pull a top prospect such as first-year pro Anthony Mantha of the Grand Rapids or sophomore netminder Malcolm Subban of the Providence Bruins. For some, these may be their first certfied autographs and if any of them make an impact at the NHL level after the NHLPA's rookie deadline this season, their cards could become quite popular.
The AHL has a rich history and their member club logos are often hailed by fans for their colorful nature and creativity. As a result, expect some strong action on the AHL Team Stickers that are seeded three times in each box and are split into variations such a regular Logos (1:7), Alternate Logos (1:14) and Vintage Logos (1:40).
Even more appealing than the stickers, though, are the Manufactured Logo Patches (1:60). A phenomenally popular concept in Upper Deck's O-Pee-Chee brand in recent years, translating this idea over to AHL trading cards is a fine way to generate interest in the product and offer additional value to those breaking packs.
Stephen Laroche is the editor of Beckett Hockey and Beckett Basketball magazines. Have a comment, question or idea? Send an e-mail to him at SLaroche@beckett.com. Follow him on Twitter @Stephen_Laroche.