First look: 2013-14 SPx Hockey cards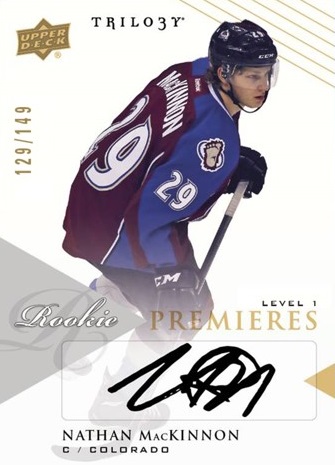 By Susan Lulgjuraj | Beckett Hockey Editor
Collectors will be getting an update to Upper Deck Trilogy.
UD will put UD Trilogy Update cards in 2013-14 SPx, which is scheduled to come out in February. The cards will feature 13-14 rookies, which were not in the initial release, including No. 1 pick Nathan MacKinnon.
Each box of SPx will come with four hits of autographs and memorabilia cards with at least one Autograph Rookie Jersey card.
The Autograph Rookie Jersey cards will feature two levels (numbered to 699 and numbered to 399) with SPx Patch Spectrum cards.
Other memorabilia cards include Rookie Materials (up to triple jerseys), Rookie Materials Patches, Wining Materials and Winning Materials Patches.
The SPx Retro design will feature 1996-97 on cards again. They will fall at a rate of one in every 24 packs with the rookies a little tougher to pull. The Retro Rookie Autographs will fall at a rate of one in 72 packs.
Collectors will be able to find Shadow Box cards in SPx (one in every case). Autograph versions of these cards will be extremely tough. The rookies will be in one in every 2,400 packs.
In addition, Upper Deck will include SPx and Ice buyback cards.
Each box will have 12 packs with four cards in each pack. The base set will include 100 cards.
Susan Lulgjuraj is an editor at Beckett Media. You can email her here with questions, comments or ideas. Follow her on Twitter here. Follow Beckett Media on Facebook and Twitter.