2013 Star Wars Illustrated: A New Hope Trading Cards Details
In 1981, NPR broadcasted a six-hour Star Wars story "A New Hope" with action, drama and more of a back story for the epic tale. Those Radio Drama stories are now coming to trading cards with original artwork.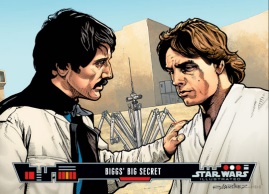 In November, Topps will release 2013 Stars Wars Illustrated: A New Hope. The cards feature new vantage points and add a backdrop to the legendary story.
The base set will consist of 100 cards, but the extra 45 inserts will put together the full story.
Each box will hold 24 six-card packs. Along with the base cards (including Black, Bronze and Gold (hobby only) parallels), collectors can find hits such as sketch cards and printing plates.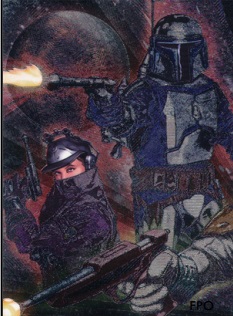 Inserts:
– One Year Earlier (1 in 2 packs) – Eighteen cards showing what happened one year before Star Wars: A New Hope.
– Movie Poster Artist Reinterpretations (1:3) – Nine artists give their interpretations of the 1977 Star Wars movie poster.
– Etched Foil Radio Drama Puzzle (1:8) – Six foil cards that create a scene of the Radio Drama.
– The Mission: Destroy the Death Star (1:12) – Twelve cards showing the best way to destroy the Death Star.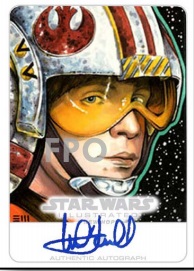 Hits (one hit per box):
– Panorama Sketch Card – Topps artists create original art on book cards.
– Film Cel Relics – Film cels from the 1977 movie embedded in cards.
– Printing Plate – Plates from the base and insert sets.
– Original Etched Foil Artwork – Six original artwork pieces to create an etched foil puzzle insert.
– Sketchographs – Sketch cards signed by actors from the movie and Radio Drama.