Hardcourt Heroes of the Week: Whiteside, Thompson, Noel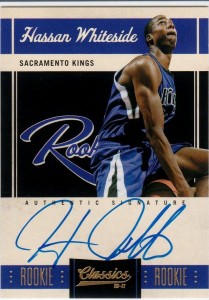 Each week, we will take a look inside the NBA and will give you the top three players of the week and provide a rundown on why collectors should take notice. Please feel free to leave your comments for a healthy debate.
—
By Derek Ficken | Beckett Basketball Analyst
Hassan Whiteside – C, Miami Heat
(Last 10 Games:12.3 PPG, 8.6 RPG, 4.0 BPG)
Three months ago, this dude was playing ball in a Charlotte YMCA gym, but on Sunday, he decided to drop a triple double (14 points, 12 blocks, 13 rebounds) in a 96-84 Heat win against the Chicago Bulls. With how the roster is set up, Hassan Whiteside might be a crucial part in the success of the Heat for a potential playoff run without King James. Collectors are taking note, as his 2010-11 Panini Contenders Patches Rookie Card (previously priced at $3-$8) has several recent sales in excess of $35. Whiteside, who hasn't been featured in any products since 2011-12, has only 118 total cards in the Beckett Online Price Guide — 61 of which are autographed. With so few cards, he has the potential to skyrocket in price if his production continues with Miami.
Key Cards to Collect:
2010-11 Panini Contenders Patches #131 AU RC ($30)
2010-11 Totally Certified #182 JSY AU/565 RC ($40)
2010-11 Classics #172 AU/699 RC ($60)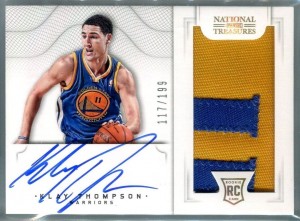 Klay Thompson – SG, Golden State Warriors
(Last 10 Games: 28.6 PPG, .544 FGP, 3.5 RPG)
Make no mistake, the Warriors are red hot and many collectors are quick to credit Stephen Curry for the team's success. But if you look deeper, you'll find that Thompson deserves just as much credit. The son of Lakers and Blazers great Mychal Thompson, Thompson is making waves this season, including dropping 52 points last Friday, with a record 37 in the third quarter alone. His key cards have always been somewhat pricey, and he's no stranger to the Beckett Basketball Hot List, but if you dig deep, there are still some bargains to be found, like his 2012-13 Panini Threads AU RC ($40) and 2012-13 Elite Rookie Inscriptions certified autograph ($25). Collectors would be wise to stock up, however, because if Thompson continues to put up monster numbers, his certified autographs will not be bargains for much longer.
Key Cards to Collect
2012-13 Panini National Treasures #110 JSY AU/199 RC ($500)
2012-13 Immaculate Collection #80 JSY AU RC ($150)
2012-13 Exquisite Collection #64 AU ($150)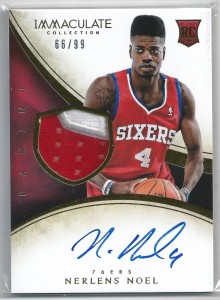 Nerlens Noel – C, Philadelphia 76ers
(Last 10 Games: 9.6 PPG, 8.1 RPG, 2.0 BPG)
Noel has the misfortune of playing on the worst team in the NBA, one that has been accused "tanking" the season for better draft picks. Despite that, he has been a consistent rookie starter and has produced six double-doubles this season. Noel has tremendous upside and it seems as though collectors are stocking up on his key cards in the hopes that he hits the upper echelon of NBA players. He had been a regular on the Beckett Basketball Hot List, but has dropped off in recent months with the emergence of Klay Thompson and Jimmy Butler. Finding a certified Noel autograph for under $20 might be difficult, and most of his key cards are valued in excess of $100. Two possible bargains include his 2013-14 Panini Preferred #140 PC AU/35 at $40 and his 2014-15 Hoops Hot Signatures at $20.
Key Cards To Collect
2013-14 Panini National Treasures #127 JSY AU RC ($600)
2013-14 Panini Flawless #94 RC ($250)
2013-14 Immaculate Collection #138 JSY AU RC ($200)