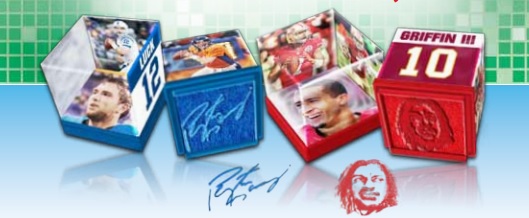 By Susan Lulgjuraj | Beckett Football Editor
Topps is bringing a little more than trading cards to NFL fans.
In November, the company will release 2013 Qubi, collectors stamp cubes that feature a player's likeness, facsimile autograph or team logo.
Each pack will contain one NFL Qubi and a collector sheet. Each box will hold 20 packs.
There will be 50 names on the checklist (see below) including Robert Griffin III, Tom Brady and Peyton Manning.
Topps announced the baseball version of this product in May, which will release next month.
Checklist
Signature collection
1. Larry Fitzgerald, WR, Arizona Cardinals
2. Matt Ryan, QB, Atlanta Falcons
3. Ray Rice, RB, Baltimore Ravens
4. Brandon Marshall, WR, Chicago Bears
5. Tony Romo, QB, Dallas Cowboys
6. Peyton Manning, QB, Denver Broncos
7. Calvin Johnson Jr., WR, Detroit Lions
8. Aaron Rodgers, QB, Green Bay Packers
9. Andre Johnson, WR, Houston Texans
10. Maurice Jones-Drew, RB, Jacksonville Jaguars
11. Adrian Peterson, RB, Minnesota Vikings
12. Tom Brady, QB, New England Patriots
13. Drew Brees, QB, New Orleans Saints
14. Eli Manning, QB, New York Giants
15. Santonio Holmes, WR, New York Jets
16. Darren McFadden, RB, Oakland Raiders
17. Michael Vick, QB, Philadelphia Eagles
18. Ben Roethlisberger, QB, Pittsburgh Steelers
19. Philip Rivers, QB, San Diego Chargers
20. Frank Gore, RB, San Francisco 49ers
21. Marshawn Lynch, RB, Seattle Seahawks
22. Sam Bradford, QB, St. Louis Rams
Team logo collection
1. Julio Jones, WR, Atlanta Falcons
2. Joe Flacco, QB, Baltimore Ravens
3. C.J. Spiller, RB, Buffalo Bills
4. Cam Newton, QB, Carolina Panthers
5. A.J. Green, WR, Cincinnati Bengals
6. Trent Richardson, RB, Cleveland Browns
7. Dez Bryant, WR, Dallas Cowboys
8. Von Miller, LB, Denver Broncos
9. Matthew Stafford, QB, Detroit Lions
10. Clay Matthews, LB, Green Bay Packers
11. Andrew Luck, QB, Indianapolis Colts
12. Jamaal Charles, RB, Kansas City Chiefs
13. Ryan Tannehill, QB, Miami Dolphins
14. Rob Gronkowski, TE, New England Patriots
15. Jimmy Graham, TE, New Orleans Saints
16. LeSean McCoy, RB, Philadelphia Eagles
17. Colin Kaepernick, QB, San Francisco 49ers
18. Russell Wilson, QB, Seattle Seahawks
19. Doug Martin, RB, Tampa Bay Buccaneers
20. Chris Johnson, RB, Tennessee Titans
21. Alfred Morris, RB, Washington Redskins
22. Vincent Jackson, WR, Tampa Bay Buccaneers
23. Jake Locker, QB, Tennessee Titans
Portrait Collection
1. J.J. Watt, DE, Houston Texans
2. Jared Allen, DE, Minnesota Vikings
3. Victor Cruz, WR, New York Giants
4. Troy Polamalu, S, Pittsburgh Steelers
5. Robert Griffin III, QB, Washington Reds
Susan Lulgjuraj is an editor of Beckett Football. You can email her here with questions, comments or ideas. Follow her on Twitter here. Follow Beckett Media on Facebook and Twitter.