First Look: 2012 Topps Tier One baseball cards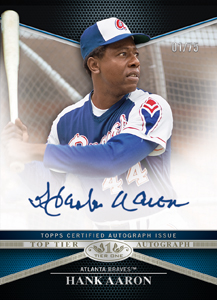 By Chris Olds | Beckett Baseball Editor
Topps unveiled the basic product information and preview images for the sophomore release of Tier One on Thursday, a second installment of the high-end brand that will arrive in June.
Each pack will include three hits — one Crowd Pleaser autograph or one of three other options — a multi-signed autograph card, an autographed Relic or a cut signature. In addition, every pack will include one On The Rise autograph and a Relic numbered to 399 or fewer copies when it hits hobby shops on June 18.
Every fourth pack will include all of that and a bonus Relic, while every 12-pack case will include a Top Tier autograph.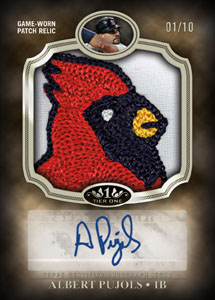 New for 2012 will be 1/1 bat knob cards, autographed Relics and Clear Rookie Reprint cards — cards printed on clear plastic stock. Also new to Tier one this year will be autograph parallels for all cards signed in varying colors of ink — White (limited to 25), Silver (10) and Gold, which are 1/1s
On The Rise will be the most plentiful sigs at 399 made, while the Crowd Pleasers will be limited to 299. The rest? No more than 99 copies signed with duals limited to 25, triples limited to 10 and cuts being, of course, 1/1s.
Over on the autographed Relic side, all cards will be limited to 99 copies of less from a mix of Top Shelf, dual and triple patch and Prodigious Patches cards. Top Shelf are the most plentiful with 99 of each card, while  all others are limited to 25, 10 and one.
The Relic checklist is a bit deeper with Top Shelf showcasing more than 60 current and past stars limited to 399, while duals and triples are 99 and 25. Prodigious Patches will be limited to 10, while Bat Knobs will be 1/1s.
According to the preliminary checklist, some of the Top Tier signers will include Hank Aaron, Sandy Koufax, Ken Griffey Jr., Willie Mays, Albert Pujols, Nolan Ryan, Ernie Banks and Reggie Jackson, among others.
The On The Rise autograph list — which may include as many as 85 signers — are Anthony Rizzo, Michael Pineda, Freddie Freeman, Carlos Gonzalez, Aroldis Chapman, Dustin Ackley, Eric Hosmer, Clayton Kershaw, Mike Trout and many others.
Crowd Pleaser signers will include Prince Fielder, Buster Posey, David Wright, CC Sabathia, Evan Longoria, Chipper Jones, Joe Mauer, Andre Dawson, Boog Powell and many more.
The Rookie Reprint signers will include Mays, Griffey, Don Mattingly, Ryne Sandberg and more, while Relic autographs will be found for Pujols, Josh Hamilton, Ryan Braun, Matt Kemp, Gary Sheffield and many more.
Chris Olds is the editor of Beckett Baseball magazine. Have a comment, question or idea? Send an email to him at colds@beckett.com. Follow him on Twitter by clicking here.
Click on the images below (twice) for a closer look.