First Look: 2015 Topps UFC Champions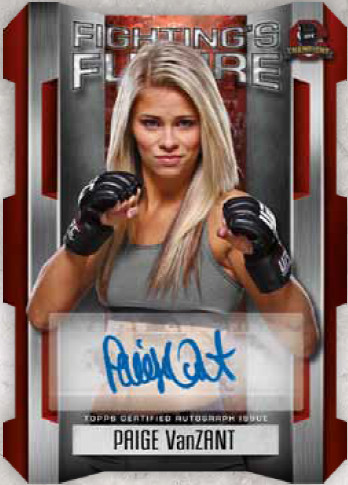 By Stephen Laroche | Beckett Media
Following a first round knockout in 2014, Topps is bringing back their popular UFC Champions brand back once again this fall and there is an excellent chance that this release will make an even greater impact with mixed martial arts fans and collectors.
Now loaded up with four autographs per 20-pack hobby box, the spotlight will be turned on those that bravely stepped into the octagon, whether they be proven talents like current champs, Hall of Famers and legends or those poised to make name for themselves now and in the future.
What does Topps have in store for collectors breaking boxes? Find out after the jump.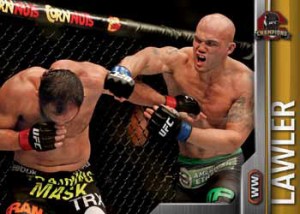 With a 200-card base set, 2015 Topps UFC Champions is all about bringing great MMA action photography to cardboard. Such a deep checklist is bound to include several rookie cards and parallels will be seeded once per pack. The most common is the unnumbered Silver edition, but all other versions are serial-numbered and the range includes Black (#'d to 188), Blue (#'d to 88), Gold (#'d to 25), Red (#'d to 8) and the one-of-one Platinum parallels.
Odds for the non-memorabilia insert cards for this set are not available at this time but Topps did provide early details on three different 25-card collections that will offer some excitement for those that pull them. First Poster Review looks back on some memorable UFC events and reproduce their posters while Championship Clashes pays tribute to some of the most legendary battles ever witnessed in the octagon. Finally, the best up-and-coming talent is examined with Fighting's Future.
The primary draw for this product is the strong selection of autographs and Topps has developed some excellent collections which are sure to draw some raves. Expect to see over 40 different subjects in the Fighter Autographs set and each of these cards will have a Red and Platinum version issued in the same quantities as the base set parallels. First-time signers in this product will also be noted to collectors through a First Issue designation on their cards.
The afformentioned Fighting's Future inserts will have a parallel version that is die-cut and limited to just 25 copies and Championship Clashes also gets the ink treatment with both single-signed and dual editions numbered to 25 and 10 respectively. The Fight Poster Review Autographs (#'d to 25) will also be a tough chase and the final signed collection to track down are Scarlet Signatures which had fighters scrawl their names in red ink.
Stephen Laroche is the editor of Beckett Hockey and a contributor to other Beckett Media publications. Have a comment, question or idea? Send an e-mail to him at slaroche@beckett.com. Follow him on Twitter @Stephen_Laroche.