First look: 2012 Topps Series 2 (updated)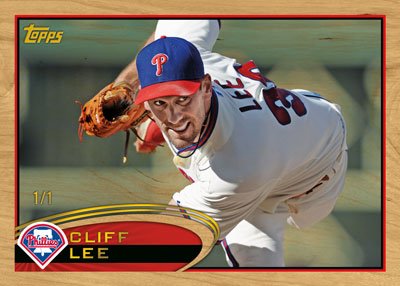 By Chris Olds | Beckett Baseball Editor
Topps released the first preview images and information for the second series of its 2012 Topps flagship baseball card set on Wednesday, and it's largely a continuation of the gold-themed collecting odyssey that begins on Feb. 1.
Each 36-pack hobby box will include one autograph or Relic card, while each 10-pack HTA jumbo box will include one autograph and two Relics inside when it arrives on June 6.
The second series will consist of 330 base cards, including 295 veterans, 30 rookies and five record-breaker cards from the 2011 season. New for the series will be a 25-card Cut Above set showcasing greats from MLB's past.

As with Series 1, this edition will include five full parallels for each card — Black (/61), Platinum (1/1), Golden Moments, Wood (1/1) and printing plates — while 100 cards also will get the silk treatment.
Golden Relics will fall one per case and will include one of the following: Gold Futures Coin Cards (each limited to the player's jersey number), Team Rings, World Series Champions Pin cards and Solid Gold Futures. The Futures cards are 1/1s made of real gold, while the others are metal embeds simulating coins, rings and, of course, pins.
Also back will be an assortment of 1987 Topps Minis and Golden Moments, while other inserts will include Mound Dominance (great pitching performances) and Career Day (great games for other players).
Autograph offerings will include Golden Moments Cut Sigs (1/1s), Golden Moments, Golden Moments Gold, A Cut Above, Mound Dominance, Gold Standard, Gold Futures and Career Day. All autographs will be limited to 15 or fewer copies except for the Golden Moments cards.
Other Relics in the product include, as in Series 1, an assortment of Golden Moments, Cut Above, Mound Dominance, Gold Standard, Gold Futures, Career Day, a Mickey Mantle 1968 Relic and Own the Name — a massive 500-card set made up of full game-worn jersey letters which will only be found in Hobby and HTA packs.
Additional images for the Golden Giveaway were released, including the first glimpses at the cards in the company's online offerings. To be found are Golden Moments diecuts, Gold parallels, 1/1 Truly Golden versions and 1/1 gold-embedded versions of the base cards.
Finally, there's an assortment of autographed Relic cards to be found — all limited to 10 or fewer copies and only found in Hobby and HTA packs. The Golden Moments, Cut Above, Mound Dominance, Gold Standard, Gold Futures and Career Day cards all will get the treatment. All are limited to 10 except for Career Day, which will be limited to five.
—
Loading ...
—
Click on the thumbnail for a larger view.
Chris Olds is the editor of Beckett Baseball magazine. Have a comment, question or idea? Send an email to him at colds@beckett.com. Follow him on Twitter by clicking here.