Now that's a cool 2011 Topps sketch card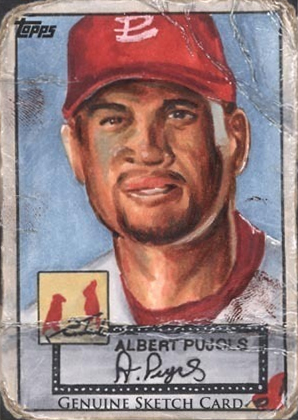 By Chris Olds | Editor
The arrival of a new season of Topps baseball cards can mean many things to many people but it also means the arrival of new Sketch Cards.
Those miniature works of art — original drawings or even paintings done on card-size stock and inserted into packs — can be fascinating to examine. Recently, the meticulously painted works of Paul Lempa appeared on cards found inside mylar, catching my eye, but a pair of sketch cards from 2011 Topps really got my attention this year.
They're minty-fresh — and mint condition — cards from Birmingham, Ala.-based artist Chris Henderson.
Only they don't look minty-fresh at all. (Don't worry. Like Jessica Rabbit, they're not bad … they're just drawn that way.)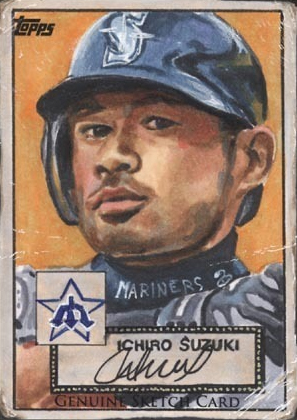 There haven't been too many sketches pop up online just yet — not unheard of since they're found one in every 3,900 jumbo packs. (That's one in every 65 jumbo cases.) But two of these classics are artist return cards that Henderson himself is selling online.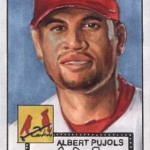 Topps, along with other companies, allows artists who complete sketches for them to pre-select a small number of cards that will be returned for sentimental reasons — or potential compensation when sold — once the job is complete.
In the case of these oldschool — minty, but drawn looking to be mangled — 1952 Topps-inspired creations of Albert Pujols and Ichiro Suzuki, they are available on eBay now straight from the artist with a $299.95 Buy It Now or a best offer.
Oh, and if they're a little to mangled for you, there's also a mint-condition Pujols up for grabs, too. (Click thumbnail for a closer look.)
Sketch Cards are a unique and sometimes controversial inclusion in sports sets — tough times being when fans of photo-realistic sports imagery don't like an aesthetic approach or when they can't identify a player.
However, other than Lempa's carefully painted creations these just might be the coolest sketches yet.
Chris Olds is the editor of Beckett Baseball. Have a comment, question or idea? Send an e-mail to him at colds@beckett.com. Follow him on Twitter by clicking here.