Panini to bring first Twittergraphs to world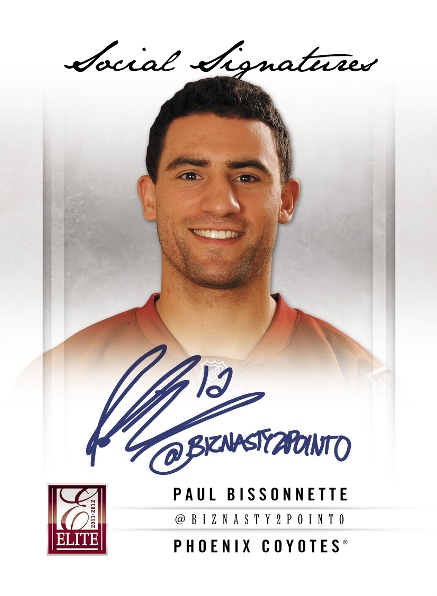 By Chris Olds | Beckett Sports Card Monthly Editor | Commentary
It may look like a simple trading card, but it's got to be an industry first.
It's a certified autograph card with a Twitter handle inscription — a Social Signatures insert card to be found in the forthcoming 2011-12 Elite hockey card set from Panini America.
Call it the first Twittergraph.
So when Paul Bissonnette sits down to sign his cards, as seen here, he'll sign his name and write his handle, @biznasty2point0, on his card. In case the Phoenix Coyotes left wing's penmanship is lacking by the time he signs a few, the same handle appears on the card itself so fans can follow him — or show off their newest card to him.
An innovation such as this does likely come at an added cost — inscriptions often cost card companies an additional fee (just like you when buying at a card show) because of the added time it will take to write them. (Time is money.) But it could pay off for Panini as you can also bet that there's an added bonus built in here — the cards are quite likely to be talked about on Twitter.
What better way to get collectors talking cards than via tweets about cards from the players on the cards themselves? (It's not the first Twitter-related trading card, though. You'll have to go back to 2009 for that. Click here for the info.)
Panini officials have been mum with details on this one — size of checklist, quantity of cards signed and so on — but they will be found one per case in Elite, which arrives late next month.
Meanwhile, a  little birdie (it's all about the bird on Twitter) informs me that it might be a possibility in other sports as MLB players such as @JasonHeyward have been spotted using their cellphones in certain photo shoots. Will they end up on cards? We'll have to wait and see — but it's an interesting possibility.
Chris Olds is the editor of Beckett Baseball magazine. Have a comment, question or idea? Send an email to him at colds@beckett.com. Follow him on Twitter by clicking here.
—
Loading ...