2012 Panini Absolute Football Details
Autographs and memorabilia cards seem to be abundant in 2012 Absolute Football. Panini America released a preview where just about every insert or subset has some sort of autograph or memorabilia variation.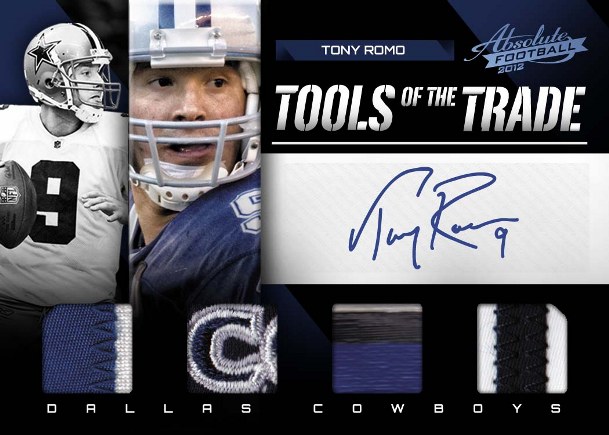 Absolute doesn't come out until November, but these pictures tell an early story.
Panini football usually comes without about four packs per box, as it has the last two years. And, as in years past, there will be one autograph or memorabilia card in every pack.
Some of the autos will include on-card signatures from many of the top rookies, which will be numbered to 299 or less.
Of the rookie autographs, perhaps the most coveted will be the Rookie Premiere Materials NFL Shield Signatures. These cards are rare, just one of ones. They will feature the shields from player-worn jerseys, and there will be 1/1 laundry tag variations as well.
Of course, Absolute can't be made without Tools of the Trade. This subset will have up to four pieces of game-worn and game-used memorabilia on every card. Autographed versions will be numbered to 10 or less.
But perhaps some of the best cards in this set won't be the rookies. The members of the Pro Football Hall of Fame will get special inserts in Absolute when Panini includes Hall Worthy. There will be autograph and prime memorabilia cards of this insert. Just look at the John Elway card to get an idea.