First look: 2011 Topps Marquee baseball cards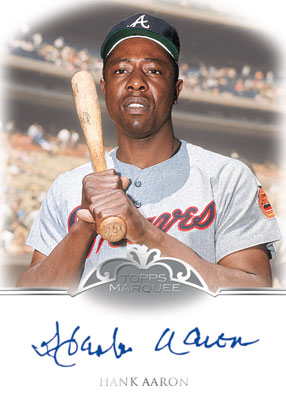 By Chris Olds | Baseball Editor
Topps unveiled a new  baseball card line on Tuesday, a product that will include an autograph or Relic in every pack, as well as include the previously reported return of "Joltin'" Joe DiMaggio to Topps when it arrives in late August.
Topps Marquee will include four mini boxes per display box with 12 display boxes per case in a product Topps says will feature "something for everyone at a mid-range price point" with on-card and multi-piece Relic autographs, jumbo and patch Relics and more in the mix.
Each box will include one on-card autograph, on autographed multi-piece Relic, one jumbo Relic and one quad Relic.
In every case, there will be a Museum Collection autograph card which is placed into a metal frame and limited to just 10 copies.
The base set will consist of just 100 cards with three cards found in every pack. The are four parallels of each card — a 1/1 Platinum, Golds (/99), Coppers (/199) and Blues (/299).
The Monumental Markings autographs will include 75 rookies and veteran players as well as an autograph of boxer Manny Pacquiao. Among the notable signers here are Albert Pujols, Hank Aaron and Sandy Koufax as well as many retired and Hall of Fame players. There will be Gold parallels limited to just five copies.
The dual Monumental Markings autographs will have two signatures with players grouped by position or team. That's a deep checklist as well.
Read more and see more images after the jump.
The dual Relic autograph checklist includes 75 players with each having a 1/1 patch parallel and Gold parallels limited to five.  The triple Relics will feature 35 players with an autograph with the same parallels.
Jumbo Relics will include a 1/1 Ty Cobb jersey stitching card — his name from the tag inside the jersey — Titanic Jumbo Relics, a 130-player checklist, Titanic jumbo patch Relics and jumbo Relic autographs. The easiest versions will be limited to 99 copies, while parallels will be limited to 10 for the standard cards.
The quad Relics will include autographed booklet cards, while most cards will simply feature four memorabilia pieces.
Among the other notable signers in the product are Johnny Bench, Bob Gibson, Don Mattingly, Cal Ripken Jr., Reggie Jackson, Ryan Howard, Tom Seaver, Roy Halladay, Tony Gwynn, Mike Schmidt, Jason Heyward, Buster Posey, Paul O'Neill, Jeremy Hellickson, Brandon Belt, Michael Pineda and Evan Longoria.
Among the notable Relics to be found are Cobb, DiMaggio, Mickey Mantle, Aaron, Koufax, Roy Campanella, Mel Ott, Roger Maris, Babe Ruth, Lou Gehrig, Jimmie Foxx and Jackie Robinson.
Chris Olds is the editor of Beckett Baseball. Have a comment, question or idea? Send an e-mail to him at colds@beckett.com. Follow him on Twitter by clicking here.