Fans aren't waiting for Cespedes' first A's cards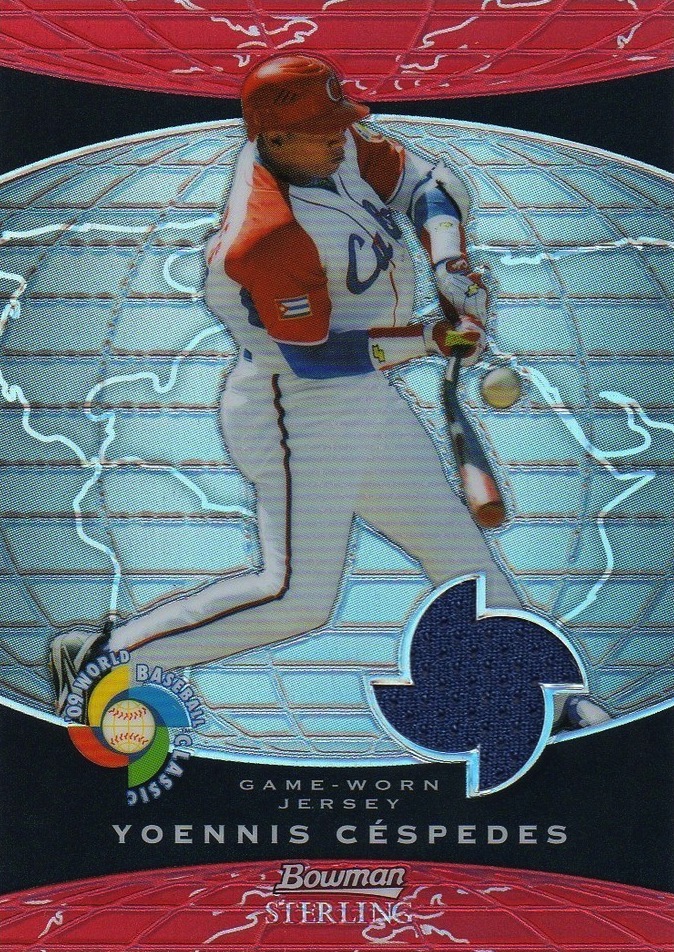 By Chris Olds | Beckett Baseball Editor | Commentary
Question: What happens when a highly touted Cuban prospect signs with a small-market team lacking many marquee names and he hits tape-measure home runs in three of his first five games?
Answer: Hot cardboard.
That's exactly what has happened with new Oakland A's outfielder Yoenis Cespedes, a 5-foot-10, 210-pound rookie who is hitting just .250 but might be the biggest Bash Brother in the Oakland lineup these days. Meanwhile, he doesn't even have an A's card yet — but thanks to his 2009 World Baseball Classic cards in various Topps brands, there's still cardboard to be found.  (Need a full Cespedes checklist or OPG? Click here.)
Want proof? A 2009 Bowman Chrome WBC Prospects Blue Refractor /150 sold for $135 on Tuesday — a strong number. Meanwhile, a 30-card lot of his regular card in the set is commanding more than $500 in a current auction with time remaining today.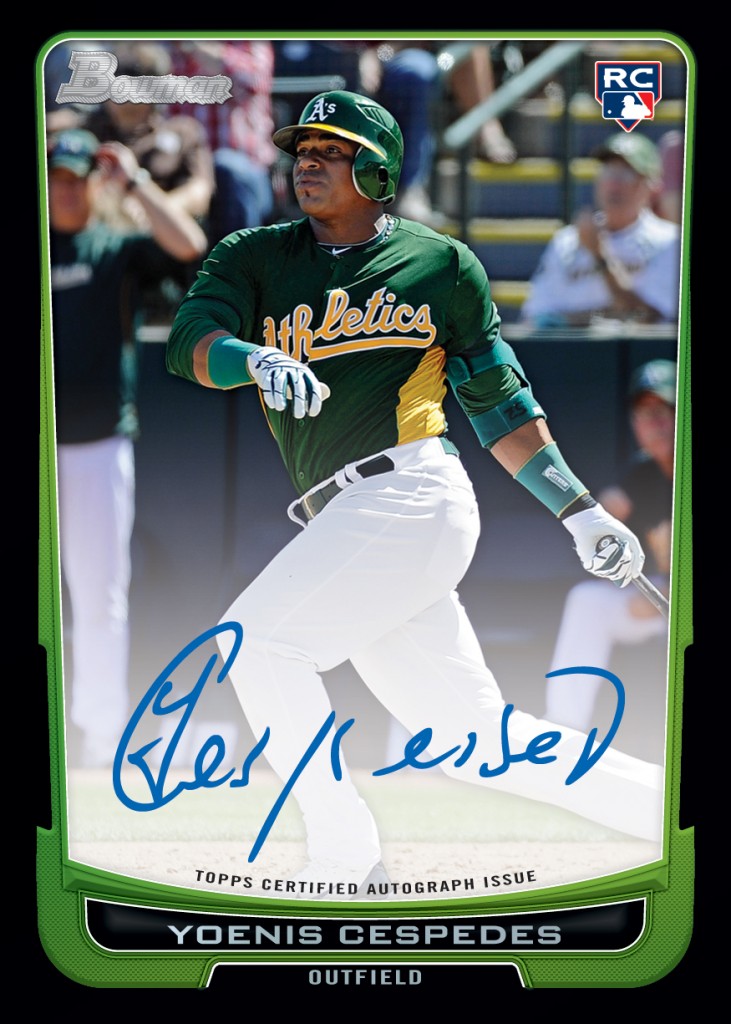 Believe it or not, though, Cespedes has been hotter even before playing well in his first MLB games. His 2009 Bowman Sterling WBC Relics Red Refractor 1/1 (top) recently sold on eBay for $800. In March, a Orange Refractor /25 sold for $710, while a Gold (/50) went for $511 and a BGS 9.5 Gold went for $490.
And those are just the bigger examples.
"Since Cespedes signed in February, his cards have slowly been gaining momentum on the secondary market – his 2009 Bowman Chrome WBC Prospects has even made a few appearances on the Hot List," said Beckett Baseball Senior Market Analyst Brian Fleischer. "His early season performances have gotten collectors' attention and many of his serial-numbered and game-used cards have nearly doubled in value since the start of the season. One of his most-plentiful cards, the 2009 Bowman Chrome WBC Prospects, was previously priced at $5-$12, but is now selling the $10-$25 range. It's much too early to start predicting Rookie of the Year, but Cespedes seems to at least be on the right track, which could mean great things for his cards."
In all, Cespedes appears on 44 cards in the Beckett.com database but his Oakland A's debut will come in 2012 Bowman, which will arrive in early May. There, he will be found as a Bowman Lucky autograph redemption card since Topps just recently signed him to a card and autograph deal. That card can be seen above.
How many moonshot home runs might he have by then?
Chris Olds is the editor of Beckett Baseball magazine. Have a comment, question or idea? Send an email to him at colds@beckett.com. Follow him on Twitter by clicking here.