Lou Gehrig: The real deal? A mistake? An altered card? Something else? Take our poll …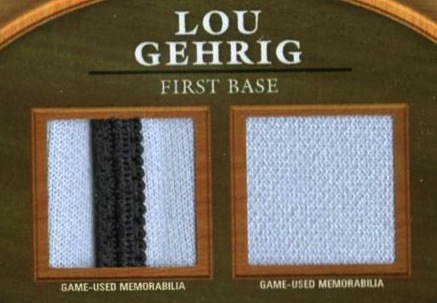 By Chris Olds | Beckett Baseball Editor | Commentary
With a barrage of 2011 Topps Triple Threads baseball cards hitting eBay today — the product's official release date — there are plenty of eyes looking for what are typically some of the hobby's most talked-about cards from what is always a contender for Product of the Year honors.
It's just that popular with many collectors.
However, a Triple Threads Bat Knobs card of Lou Gehrig from last year's release hit eBay with a hefty price tag and with some features that quite a few collectors noticed because it seemed, well, odd. The two game-used memorabilia swatches on the card appear to be from a modern jersey — not the flannels of Gehrig's time.
Loading ...
Obviously, there are a few possibilities here. Topps responded to a question about the card saying it will look into what might have happened. My leading candidate is that it's a simple mistake as the materials in this card do not match the fabrics from the company's other recently released memorabilia cards featuring Gehrig.
Mistakes happen. Collectors wish that mistakes wouldn't happen on such an impressive card, but they happen.
What do you think? Take the poll.
Chris Olds is the editor of Beckett Baseball magazine. Have a comment, question or idea? Send an email to him at colds@beckett.com. Follow him on Twitter by clicking here.