Elston Howard's story sparks my interest in vintage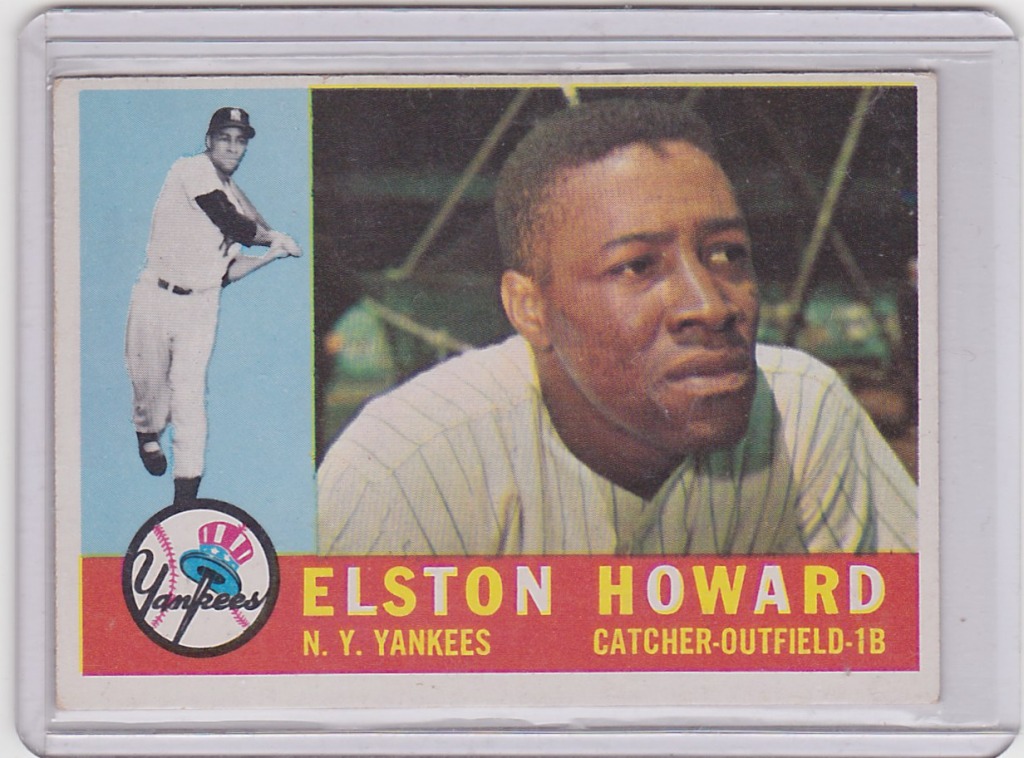 By Susan Lulgjuraj | Contributing Editor | Commentary
PHILADELPHIA | Despite having thousands of baseball cards, I could probably count on two hands the number of vintage cards I own. While I appreciate their place in collecting history, I've never been attracted to older cards.
Whenever I am at a card show, I usually find myself hunting for modern cards – looking for cards of players that I've seen in person.
But all that changed last weekend, when I picked up four cards from the 1960s and a photo from 1956.
This is the first time part of my collection has consisted of cards older than I am.
A conversation about the New York Yankees' retired numbers before the Philadelphia Sports Card and Memorabilia Show got me interested in these cards.
We all know about the single-digit guys who have their numbers retired – Mickey Mantle, Joe DiMaggio, Babe Ruth, Lou Gehrig and the others – but the higher the number, it seems the less we know about the players … unless you're No. 44, Reggie Jackson.
But how about No. 32, Elston Howard?
Howard was the first black player in New York's history – and yet I feel he has fallen through the proverbial cracks when it comes to Yankee history.
During his first few seasons, Howard was stuck behind Yogi Berra at catcher. But Howard was a good ballplayer and – begrudgingly or not – Casey Stengel found a place for him in the lineup, starting him at either first base or left field. In 1963, Howard won the American League MVP, batting .287 with 28 home runs, 85 RBI and a .528 slugging percentage.
Howard won four World Series rings as a player, was selected for the All-Star Game from 1957 to 1965 and won two Gold Gloves.
He later spent 10 years as the Yankees first base coach — the first black coach in the American League. But he had a rare heart condition and his health rapidly deteriorated. He died in 1980, at the age of 51.
As I learned more about "Ellie," my intrigue grew.
And when I hit the card show that Sunday, I decided to pick up some of Howard's cards.
The first table I stopped at was perfectly organized – singles in boxes, sets in binders and the seller eager to help. The seller even had an old alphabetical Beckett book that listed players and their cards. He handed it to me, and I flipped to 'H' for 'Howard, Elston' and found his list of cards.
I dove for the 1956 Topps binder first – home of Howard's first Topps card.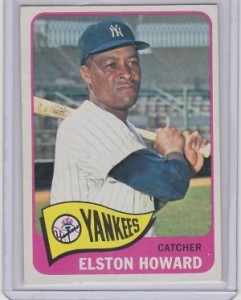 But instead of flipping right to No. 208, I slowly turned the pages, studying the set's other cards.
I felt like a big dummy.
These cards were gorgeous and the catalyst for many designs of today. Legends we revere today are on these cards. Players we try to compare to modern day counterparts, but we know none will ever be Mantle or Ted Williams.
I didn't buy the 1956 Howard. It was $33, and I wanted to keep my first foray into vintage a bit cheaper. So I searched for some of his later cards, picking up three cards at the table for $14 – 1964 Topps No. 100, 1965 Topps No.1 batting leaders and 1965 Topps No. 450.
The next vintage table, I purchased a 1960 Topps Howard for $5.
After spending money on singles to add to my modern Yankee collection, I was ready to leave – but a showcase filled with hundreds of Mantle cards stopped me. This seller had nearly everything, including about 15 graded 1952 Topps Mantles, ranging from PSA 1 to PSA 8.
I wasn't buying any of those, but I couldn't help browsing the seller's offerings anyway. A separate case featured a 5 1/8''x7'' Mantle picture in a PSA slab. I never saw these "cards" before. But sticking out from underneath the Mantle and other Yankees, I saw the name Elston Howard.
After a big sigh, I asked the seller how much and then apologized for making him get up. No matter what he said to me, I really didn't think I would be able to afford the photo. I have no sense of value when it comes to such things.
"Twenty-five dollars," he said.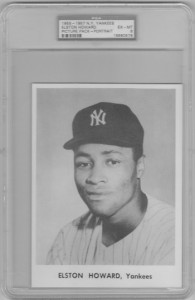 The money didn't jump out of my wallet quickly enough. Of all the pieces of Howard I got that day, the 1956 Jay Publishing (as it is listed in Beckett) is my favorite, showing a young Howard grinning. The photos were originally packaged in a 12-card set and sold for 25 cents.
As a player collector, I've now added Howard to my list. I'm going to search for his cards along with my other favorites.
But from now on I'll be hitting the vintage tables as well, rummaging through creased and tape-stained classics, looking to fill out my collection of "Ellie."
Susan Lulgjuraj is a contributing editor for Beckett Media. You can email Susan here. Follow her on Twitter here.