A rainy night at Shea changed Lenny Steren's life
—
By Chris Olds | Beckett Baseball Editor
When one looks back at some of the most-memorable times in MLB history, the Summer of 1998 perhaps still stands out as one that can't be forgotten as Mark McGwire topped the once-thought-untoppable 61 home runs of Roger Maris.
While subsequent sluggers and tearful confessions might have changed how we view that run into the record books now, for 46-year-old Lenny Steren it still resonates quite well.
In fact, one McGwire moonshot that summer changed his life forever.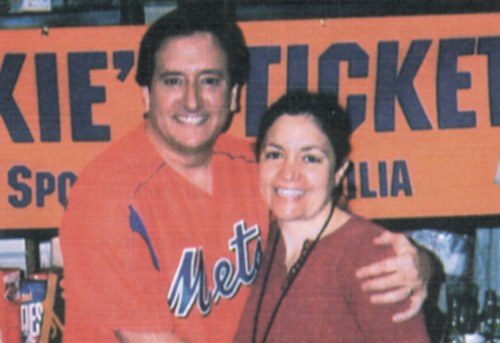 A collector of baseball cards since 1971, the native New Yorker attended a Cardinals-Mets game on the evening of May 8, 1998 — a memorable Friday contest pitting Rick Reed against Cliff Politte (remember them?) at Shea Stadium. The weather was a bit spotty, but Steren and his wife, Tammi, went as she was a Cardinals fan and he, of course, favored the hometown crew.
It started to rain in the third inning — but not before McGwire smacked a Reed pitch over the fence for his 400th career home run. While the madness of million-dollar milestone baseballs would not happen for a few more months, he did not catch the call. Nothing that simple. But this mad man (Steren worked in print advertising) had an idea.
" It was not announced, but I knew it was his 400th career home run," he said. "We sprinted to gates A and E to buy 200 additional tickets to the game. After putting $2,000 on my Visa as an investment, I knew I would have no problem selling them with the interest McGwire was attracting."
Turns out that his hunch — he was also a ticket stub collector — was right, and a business was born.
"When my wife and I returned to our Manhattan apartment, there were 10 messages on our answering machine from ticket collectors, asking if I went to the game and saying that they would 'pay anything for a ticket,'" he said. " [Back in] 1998 was the heyday for eBay and these tickets brought between $75 to $225 each.  Even my father, who is the smartest businessman I know, was skeptical of my intent to quit my job and start this as a full-time business.  He was impressed.  I don't know of any Wall Street stock that jumps from $10 to $225 overnight!"

(Need a full checklist for Mark McGwire or an OPG? Click here.)
—
That same month, Steren quit his job and he hasn't looked back. Today, he has an inventory of more than 175,000 tickets and works full-time buying, selling and trading tickets using eBay as one outlet (userID: Buckner). It's a job that takes a lot of research as well as an attention to detail to catalog all of the possible trivia that can be attached to each stub.
" I love dates and stats," he said. " I enjoy giving great detail to research and accurate dates of milestone events.  I have 4,000-plus milestone events listed on my Excel file."
So, how does one actually collect tickets? While it's different than, say, cards, it's really not that much — particularly with where to find tickets.
"eBay is the No. 1 source," Steren said, "And word of mouth."
And amassing tickets?
"My wife and I buy collections from shows, on eBay, and private clients who are selling out," he said.
Steren said that the most commonly collected tickets are milestones — 500th home runs, 3,000th hits, first and last games, for example. Then, of course, some people collect Opening Day tickets or games where players hit for a cycle, or where there was a triple play among other things.
So, are there any seemingly easy tickets that just aren't all that easy to find?
"[The] 1960s and 1970s Busch Stadium tickets with printed years," he said. "For example, June 10, may be on the ticket, but not the year."
And what about the toughest to find, period?
"Tickets with printed dates from the 1920s and 1930s are the toughest," he said.
As a Mets collector, Steren said he hunts Mets stubs, of course, with his goal to own every regular season stub from the famed 1969 and 1986 seasons — home and away. But there is a catch.
"I will sell duplicates," he said. "But I won't sell my singles."
On the side, Steren also works for PSA as a ticket consultant — a job where he often helps weed out reproduction stubs before they are graded and slabbed … just like cards.
"Super Bowl tickets and World Series tickets are more of a problem," he said. "People try to sell the 'artist proof' from the printer as valid tickets.  For example, Super Bowl I played in L.A. in 1967 should always have 'Dillingham' as the printer in fine print.  The other printers are all fakes. "
Steren also said he's learned a lot about his business by working with others.
"There are too many to mention, but the late Joe Demattio helped promote this great hobby/business for me," he said. "I bought thousands of Cubs and White Sox tickets from him.  And Dan Busby, who is a wealth of knowledge, knows more about vintage tickets than anyone I've ever met.  Also, Scott Garner, Rick Taylor and Tony Swann have helped me invaluably along the way."
So, where can Steren be reached?
"I am listed as Buckner on eBay, and my email address is Sirmook@aol.com," he said. "I love receiving wantlists."
Chris Olds is the editor of Beckett Baseball magazine. Have a comment, question or idea? Send an email to him at colds@beckett.com. Follow him on Twitter by clicking here.
—
STEREN'S TOP SEVEN STUBS
While milestones are big, here are seven tickets that Steren remembers selling:
1.  5/30/82 @ Orioles stub – "First day of Cal Ripken's streak.  I sold it for $1,500."
2.  6/13/48 @ Yankees stub – "Babe Ruth was honored at Yankee Stadium when he was two months away from death.  I sold it for $900."
3.  9/13/71 @ Orioles – "Frank Robinson's 500th home run (2 full tickets).  I sold them for $750 each."
4.  4/8/63 @ Reds stub – "Pete Rose's MLB debut.  I sold it for $700."
5.  7/11/47 @ Giants stub – "Mel Ott's last game played.  I sold it for $533."
6.  6/24/55 @ Braves – "Sandy Koufax MLB debut.  I sold it for $500."
7.  9/28/68 @ Red Sox stub – "Mickey Mantle's last game played.  I sold it for $650."