Don't go nuts: The Rally Squirrel might not be as rare as other 2012 Topps SPs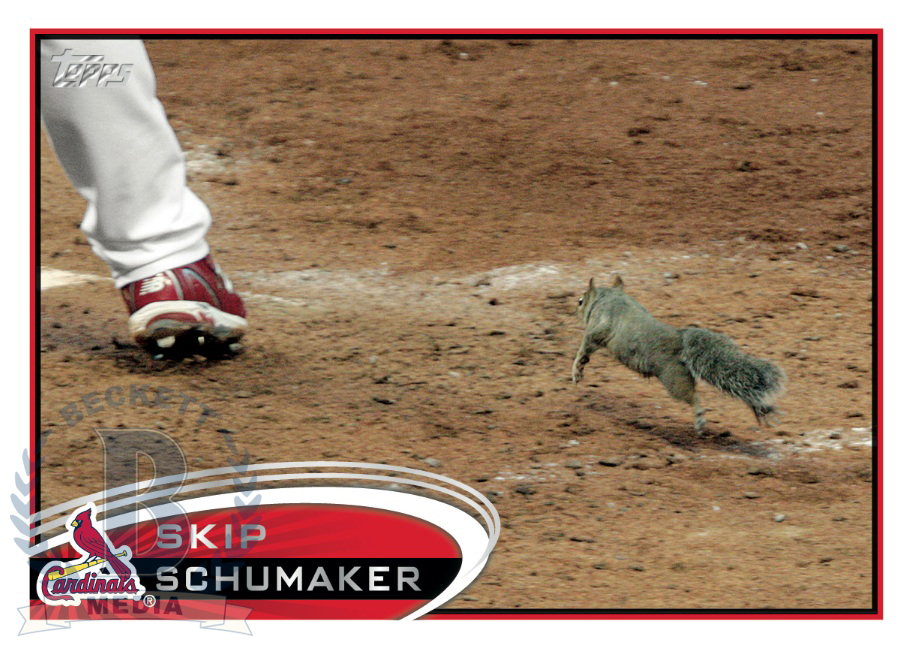 By Brian Fleischer | Beckett Baseball Senior Market Analyst | Analysis
The 2012 Topps Series 1 base set photo variation short-prints have been some the best selling cards in the hobby during the last 10 days. Topps inserted 22 different variations, including super rare Albert Pujols Angels and Jose Reyes Marlins cards.
But the card that has attracted the most attention has been Skip Schumaker's "Rally Squirrel" variation. The first auction for the card ended a little over a week ago at more than $600 and early sales were in the $150-$300 range.  The card has since settled in at $60-$120 and is selling roughly eight to 10 times better than any other short print in the base set, with the exception of the Pujols and Reyes cards.
Should it be? Is the Rally Squirrel and easy pull compared to the other short-printed variations? Our secondary market sales analysis indicates that it is.

Over the past 10 days we have gathered an analyzed roughly 1,200 actual completed sales for the base set variations. For each of the short print variations, we gathered between 40 and 60 sales with the exception of three: The Squirrel, Pujols and Reyes. For the Pujols and Reyes cards, we gathered roughly 15 sales each. We gathered roughly 150 sales for the Squirrel.
It's no secret that the Pujols and Reyes cards are super short prints. Based on our analysis, they look to be about three to four times tougher pulls compared to the other regular SPs. Compared to the Rally Squirrel, they look to be about 10 times tougher. Based on our information, the Rally Squirrel looks to be about two to three times easier to pull than the other regular short-prints. At first glance, collectors may think that all the hype surrounding the Rally Squirrel led to more people offering the card for sale. However, if that were the case, we would expect to the see a greater variance in the number of the other short-prints offered for sale — but that was not the case.
Our analysis of these 1,200 completed sales confirms the notion that the Pujols and Reyes cards are extremely tough pulls. It also indicates that – compared to the other short prints -the Rally Squirrel seems to be a much easier pull than first thought. If that truly is the case, expect to see the realized auction prices continue to drop.