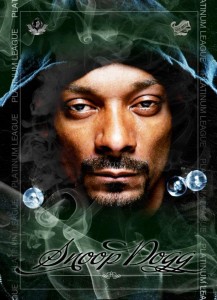 By Susan Lulgjuraj | Contributing Editor
The hip-hop world is jumping into the trading card realm, putting 100 artists on cards and giving away millions of prizes in the process.
Platinum League Trading Cards will be released May 1 in retail outlets across the country.
The cards will look like typical trading cards with pictures on the front and stats on the back, including a bio and career highlights. However, Green Media, the company releasing the cards, is also adding another component by including QR codes that will feature never-before-seen videos of the artists. The codes can be scanned by mobile devices that lead to a specific website.
There are six cards in each pack. Five of them will be artist cards while the sixth will give consumers an access code to a website where collectors could redeem prizes: Rolex watches, cars, cash, ring tones, apparel and more. Collectors will be asked to download an app on to their smartphones or will be able to play at PlatinumLeague.com.
The artists include new and old such as Notorious B.I.G., Tupac, Snoop Dogg, Scarface, E-40, Twista, Trina and more.
A new series will be launched about every three months.
Susan Lulgjuraj is a contributing editor for Beckett Media. You can email Susan here. Follow her on Twitter here.