Fab Five: Rare Mike Trout autographs to chase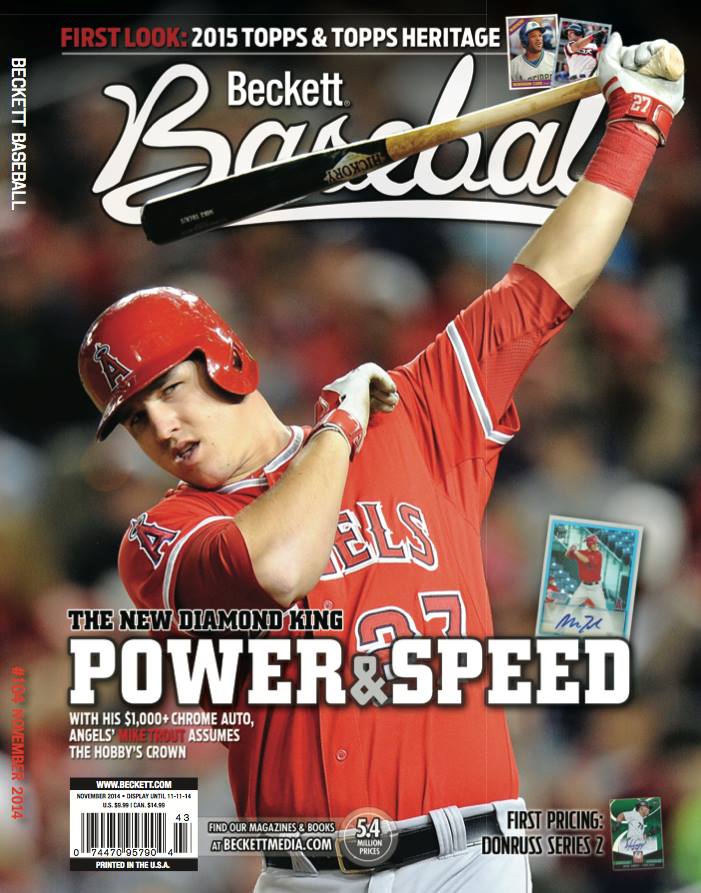 By Chris Olds | Beckett Baseball Editor | Commentary
One thing's probably certain in today's baseball card landscape — Mike Trout autographs won't be getting easier to land any time soon.
When the Los Angeles Angels outfielder became a Topps-exclusive card-signer last month, that was one sign that he'll be signing less — and probably for more money per signature. Another sign that more rarity should become a reality was when he was named the youngest unanimous American League MVP in the history of the game.
Not bad for a 23-year-old who hit 36 homers and drove in 111 runs while hitting .287 in just his third full season.
It's a no-brainer that Trout has quickly become the king of the hobby — at least among current players — an unquestioned diamond king today.
Here are my picks for five cool Trout autographed cards — not the most-important cards, just impressive ones — after the jump.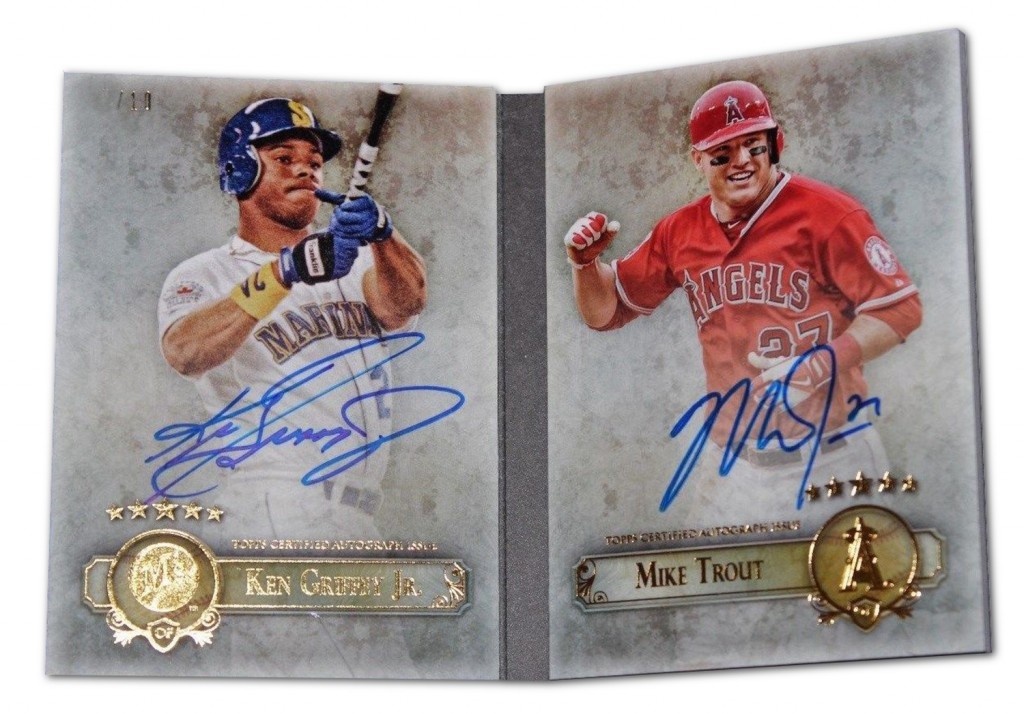 TWO YOUTHFUL ICONS
2013 Topps Five Star Dual Autographs Books #GT with Ken Griffey Jr. /10, $N/A
Rewind the clock 20 years, and you might argue that Ken Griffey Jr. was in the same position as Trout, but the reality is that it took Junior nine years to win his only MVP award. This one from the second release of Topps Five Star pairs the stars along with autos that can't be denied as quality on cardboard. There are only 10 of these to go around, so they are pricey.
—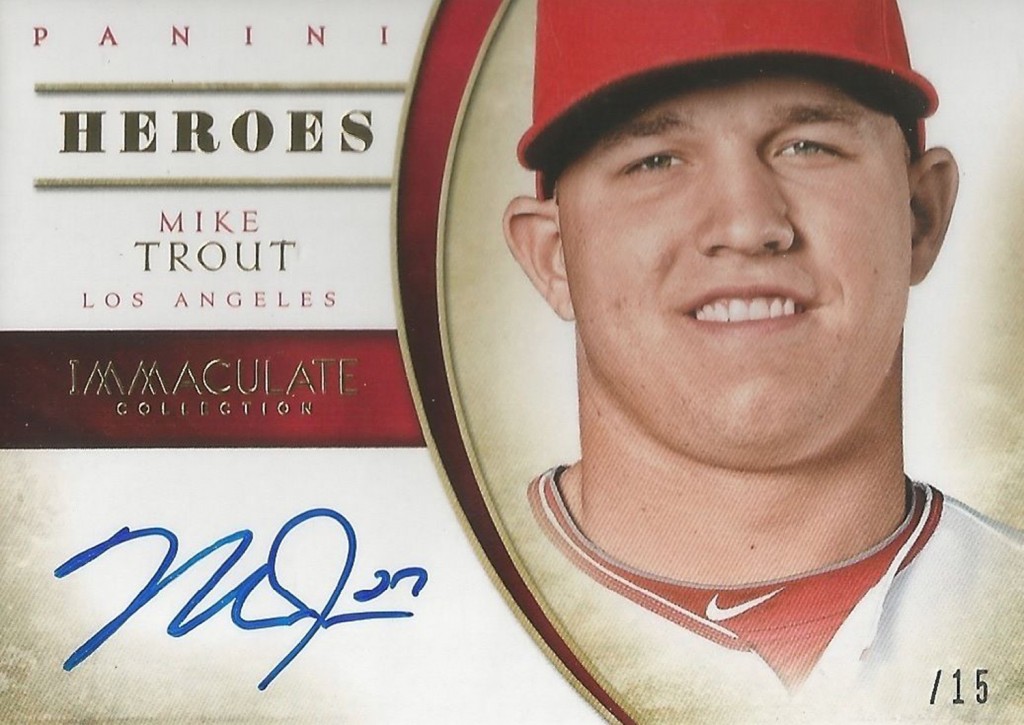 IMMACULATE DESIGN
2014 Immaculate Collection Immaculate Heroes Autographs #17 /15, $N/A
I've said it before, but I'll say it again — this insert set from Panini America's Immaculate Collection brand is cardboard perfection. It's simple, it's clean and — before any of you bemoan the point — it doesn't need any logos. This is a perfectly balanced card.
—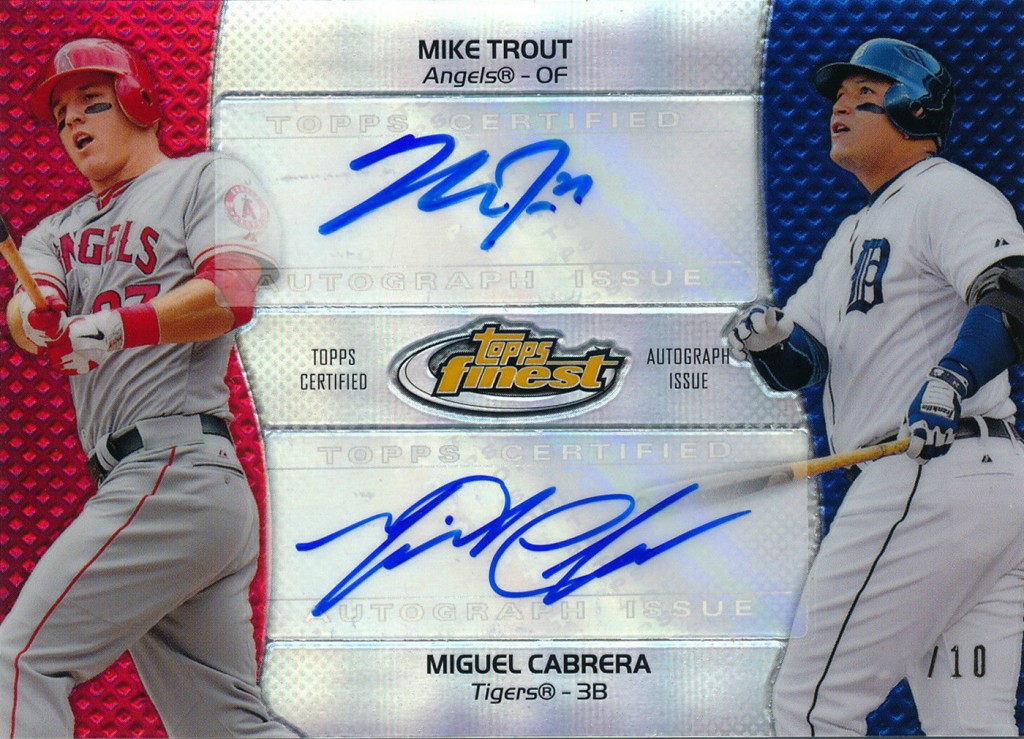 DYNAMIC DUO
2013 Finest Dual Autographs #TC with Miguel Cabrera /10, $N/A
This year's MVP and the only MLB Triple Crown winner in decades together on one card — one autographed card. Sure, they are stickers — in this case I don't care because it's well-designed — but it's impressive. They appear together on only 76 cards in the Beckett database and only 14 of those are autographed. Only two of those are numbered to 25 — and the rest of them are 10 or fewer copies. Cabrera signed plenty in the past, but this pairing may be one that can't be done too much longer simply because of costs.
—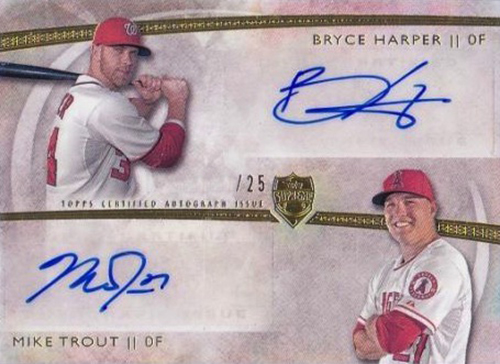 DYNAMIC DEBUTS
2014 Topps Supreme Dual Autographs #DAHT with Bryce Harper /25, $N/A
Remember when there was a debate about who was better among the 2012 Rookie of the Year winners? Right now, it's not close, but that's no shot at Harper, who has struggled with injuries but will be just 22 years old next season. These two have been paired on autographed cardboard 41 times so far in their careers with this card being one of the newest.
—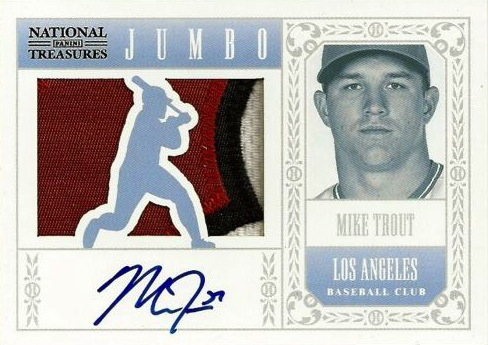 RARE SIMPLICITY
2012 Panini National Treasures Jumbo Signature Materials Die-Cut Player Prime #18 /5, $N/A
It's not as iconic as his regular card in this landmark release, but it's one that's a colorful and tough find. That makes it one that stands out to me even though that basic auto card from this set might be one I'd try to land first. (Why, because that one's inevitably cheaper.)
Chris Olds is the editor of Beckett Baseball and Beckett Sports Card Monthly magazines. Have a comment, question or idea? Send an email to him at colds@beckett.com. Follow him on Twitter by clicking here.