2012 UFC Finest offers more than autos, relics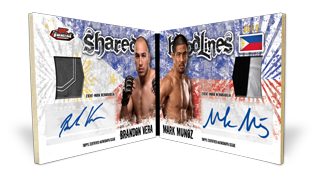 By Susan Lulgjuraj | Contributing Editor
When collectors get their hands on 2012 Topps UFC Finest, they should be on the lookout for Dana White autographs.
The current UFC Prez is one of the most familiar faces, but also pulling his solo autograph means a chance at winning an exclusive UFC trip.
Finest is a comprehensive set when it comes to getting hits. Of course, it has the requisite autos and relic cards, but it includes opportunities to win autographed memorabilia and a trip where a lucky fan and a guest will attend an event and meet fighters.
That all comes in one product 2012 Topps UFC Finest scheduled to be out mid-July.
White will be featured prominently. Besides his own card, numbered to 50, which is an entry into the trip giveaway contest, White will be highlighted in a dual autograph line called "Thoughts from the Boss."
White will have his signature along with one of 15 other fighters and on the back, he his assessment of that fighter.
Topps is bringing back one of the most popular giveaways. Instead of cutting up relics to put into cards and create more hits per box, the company is keeping those pieces of memorabilia intact. Twenty-five redemption cards will be seeded where collectors will be able to win a fighter-signed glove.
Of course, even after all that there are still cards to be had.
Each mini box includes six packs and there are two mini boxes in each outer box. In each mini box, there will be one autograph, one fighter-worn jumbo relic and one jumbo mat relic.
Several inserts include: Finest Moments, celebrating career highlights of 25 UFC stars and Bloodlines, which celebrates the national heritage of 25 fighters. There are also autograph variations of the cards.
Info on the base set shows there will be 100 cards. Each base card will have five different parallels: white, blue x-fractor (numbered to 188), gold (/88), black octa-fractor (/8) and red (1/1). The set will also feature press plates.
Parallels exist within the autographs. The set will feature autographs from 25 fighters including Phil Davis, Uriah Faber and Randy Couture. In this year's set, all autographs are refractors whether on-card or sticker autographs. There are parallels of the autos, starting with gold, which is numbered to 25 and only get more rare from there.
There is also a slew of autographed relic cards, which will be refractors.
・ Finest Fight Mat jumbo autographed relics – Twenty cards with a signature directly on a piece of Octagon mat on which the fighter competed
・ Autographed jumbo Finest Threads relics – A jumbo piece of fighter-worn apparel with a signature
・ Finest Sponsored Autographed Patches – Ten cards featuring a sponsor's logo such as Tapou-T and Silver Star signed by a fighter affiliated with that sponsor
・ Shared Bloodlines dual autograph relics – Ten cards with signatures and fighter-worn relics from two different guys with shared heritages
Susan Lulgjuraj is a contributing editor for Beckett Media. You can email Susan here. Follow her on Twitter here.