Giveaway brings back lost art … trading simply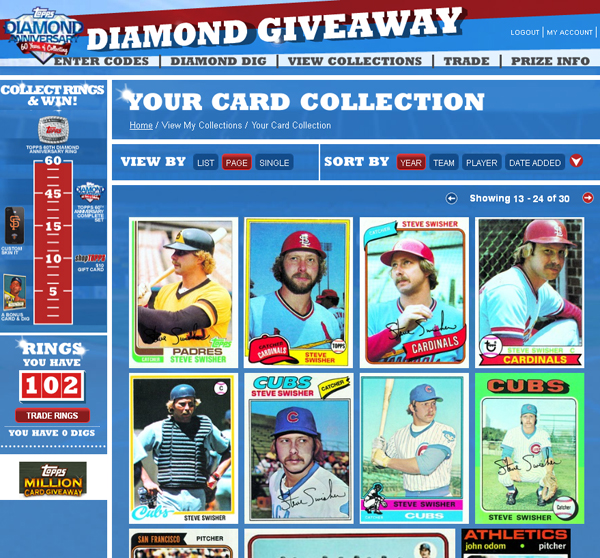 By Chris Olds | Beckett Baseball Editor | Commentary
From the Just for Fun file …
Collecting confession time: I've been spending way too much time doing something lately that I really haven't done this heavily — and this haphazardly — since about 1992.
What have I been doing? Trading baseball cards.
But I haven't been trading the old-fashioned way, either — and I haven't had to organize or handle a single card. (That's waaayyy too much work — and waaayyy too time-consuming.) I've been trading by parking it at my desk after work and making trade offer after trade offer for cards the old-fashioned way — without worrying about a card's worth, without worrying about condition, without haggling with a single person, really — on the Topps Diamond Giveaway site.
All it takes there is a code, a pick and click — no post office trips, stamps, envelopes or anything else.
And it's addicting.
It's gotten so bad that I've contemplated buying bulk lots of unused code cards online just to continue the madness — but it's pretty clear that some of you out there are bigger fans of the program than I — or I'm just too cheap — as lots are still fetching $2-$4 per code on eBay.
Too rich for me, but I keep on wheeling and dealing, anyway.
[youtube]http://www.youtube.com/watch?v=JnrgFD7G-q0[/youtube]
Remember this Diamond Giveway mailday from earlier this year? He's gotten worse, people! [Yes, Olds wrote that…]
Those who are familiar with the format from last season's Million Card Giveaway know that it's a site where you enter codes found in packs of Topps baseball cards and receive an old card in return or a new special card. I've entered, as you can see up top, 102 codes this year — yeah, that's a few … most came from retail value packs, which deliver as many as four codes but at least two for $15 along with a bunch of other cards — but I have managed to turn that into nearly 130 trades (some pretty stupid on my part) and 103 cards at present between previously delivered cards and those remaining in my account.
And they're — save for a few pieces of tradebait — all cards that I would want. Most of the hardened collectors out there wouldn't say that as, really, we likely have a vintage Topps common if they really wanted it. Last year, I said that, too. I traded very little on the Million Card site — none at all that I recall — instead just requesting the delivery of the handful of good cards I wanted and letting the remaining cards go into the virtual trashcan when "mom" threw them out at the end of the year. (Be warned: She will do it again this year.)
This year is, well, different and it's really all after seeing the impressive printing job done on the Diamond Die-cuts and the sometimes scary results of the fulfillment-end of the vintage stuff when it comes to condition.  Both things sparked me to try and get what I want out of the program, but the Die-Cuts added a new dimension to the trading for me.  (But, then again, I'm not trading for anything pricey. And condition? Well, I know how that goes … but I am also not expecting BGS 10s on every card, either.)
And, because I have been a bit lucky along the way, I haven't had to pay a penny to have any of the cards shipped — and I won't have to when I do my third and final delivery later this year. You see, prize cards such as Black Diamond diecuts, the now-delivering anniversary factory sets and 1/1 diamond-embedded cards qualify the entire delivery request for free shipping.
But all that isn't the real reason I'm writing this … there have been some rather interesting developments in terms of the "market" on the site and I have used some strategies of my own to focus my trades on specifically what I am looking for. Meanwhile, others' supplies — and others' demands — have resulted in done deals that can sometimes seem even less logical than my offers for what I am hoarding, err, collecting, on the site.
What have I been trading for? Cards of former MLB player Steve Swisher (dad of my favorite player, Nick Swisher) who had Topps cards from 1975-83 and Diamond Die-cuts of the current New York Yankees outfielder — that's it — at least for the intended end-result.
I thought I was being generous when I offered any die-cut I landed for a Swisher die-cut and offered cards from the late-1960s to mid-1970s for Steve Swisher 1975 Rookie Cards. Generally, it has worked. Better cards either sat to be delivered later or as tradebait for bulk deals — a few of which I have negotiated via other diamond code addicts via Twitter.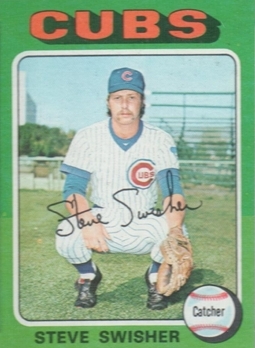 So far, I have netted one Swisher Black Diamond — I gave up a Ryan Howard Black Diamond straight up (armchair quarterback that one in the comments below!) — and eight regular Diamond. Clearly the Yankees cards are being traded heavily on the site as I get handfuls of offers for the card daily — more offers than my 1/1 diamond card, which is shocking.  For Pops Swish, the current haul is even crazier than that of the YouTube video above from awhile back. Presently, I have 50 copies of his cards in my account — one of each year — and have nabbed 14 Rookie Cards … and counting.
Even then, though, as one collects and trades on the site there are some anomalies that have made landing some cards easier and tougher than others. For example, there are only 12 copies of his 1981 Topps card unlocked. Meanwhile, his 1978 Topps double-print is way more than DP'd on the site as there are 276 copies of it available — the rest of the cards have been unlocked somewhere between 20 and 60 times apiece. So, as a result of this, junkier commons I have unlocked often have become 1978s as there are more people out there perhaps willing to part with a card for something — anything — else. Meanwhile, rarer ones have been tougher to land — the 1981 was a doozie (I "overpaid" giving up a 1972 common) and the 1977, for some reason, was tough, too.
And, remember, these are all commons that I could just go out and buy … but where's the fun in that? This way, I simply don't have to.
—
But enough about my Swish Stash … here are some observations of what I have seen as well as some tips:
— Don't think, just throw (out offers): Logic and relative prices really don't apply when the "market" is closed like this one is. One fellow Diamond trader turned a meaningless 1979 common — which I sent to him for a 1980 Swisher — into a die-cut a day later. That one stung. Oh, and that offer of a 1980s Red Sox team card for a Cal Ripken die-cut? I'd bet he took it without blinking.
— Spirit of '76: The 1976s might be a year someone is trying to build a set for … all of my offers to trade away these cards have been picked off immediately.
— Sweet Sixties? Perhaps it's a personal bias, but cards from 1969 and earlier just seem to grab more attention — and return better offers.
— Team colors: Just like in the real world, some teams are in high demand vs. others. You can turn a few team's commons into diecuts or simply flip them much more quickly than others — regardless of who's on them because there IS interest.
— Plentiful pennants? The 1974s seem to be more plentiful than other years — at least for me. Also plentiful: 1958s and 1959s. Not plentiful? 1960-1962 — at least for me.
— Know what's available: Be sure to search for some of those memorable but not necessarily valuable cards on the site — there might be more out there than you think. And they might be yours easily. You might treasure, say, a Dwight Gooden RC more than someone else.
— Wants and needs: Supply and demand can make things tough. There are a lot of good cards that have been unlocked — and there are a lot of bad cards, too. However, when there are fewer than five copies of some you will have a heck of a time getting one on the site — regardless of whether it's a Mickey Mantle or a Mickey Tettleton.

— No new deal? Post-1992 cards just don't seem to trade easily, though there are far fewer of some newer cards on the site — particularly newer stuff (think the Nick Swisher years). I did a couple of bulk deals just to get rid of 1990s-2000s cards all in one swoop before I realized the 1978 Swisher anomaly. Kinda wish I could get a do-over on that one — but I'm not sure it'd work.
— Diff'rent Strokes: Some want to diversify, some want to consolidate. My oldest unlocked card was a 1954 Ralph Kress — a Cleveland Indians coach. It's a $15 card in top condition, so as much as I had intended to have it delivered — I'm not flush with 1952-1954 cards — but I was feeling a little frisky and tweeted that somebody should make me a bulk offer. Minutes later, I had a 32-for-1 offer that included seven cards from 1971 or earlier and only six from 1987 or later. That has yielded more than a few cards I'd want to have delivered to me — and it's a deal that's still giving back.
— Junk for junk? If it's a trade for a card you could care less about, just take the plunge and take the deal. That'll help keep the cards moving and maybe you'll land something you will want for that one. You never know. There are more than likely a lot of dormant accounts with cards you want locked up in them, but making offers is how others might notice the next time they log in to enter a code.
—
Diary of some of my notable (laughable?) deals …
My first trade: 1957 Topps Dick Gernert (Red Sox) for a Swisher die-cut.
A shocking trade? Francisco Liriano die-cut for Swisher die-cut.
Die-cut mania: Traded a 1969 Jim Bunning for an Andre Ethier die-cut, which became a die-cut of … you know.
Shocking trade II? Kendrys Morales die-cut for Swisher die-cut straight up. (My ankle hurts.)
Meaningless trade: 1990 John Farrell for a 1990 Edwin Nunez (Why? Why not… somebody wanted it.)
When I diversified: The only die-cut I traded away not for another die-cut was a Joakim Soria, which netted me 20 cards — 10 of those from the 1970s alone.
—
What have you landed on the site? I want to hear about it — leave a comment below.
—
Loading ...
—
Chris Olds is the editor of Beckett Baseball magazine. Have a comment, question or idea? Send an email to him at colds@beckett.com. Follow him on Twitter by clicking here.