Cardinals rookie Oscar Taveras dies in accident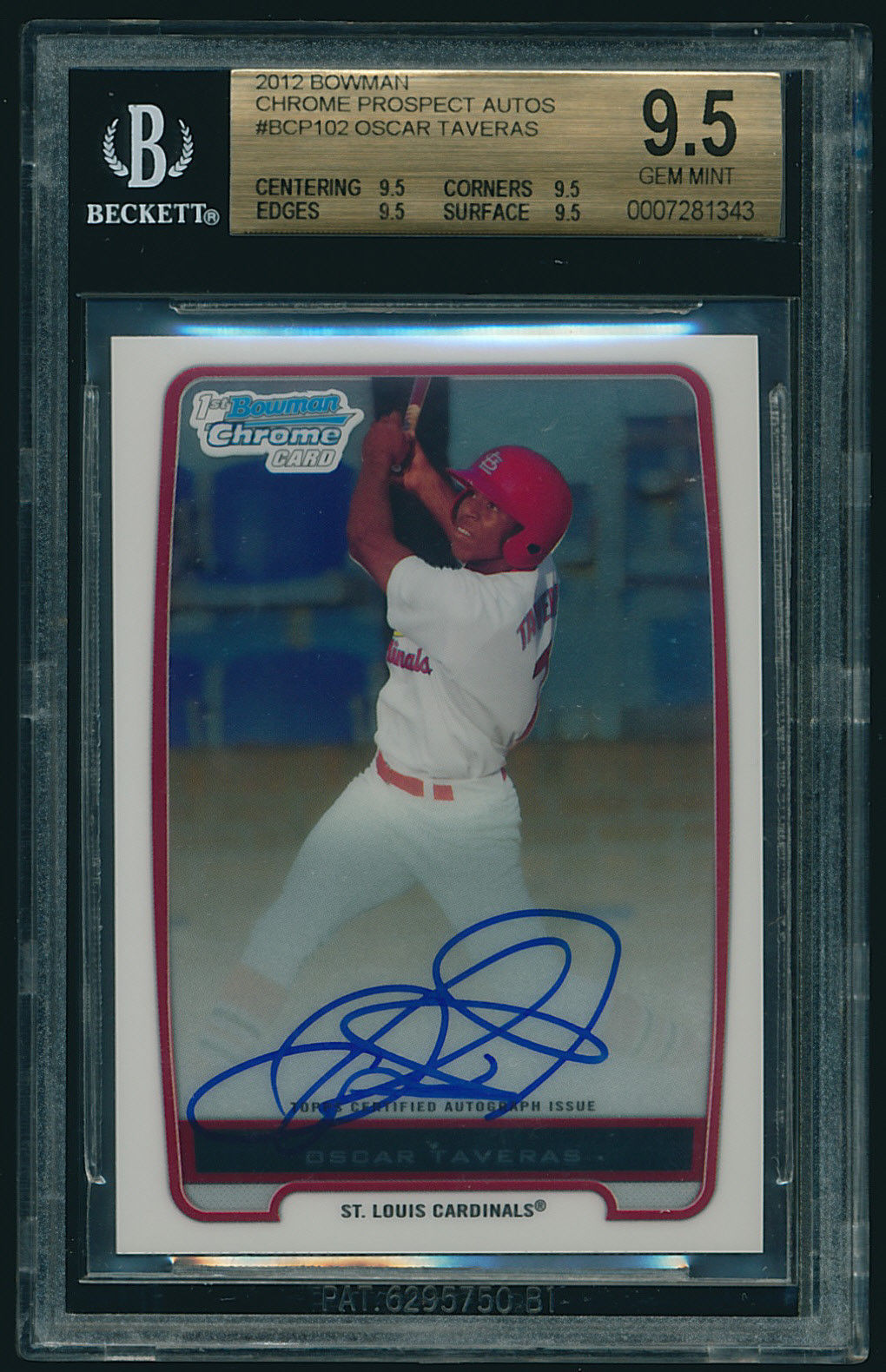 By Chris Olds | Beckett Baseball Editor
One of baseball's top prospects is gone.
St. Louis Cardinals rookie outfielder Oscar Taveras died Sunday after an auto accident in his native Dominican Republic. He was 22.
A consensus No. 3 prospect in all of baseball from Baseball America, MLB.com and Baseball Prospectus entering this season, Taveras was a highly watched prospect on both the field and in the hobby. He made his big-league debut with the Cardinals this past season, hitting .239 with three home runs and 22 RBI in 80 games. In six minor-league seasons, he hit .320 with 53 homers and 324 RBI in 436 games.
"I simply can't believe it," Cardinals General Manager John Mozeliak said to the St. Louis Post-Dispatch. "I first met Oscar when he was (16 years old) and will forever remember him as a wonderful young man who was a gifted athlete with an infectious love for life who lived every day to the fullest."
Taveras was a top prospect on cardboard with 624 cards in the Beckett.com database checking in at $10,172.50 (excluding rarities) before the news.
He signed 254 different certified autographs with his 2012 Bowman autographs perhaps the most in-demand with his 2012 Bowman Chrome Prospects auto checking in at $120 before the news. In all, he signed 168 different cards for Topps, 48 for Leaf Trading Cards and 37 for Panini America.
He appears on just nine Rookie Cards so far, though more should be coming in this season's remaining products. Of those, his 2014 Immaculate Collection autograph is the most-valuable at $25, but the card limited to just 99 copies was issued as a redemption.
"All of us throughout Major League Baseball are in mourning this evening, shocked by the heartbreaking news," said MLB Commissioner Bud Selig in a statement. "Oscar, a young member of the Baseball family, was full of promise and at the dawn of a wonderful career in our game, evident in his game-tying home run against the Giants exactly two weeks ago."
Chris Olds is the editor of Beckett Baseball and Beckett Sports Card Monthly magazines. Have a comment, question or idea? Send an email to him at colds@beckett.com. Follow him on Twitter by clicking here.